BYD, Iveco Bus, Industria Italiana Autobus, Solaris: four bidders for the 340-units e-bus tender in Milan
BYD, Iveco Bus, Industria Italiana Autobus, Solaris: four bidders for the 340-units electric bus tender issued by ATM Milano in November 2022. The news is reported on Italian trade media Autobusweb. As of summer 2022, there were some 170 electric buses in operation in Milan, with the target of reaching 250 by end 2022. All of […]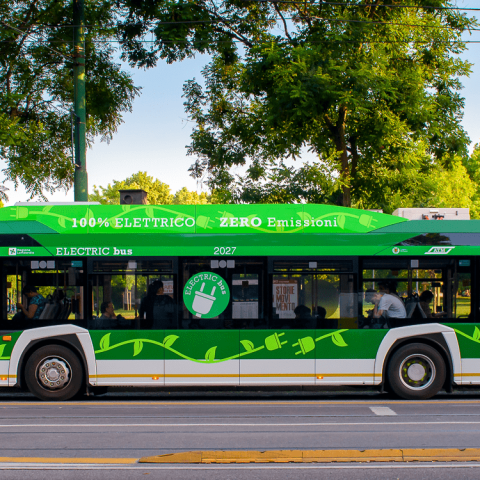 BYD, Iveco Bus, Industria Italiana Autobus, Solaris: four bidders for the 340-units electric bus tender issued by ATM Milano in November 2022. The news is reported on Italian trade media Autobusweb.
As of summer 2022, there were some 170 electric buses in operation in Milan, with the target of reaching 250 by end 2022. All of them carry Solaris' logo: the Polish manufacturer was awarded a first contract for 25 vehicles and won second order for 250 units in July 2019.
Milan tender electric buses: 340 vehicles up for grabs
It is worth mentioning the absence of groups such as Daimler Buses, MAN and Irizar. Karsan, which has recently entered the market aggressively, also did not presented bid. VDL, fresh from launching its new Citea range, and a plethora of exotic manufacturers chose to stay away from a tender with several challenging requirements.
Nothing has been leaked about specific offers, especially about which of the three lots the manufacturers have targeted. In principle, Iveco Bus and Solaris will face each other on both sizes (12 and 18 meters), while IIA may have targeted only the 12 meters, only because the 18 meter has not yet been seen in circulation. BYD? Anything can happen beyond the Great Wall. Although here in Italy, the articulated BYD buses are today zero.
ATM Milano, a recap of the three lots
The first lot consists on the supply of 205 battery-electric buses, approximately 12 metres long, in a 3 double-door configuration, including full-service maintenance. Estimated value (excluding VAT) of EUR 183,022,012.37. The duration of the contract, which is non-renewable, is 202 months.
The second lot is also non-renewable, but has a slightly shorter framework agreement duration (199 months). It consists of the supply of 105 electric, battery-powered buses of approximately 18 metres, in a 4 double-door configuration, including full-service maintenance. Estimated amount, excluding VAT: EUR 125,761,274.63.
Finally, the third, with a duration of 3 years non-renewable and a value of 21 million euro. This is a three-year framework agreement for the supply of up to 30 e-buses for city service of about 12 metres, in 2-door and 3-door configuration with a minimum guarantee of 2 years on the entire vehicle.