Bluebus to deliver up to 158 e-buses in Paris by 2023
Bluebus is expected to deliver up to 158 electric buses in Paris, following the maxi tender awarded in 2019 and the 2021 framework agreement just signed for a maximum period of 4 years. The French company won the tender together with Heuliez Bus / Iveco and Alstom. Earlier this year, also in the framework of […]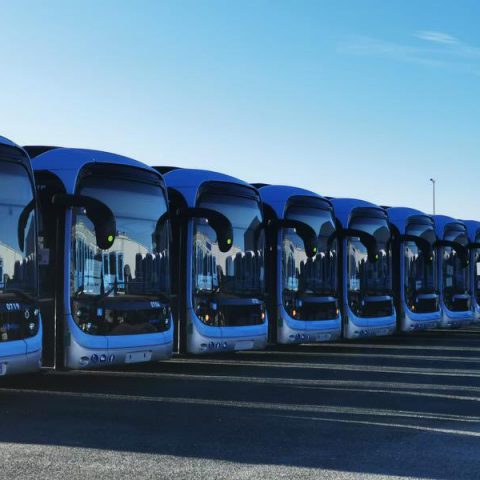 Bluebus is expected to deliver up to 158 electric buses in Paris, following the maxi tender awarded in 2019 and the 2021 framework agreement just signed for a maximum period of 4 years. The French company won the tender together with Heuliez Bus / Iveco and Alstom. Earlier this year, also in the framework of the same tender, Bluebus has been ordered 100 e-buses from RATP.
Bluebus, a subsidiary of the Bolloré Group, has been awarded one of the RATP's contracts for the fourth time as part of RATP's ambitious "Bus 2025 plan" to develop a low-carbon transportation network in the Ile de France area. Bluebus will then supply 35% of the electric buses to be delivered in 2022-2023. This contract could cover a maximum total of 158 vehicles, the company says.
131 Bluebus e-buses already in operation in Paris
After winning the first two 100% electric bus trial programs in 2014 and 2017, as well as part of the massive tender of 2019, 131 12-meter Bluebus are now in operation in Ile de France and another 192 are currently in production.
The 12-meter Bluebus can accommodate 109 passengers and have a range of 320 kilometers. The vehicles are equipped with advanced "All-Solid-State" battery packs offering high energy density and optimal safety. These batteries, as for the Bluebus, are entirely made at the Bolloré Group's factories, in Brittany, thus promoting employment in France and ensuring a controlled production cycle with high environmental performance.
"We would like to thank RATP and Ile De France Mobilités for the trust they have consistently placed on us since the beginning of our collaboration in 2014. We are highly motivated and proud to be part of this ambitious project, which aims to provide Ile de France with an ecological and carbon-free urban public transport system by 2025," says Jean-Luc Monfort, President of Bluebus.