CaetanoBus and UNVI to launch a jointly-built electric bus for the Spanish market at FIAA
CaetanoBus and UNVI has entered a cooperation aimed at providing electric bus models for the Spanish market. First outcome of the deal will be the Caetano UNVI C21 bus, to be presented at FIAA Madrid (18-21 October). The 12-meters electric urban bus features e.chassis from Caetano and body from UNVI. Just last week the same […]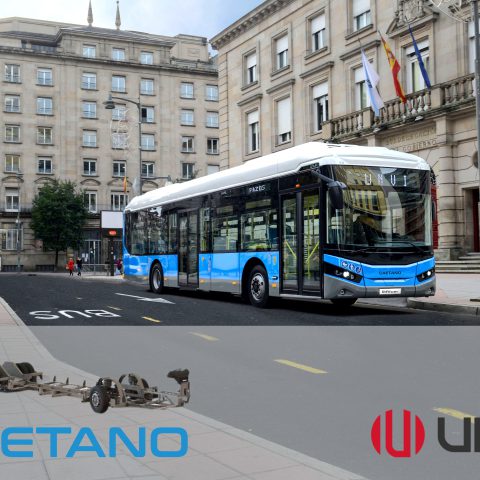 CaetanoBus and UNVI has entered a cooperation aimed at providing electric bus models for the Spanish market. First outcome of the deal will be the Caetano UNVI C21 bus, to be presented at FIAA Madrid (18-21 October). The 12-meters electric urban bus features e.chassis from Caetano and body from UNVI.
Just last week the same Portuguese manufacturer has announced an agreement with Industria Italiana Autobus to start the production and marketing in Italy of hydrogen-powered city buses based on Toyota Fuel Cell technology and an H2.City Power Kit.
CaetanoBus with UNVI
The Caetano e.CC 121 is a is a low-floor 100% electric chassis, designed by CaetanoBus for bodybuilders. In cooperation with UNVI this 100% electric bus is manufactured in Spain with a steel body meeting rollover regulation (R66) with optimized weight and passengers' capacity. The battery capacity can go up to 420 kWh.
Caetano and UNVI strategic cooperation "envision to meet the demands of the Spanish market through an agreement for the development, manufacture, and sale of the electric bus Caetano UNVI C21. By virtue of extensive market experience and a shared vision for e.Mobility, the partnership is ideally placed to amplify the offer of zero-emission buses around Spanish cities and move forward with decarbonization", partners point out.