Daimler Buses and solid-state batteries: "With new NMC 3 batteries we already have enough energy on board"
Advancements in NMC battery technology make solid-state batteries less requested. "As of today, with developments carried by NMC 2 and the new NMC 3 batteries, we have enough energy on board and the customers' requirements decide about the offered technology", stated Adam Kempinski, Head of Customer Services and Parts / International Key Account Management at […]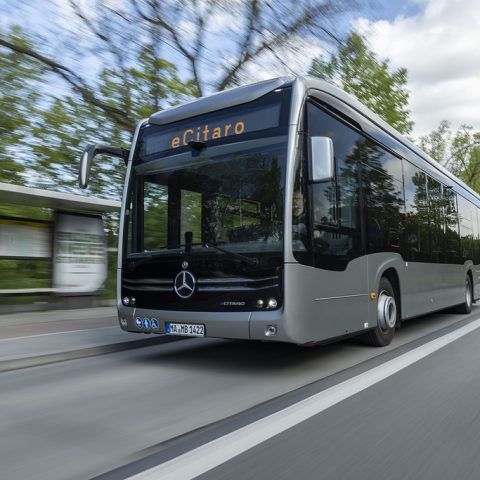 Advancements in NMC battery technology make solid-state batteries less requested. "As of today, with developments carried by NMC 2 and the new NMC 3 batteries, we have enough energy on board and the customers' requirements decide about the offered technology", stated Adam Kempinski, Head of Customer Services and Parts / International Key Account Management at Daimler Buses | EvoBus GmbH during the E-Bus Test initiative in Bonn, promoted by Omnibusspiegel in mid-April.
UPDATE: a first version of this article appeared on 17th May 2023 with the headline: "Daimler Buses is no more offering solid-state batteries on the eCitaro range". Daimler Buses spokeperson has subsequently specified that solid-state batteries are actually still on offer, although improvements of NMC technology have resulted in a reduced demand for that solution. The article has been updated accordingly
Solid-state batteries for the eCitaro: no more needed
The Mercedes eCitaro has witnessed during time a significant shift in battery technology. In the early stages of its development, the vehicle could be equipped with two battery options: NMC (Nickel Manganese Cobalt) sourced from Akasol (later taken over by BorgWarner) and solid-state batteries supplied by the Bollorè group (they have been used on the BlueBus range). The advantage of solid-state batteries lay in their ability to offer high amount of energy storage for the bus.
However, recent advancements in NMC battery technology have rendered the solid-state solution unnecessary, providing ample energy storage for the eCitaro, it has been stated. The image of that technology has also been suffering from some accidents (let's just mention Paris). Therefore, they are still included in Daimler Buses offer, but demand for them has been reduced drastically.
NMC 3 batteries available on the eCitaro
Now, the eCitaro has been available to order with 3rd generation NMC batteries since the end of 2022. German customers have already ordered around 200 eCitaro with NMC 3 batteries, including cities like Nuremberg, Hamburg, and Münster, the manufacturer highlights.
These batteries have an improved cell chemistry and an optimized battery package, resulting in a significant increase in energy density. In the eCitaro solo bus, this means a maximum capacity of 588 kWh, and in the articulated bus as high as 686 kWh. Under average conditions, this results in a dependable range of 280 kilometers for the solo bus and 220 kilometers for the articulated bus throughout the battery's entire service life, Daimler Buses says. In favorable conditions, the solo bus boasts a range of well over 300 kilometers.