In Denmark 3 out of 4 newly registered buses are electric
Three quarters of all new full-size buses registered in Denmark in the first ten months of 2022 are electric buses (308 units out of 408: precisely 75%). The news come from the local specialized magazine Bussmagasinet. "The majority of these e-buses are supplied by Chinese companies. Volvo and Scania are completely absent from the Danish […]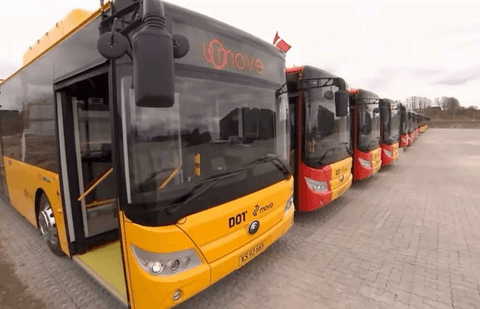 Three quarters of all new full-size buses registered in Denmark in the first ten months of 2022 are electric buses (308 units out of 408: precisely 75%). The news come from the local specialized magazine Bussmagasinet. "The majority of these e-buses are supplied by Chinese companies. Volvo and Scania are completely absent from the Danish registration statistics", Bussmagasinet underlines.
Yutong, Van Hool and Golden Dragon leading
Being more specific, the media reports that 178 e-buses were provided by Chinese manufacturer (58% of the Danish e-bus market 2022). Yutong is leading the Danish bus market (considering all the 408 units together) with 72 new registrations in the period January to October. It is worth noticing that in March 2021 the Chinese group claimed it had reached a 60% market share in the country regarding e-buses.
"Van Hool's new A13 electric bus, which was shown at the Persontrafik in Stockholm, comes in second place in the Danish registration statistics with 67 buses. Chinese Golden Dragon follows with 58 buses, all electric, then Setra with 35 buses, followed by Ebusco with 31 electric buses, Solaris with 29 and BYD with 21 electric buses" mentions Bussmagasinet.