Research forecasts 11-13% electric bus sales by 2025 in India
A share between 11 and 13% of new bus sales in 2025 are expected to be electric in India, according to a recent research by investment agency ICRA Limited. The penetration of zero-emission buses stood at 5-6 per cent during the first half of 2023. The Indian e-bus market witnessed a growth of 65% in […]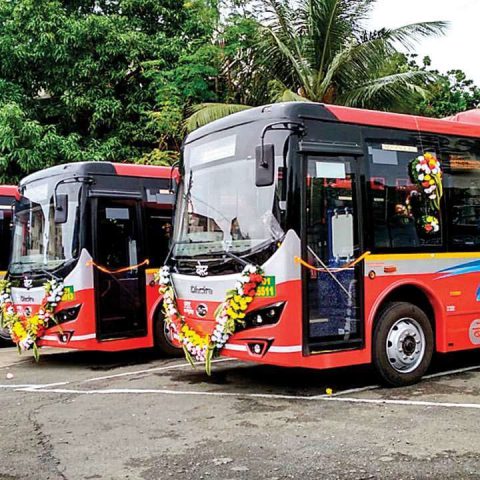 A share between 11 and 13% of new bus sales in 2025 are expected to be electric in India, according to a recent research by investment agency ICRA Limited. The penetration of zero-emission buses stood at 5-6 per cent during the first half of 2023.
The Indian e-bus market witnessed a growth of 65% in 2022. However, reporting from Reuters found in late 2022 that "Indian banks are reluctant to lend to electric-bus makers".
In India, substantial incentives for EV penetration are offered through schemes like Faster Adoption and Manufacturing of Hybrid and Electric Vehicles (FAME), Smart Cities Mission, and others. Subsidies under the FAME II scheme (~30-40% of the bus cost) play a pivotal role in significantly reducing upfront capital costs of e-buses. As mentioned above, ICRA anticipates that 11-13% of new bus sales by FY2025 will be electric.
"Of the 7090 e-buses sanctioned under the FAME subsidy scheme as of October 30, 2023, only 2435 e-buses have hit the roads and the rest of the buses (4655 units) are yet to be deployed", The Hindu Business Line reports.
Electric buses in India, a growing demand
While the intra-city bus segment has experienced early adoption, driven by subsidies, ICRA expects broader EV penetration to occur as technology evolves and bus costs decrease. Operational savings, particularly in fuel costs (3-5 times lower compared to diesel buses), contribute to the total cost of ownership (TCO) appeal of e-buses, the company says.
The Gross-Cost Contract (GCC) model, or the opex model, has emerged as the preferred route for e-bus adoption in India. This model alleviates the upfront capital burden on cash-strapped State Road Transport Undertakings (SRTUs) and encourages private participation. Despite relatively low execution-related risks, operational risks are higher due to the lack of a sufficient track record in the country. The model is evolving, and operators are exploring measures to mitigate risks.
As reported on The Hindu Business Line, PMI Electro Mobility Solutions has already delivered more than India-built 1,200 units of e-buses and has an e-bus order book of more than 2,500 units and recently secured an investment of ₹250 crore from Piramal Alternatives to scale up e-bus operations. Tata Motors has signed agreements with Delhi Transport Corporation and Bengaluru Metropolitan Transport Corporation for deployment of 1,500 and 921 e-buses respectively.
"Cumulatively, we have now crossed more than 97 million kilometers and I think in all the contracts we are delivering more than 95 per cent uptime and almost close to 100 per cent uptime towards the end of Q2," Girish Wagh, Executive Director, Tata Motors Ltd said during the company's Q2 FY24 earnings call.
"With the government attempting to modernise the fleet with electric buses and total cost of owners works in favour of e-buses, the penetration of the same has been increasing steadily. School bus segment is yet to see the adoption of e-buses. However, the overall penetration will continue to increase going forward", said Srikumar Krishnamurthy, Senior Vice-President & Co-Group Head – Corporate Ratings, ICRA.