Electric coach and hydrogen BRT. Van Hool's 'recipe' for Busworld
The domestic manufacturer Van Hool, based in Belgium, is displaying at Busworld 2019 an hydrogen BRT bus and an electric coach for US market, plus a new variant of the EX coach that features a lenght of 10.5 meter (the shorter in the gamma, in the picture at the bottom of the article). Van Hool, new markets […]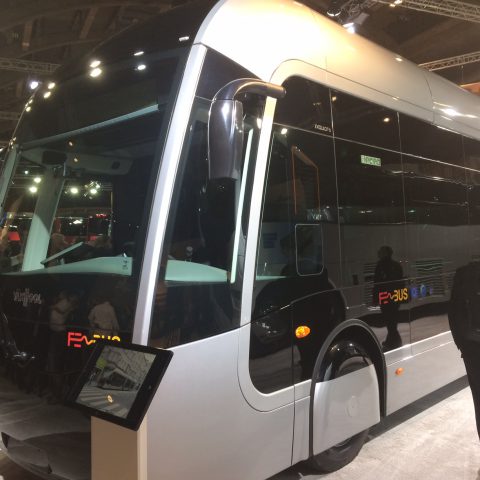 The domestic manufacturer Van Hool, based in Belgium, is displaying at Busworld 2019 an hydrogen BRT bus and an electric coach for US market, plus a new variant of the EX coach that features a lenght of 10.5 meter (the shorter in the gamma, in the picture at the bottom of the article).
Van Hool, new markets in the Pacific region
Van Hool started recently to produce double decker coaches for Japanese market. The world coverage of Van Hool includes Europe, USA and the later addition of Australia, New Zealand and Japan.
Van Hool's CEO Filip Van Hool opened the press conference in Brussels. «Van Hool strongly believe in hydrogen. We have sold more than 130 hydrogen buses so far. Recently we are starting to receive the first large order from Wuppertal, Cologne and Qbuzz in the Netherlands», he stated. «We are also investing on battery electric buses – Van Hool CEO added -. The CX45-E is our first electric coach for the US market. It has a nominal range of 400 km, guaranteed for 8 years of operations».
The first hydrogen BRT line in the world
The articulated Van Hool Exqui.City FC, hydrogen powered, is almost ready to start operations in the French city of Pau as part of the first hydrogen BRT line in the world. It can carry 125 passengers. The vehicle needs 10 minutes to refuel, and has a range of 300 km, says the manufacturer.
An electric coach for the US
As mentioned above, at Busworld 2019 in Brussels Van Hool will also present the CX45E, an electric coach for the North American market. As a supplier of battery modules, Van Hool has chosen Proterra, a US based manufacturer of battery technology for heavy vehicles (as well as complete buses).