EQT bets billions on electrifying First Student's fleet with zero-emission school buses
The Wall Street Journal has reported that private-equity firm EQT AB is making a significant bet on electric school buses, planning to invest billions of dollars in electrifying First Student's fleet. First Student, the largest school-bus operator in North America, currently operates about 44,000 buses across more than 1,100 school districts, serving 2.5 million students […]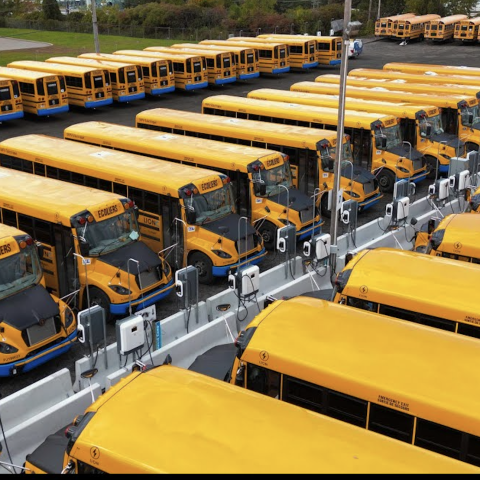 The Wall Street Journal has reported that private-equity firm EQT AB is making a significant bet on electric school buses, planning to invest billions of dollars in electrifying First Student's fleet.
First Student, the largest school-bus operator in North America, currently operates about 44,000 buses across more than 1,100 school districts, serving 2.5 million students in the U.S. and Canada. EQT, that has taken over First Student in 2021, believes that government incentives and increasing demand for eco-friendly student transportation will make this investment profitable.
At the time of the takeover, EQT underlined that it «intends to help future-proof the Company by investing in the electrification of its fleet and accelerating its transition to renewable fuel sources in order to support passenger health and reduce environmental impact».
North American school bus transportation provider First Student announced last year the winning of grants in California, Rhode Island, Missouri, Illinois, Oregon, and Montana to expand school bus electrification. In May 2021, First Student announced the largest zero-emission school bus order in North America of 260 buses. 
EQT to invest in electric school buses
On the topic of school bus electrification, for instance, Boston plans to switch all its vehicles to electricity by 2030. It is no mystery that Biden Administration is accelerating on this. According to the U.S. Environmental Protection Agency (EPA), it is projected that 30 percent of all school buses manufactured in 2027 will be electric-powered. This percentage is expected to rise to 45 percent by 2032, based on the EPA's proposed greenhouse gas emissions standards for heavy-duty vehicles, according to figures presented by Blue Bird.
First Student, according to figures quoted in the newspaper, already deployed or ordered around 500 electric buses, and their goal is to have 30,000 of these vehicles on the road by 2035.
Crosby Cook, an EQT partner who focuses on infrastructure and related transactions, is quoted as stating: "The risk would be that adoption happens slower than expected. But we think the combination of First Student as the largest operator with EQT's expertise gives the industry a good chance of moving as fast as possible. As First Student owns its entire fleet, "we think we can really influence the pace of electrification," Cook said.
"While an electric bus can cost as much as $400,000, or four times the price of one that runs on diesel fuel, that cost is expected to come down over time, Cook said. Also, he said, government incentives can help lower the final outlay for school districts or operators that use the vehicles", the Wall Street Journal reports. Incentives are in place. On top of these, "First Student will also seek to generate ancillary revenue by injecting into the grid electricity stored in bus batteries during periods when the vehicles aren't in use, Cook said. Overall, U.S. schools already use or are committed to putting 5,986 electric buses on the road, including 3,218 buses added last year, according to WRI data", the newspaper writes.