EvoBus becomes Daimler Buses. Change will be effective as of 12 July 2023
EvoBus becomes Daimler Buses. Announced today, the change will be effective as of 12 July 2023. Affiliated European national subsidiaries will also be renamed accordingly. The denomination "EvoBus" will then disappear. EvoBus service centres, previously known as "BusWorld Home", will be renamed Daimler Buses Service Centers in the future. "The former EvoBus GmbH will benefit […]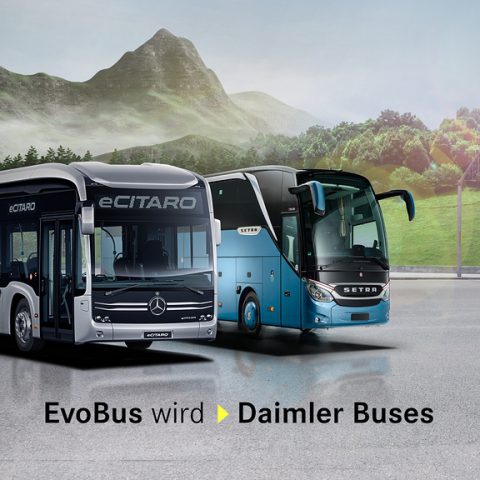 EvoBus becomes Daimler Buses. Announced today, the change will be effective as of 12 July 2023. Affiliated European national subsidiaries will also be renamed accordingly. The denomination "EvoBus" will then disappear.
EvoBus service centres, previously known as "BusWorld Home", will be renamed Daimler Buses Service Centers in the future. "The former EvoBus GmbH will benefit from the brand's awareness and underline its affiliation with Daimler Truck Group at the same time", the group states in a press note.
A few days ago Daimler Buses has celebrated the 1,000th eCitaro out of the production lines and the awarding of a massive 95-units order in The Hague.
EvoBus becomes Daimler Buses
Till Oberwörder, CEO of Daimler Buses: "With EvoBus, we have been very successful for almost three decades and we are proud of that. We are now looking forward to a new chapter as Daimler Buses GmbH – and we have a lot in store for ourselves: we want to lead the transformation of our industry to emission-free mobility and win over customers and talent. The new name will help us achieve this because operating under this brand will mean we won't have to do much explaining."
After the merger of Mercedes-Benz Omnibusse with the Kässbohrer Setra brand, the bus and coach manufacturers merged under the EvoBus umbrella brand 28 years ago. "Since then, the company has grown continuously and stands for high-quality buses and coaches in all segments. Today, it has a workforce of about 10,000 and 13 subsidiaries throughout Europe", the company explains.
A picture of Daimler Buses
The Daimler Buses segment at Daimler Truck is responsible for the global activities of the Mercedes-Benz, Setra, OMNIplus and BusStore bus, coach and service brands. Daimler Buses' product lineup ranges from coaches, intercity buses, city buses and special-purpose buses to bus chassis. In addition to the production and sales of new buses as well as coaches, Daimler Buses also boasts a global service network and offers comprehensive services centring around the vehicles to a marketplace for used buses as well as coaches.
Daimler Buses sites include Daimler Buses GmbH with numerous subsidiaries throughout Europe, Daimler Buses Latin America in Brazil, Daimler Buses Mexico, Daimler Coaches North America and the bus business of Mercedes-Benz Türk A.Ş in Turkey.