Flix tenth anniversary: EBITDA profitability achieved in 2022 (with 60 millions passengers traveling)
Ten years since the foundation, 300 million passengers transported, 41 countries connected, 2022 revenue of more than € 1.5 billion on a global scale and the achievement of profitability at the EBITDA level. This is the 2022 snapshot of Flix (a group under which the FlixBus brand as well as the rail provider FlixTrain are […]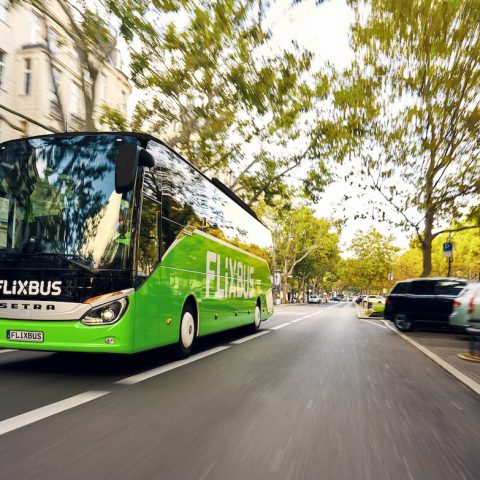 Ten years since the foundation, 300 million passengers transported, 41 countries connected, 2022 revenue of more than € 1.5 billion on a global scale and the achievement of profitability at the EBITDA level. This is the 2022 snapshot of Flix (a group under which the FlixBus brand as well as the rail provider FlixTrain are placed), which today convened a press conference at its Munich headquarters on the occasion of the tenth anniversary of the company's birth.
In 2023, Flix expects to increase profits by at least 20 per cent, and plans to continue extending the FlixBus and FlixTrain network. In 2023, green buses will make their debut in Chile.
We had success so fare in the smaller and highest regulated market in the world, the European ones. The biggest bus market are still there. Brasil for instance, where we just started, it is alone larger than the whole European market. And Asia, which is historically the largest bus market on earth.

André Schwämmlein, CEO at Flix
In terms of impact reduction, fleet transformation plays a key role at Flix. Among other things, the company pioneered the first long distance e-buses and solar panels, launched biogas and colza biofuel lines, and joined forces with leading industry actors to further enhance the use of alternative drives on long routes: examples include the deal with Freudenberg Sealing Technologies and ZF to launch the first bus powered with green hydrogen in Europe and the partnership with Daimler Buses to develop a fully electric drive for long-distance coaches.
Flix: revenue +185% on 2021
2022 has been the most successful year in the Flix history – and a revenue increase of 185% compared to 2021, Flix states. More than 60 million passengers in 40 countries traveled with FlixBus, FlixTrain, Greyhound in North America and Kamil Koç in Türkiye. Since the company's foundation, Flix has carried close to 300 million travelers.
FlixBus also expanded its offer to new countries such as Portugal, the United Kingdom, and the Baltics. Meanwhile, FlixTrain remains available in Germany and Sweden.
FlixBus efforts in Ukraine
FlixBus and its bus partners have been providing humanitarian aid since the attack on Ukraine, as mobility is more important than ever for the Ukrainian people. In addition to offering more connections and free rides for refugees, the company and its partners also transported tons of relief supplies for people in need. FlixBus' priority was always to provide immediate and unbureaucratic aid where and when it was needed the most. Flix built the leading network to connect Ukraine with Europe and has been expanding the network to and from Ukraine, with new lines to Germany, Poland, Austria, Hungary and Czech Republic. Flix is committed to the Ukrainian network and further expansion is due in 2023.
FlixBus on the Turkish market
Since 2019, the Turkish market leader Kamil Koç became part of Flix, serving more than 300 destinations, bringing green and smart mobility to people in Türkiye. Last year, more than 13 million passengers used the Kamil Koç services, making Türkiye one of the biggest and most important long-distance bus markets worldwide. Flix' ambition is to strengthen its market leadership in Türkiye and further improve long-distance bus offer into regions which have not been covered by Kamil Koç historically.
"The passion of the local team enabled the increased offer to many earthquake-affected regions in the last days and weeks, so help could reach the region and refugees could get to safety in other parts of Türkiye – Flix states -. Kamil Koç has supported search and rescue efforts from the first day of the disaster with 50 buses it has allocated: 20 buses to public institutions free of charge for search and rescue efforts in the region and 30 buses to private institutions and civil society organizations which actively join the search and rescue efforts in the region. Kamil Koç enabled almost 200 departures free of charge in the first eight days after the catastrophe".
Flix in the Americas: growing markets
Under the banner of Flix North America, Greyhound and FlixBus leveraged synergies, expanded the network and improved travel experience for its customers. Since January 18, 2023, both operations run on Flix technology, Flix says. It took Flix 14 months to bring the Greyhound business within the latest Flix technology. Customers can book rides with Greyhound and FlixBus on both brands' websites and apps to benefit from an extended network reaching almost 2,300 destinations across the United States, Canada and Mexico. Last year, more than 8 million passengers were using FlixBus and Greyhound in North America.
Additionally, Flix has started operations in Brazil in December 2021 and is now serving 33 destinations in the largest South American bus market. Flix will continue to expand the network in 2023 as the offer is being well received by the customers. After Brazil, Chile will be the second FlixBus market in South America and the world's 41st country with green long-distance buses on the roads.
What about FlixTrain?
FlixTrain will also be a key part of Flix's expansion in the future and play a crucial role in shaping the mobility landscape. "Fueled by positive developments on a regulatory level, European rail has become a promising growth market. Since launching FlixTrain five years ago, millions of passengers have used the rail offer in Germany and Sweden. Recently, FlixTrain announced to be part of the EU pilot services to boost cross-border rail in the upcoming years with connection between Germany and Switzerland as well as between Germany and Sweden", company states.
"Flix is positioned in a highly attractive growth market"
"2022 was our most successful year so far," says André Schwämmlein, co-founder and CEO of Flix. "This shows more than ever that Flix is positioned in a highly attractive growth market– we stand for modern mobility, sustainability and digitalization. And we are just getting started. We see that all markets we are operating in have recovered very well from the pandemic. We continue to strengthen our position in established markets while further expanding our offer to new countries to enable green mobility to even more people".
Concerning energy transition, André Schwämmlein adds: "Driving the green mobility revolution has always been the DNA of Flix. With technology enabling intelligent route planning, strong partnerships to explore and realize alternative drive technologies, a path towards carbon neutrality and expanding our network we are well on track."
Flix sustainability efforts
Flix is currently preparing its first voluntary Environmental Social Governance (ESG) report in line with the global standard Global Reporting Initiative (GRI), to best investigate and measure its sustainability achievements, and identify future steps. This vision is likewise being pursued through Flix's recent commitment to SBTi (Science-based Target Initiative), aimed at monitoring and assessing the future efforts in terms of greenhouse gases emission reduction, and the UN Global Compact, providing a globally recognized policy framework for developing, implementing and disclosing ESG policies and practices.