Long range and quick refueling times at the depot are among the main advantages shown by hydrogen fuel cell electric buses when compared to battery electric vehicles. And 2019 will be easily remembered as the year that saw hydrogen technology stepping into the spotlight again.
At UITP Global Public Transport Summit 2019 lot of attention was dedicated to fuel cell buses. Ballard Power Systems launched the 8th generation of the fuel cell module FCmove. The module has been adopted by Solaris on the Urbino 12 hydrogen, also showcased in Stockholm. By the end of the year the first hydrogen powered BRT line in the world will be launched in France.
But if you are looking to expand your fleet with hydrogen-powered buses, one question is top of mind. Where do I get the hydrogen to fuel the fleet?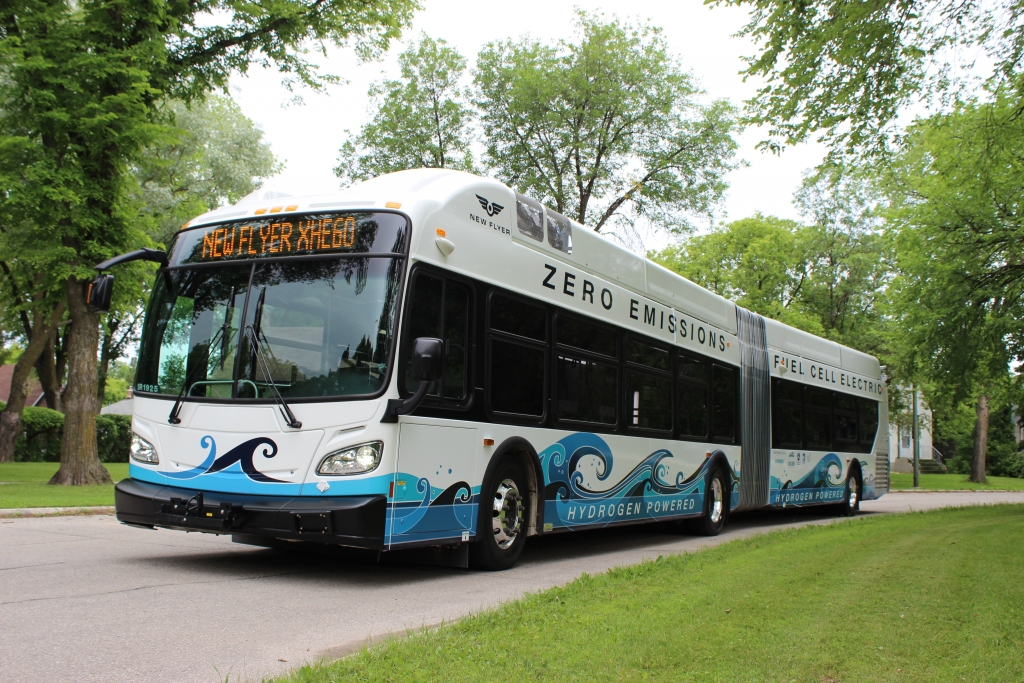 Is hydrogen readily available?
Most of the hydrogen fuel used in transit bus applications is generated at large scale production facilities, delivered to bus depots and stored as a liquid or compressed gas. Hydrogen can also be produced on-site using an electrolyser or natural gas reformer.
More than 400 hydrogen buses are operating today in the United States, Europe and China. Because there are so many ways to make hydrogen, transit agencies can choose to source the hydrogen in whichever way makes the most environmental and economic sense for them.
What will it cost to fuel my fleet?
Hydrogen fuel is managed just like CNG or diesel. The price is fixed over a period of time, and contracts are paid in dollars per kilogram. Knowing that a bus typically needs 20 to 30 kilograms of hydrogen per day makes budgeting for the year very accurate.
There are a variety of companies that will compete for the opportunity to supply the hydrogen and fueling station for a fleet, which keeps the price of the fuel down, thus balancing the higher upfront price with lower operational costs.
But also upfront price is expected to decline: «a target single-decker bus price below €375,000» is among the goals of the recently launched H2Bus Consortium, whose members (Ballard Power Systems, Everfuel, Wrightbus, Hexagon Composites, Nel Hydrogen, and Ryse Hydrogen) are working together to deploy 1,000 zero-emission fuel cell electric buses (FCEBs) and related infrastructure in European cities at commercially competitive rates.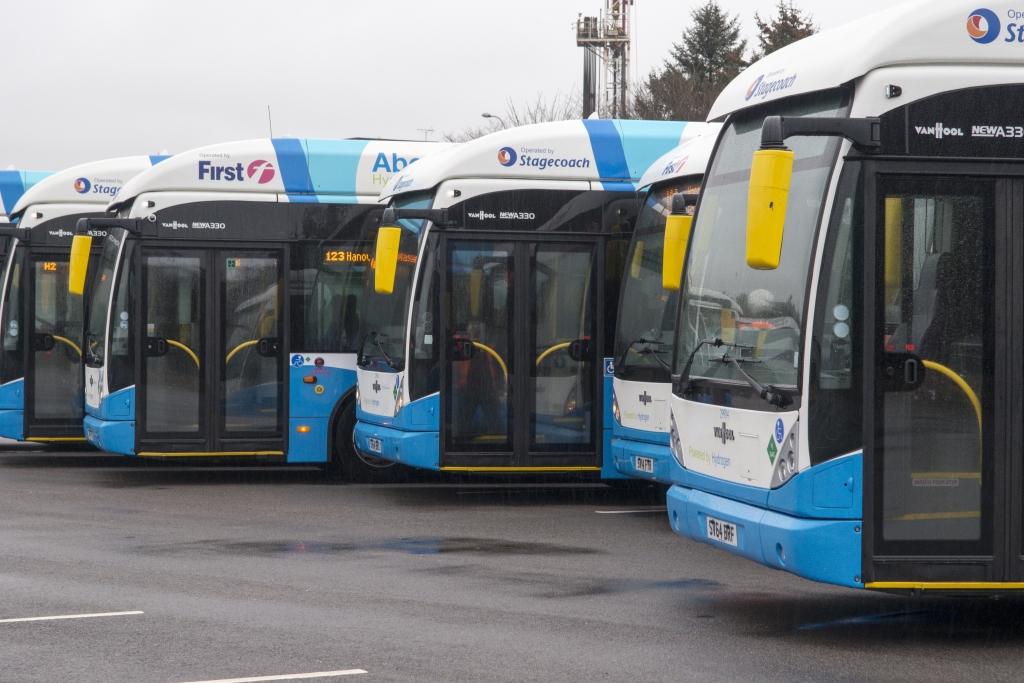 How clean is hydrogen?
A zero-emission vehicle is really only zero-emission if the fuel it uses is produced from renewable energy. So suppliers need to work on increasing the volume of renewable hydrogen available to transit agencies.
One solution is to centralize hydrogen production and distribution in a coordinated way that can support clusters of transit depot fueling sites. The concept revolves around low cost production of green hydrogen in areas rich in renewable energy resources and strategically located with respect to several transit agencies. The hydrogen is then transported relatively short distances in high pressure trailers to multiple fueling locations, and full trailers are simply swapped with empty trailers. At the depot, multiple trailers assure that daily fueling capacity can be achieved at any time, regardless of when the empty trailer is swapped.
How safe is hydrogen?
Hydrogen is flammable, but it is inherently safer than conventional fossil fuels. As with any fuel, hydrogen must be treated with respect and care.
Today's hydrogen fuel cell technologies are mature in their safety features. A small leak may trigger an early warning, to allow a driver to stop and park the vehicle while it is still safe. Collision sensors are designed to activate a "safe shutdown" sequence that locks the high-pressure hydrogen in the tank, and isolates the high-voltage components from the system. Today hydrogen is already produced, transported and used in large volumes by the industry.
Fuel cell systems for motive applications are designed and built for safety, and the protocols for safe storage and refueling are well developed and understood.

Final thoughts: why choose hydrogen?
Compared to fossil fuels, the choice is clear. Hydrogen fuel cells are expected to be key to zero-emission heavy-duty transportation systems, including bus, rail, and transport trucks.
To date, hydrogen is commercially available and can be produced from renewable energy.
What is important to mention is that hydrogen infrastructure is scalable and becoming more and more affordable as the number of vehicles per depot increases to enable the transition to 100% zero emission transit bus fleets.
Finally, as mention at the beginning, hydrogen fuel cells are proven in real-word use: Ballard highlights that fuel cell buses powered with the company's modules have travelled millions of kilometers, providing reliable passenger service for years.