H2Bus Consortium, a clear target: lowering the cost of hydrogen buses
A newly formed group of companies committed to produce a fuel cell bus (and infrastructure) that could be sustainable not only from the environmental… but also from the economical point of view. It's the target of H2Bus Consortium, whose members are working together to deploy 1,000 zero-emission fuel cell electric buses (FCEBs) and related infrastructure […]
A newly formed group of companies committed to produce a fuel cell bus (and infrastructure) that could be sustainable not only from the environmental… but also from the economical point of view.
It's the target of H2Bus Consortium, whose members are working together to deploy 1,000 zero-emission fuel cell electric buses (FCEBs) and related infrastructure in European cities at commercially competitive rates.
Ballard Power Systems just announced that it is a founding member of the new organism, together with Everfuel, Wrightbus, Hexagon Composites, Nel Hydrogen, and Ryse Hydrogen.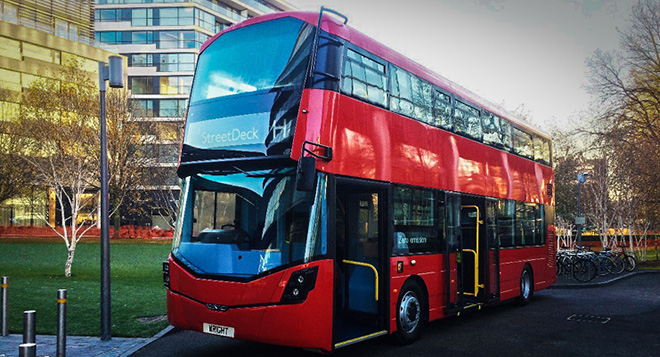 The goal: hydrogen bus below 375,000 dollars
The H2Bus Consortium has the target of providing the most cost effective hydrogen bus available on market, being the very high upfront cost (together with infrastructure) the main barrier to the adoption of fuel cell buses. The companies have a simple goal: «a target single-decker bus price below €375,000, hydrogen cost between €5 and €7 per kilogram and bus service cost of €0.30 per kilometer».
A 40 million dollars grant
An initial 600 FCEBs are being supported by a €40 million grant from the EU's Connecting European Facilities (CEF) program, with 200 buses to be deployed in each of Denmark, Latvia and the U.K. by 2023, Ballard points out in a press release.
Wrightbus, for instance, is a UK-based manufacturer who released in 2018 its first fuel cell double decker, called Streetdeck FCEV and powered by Ballard fuel cell system. 20 units of this vehicles are to be operated from next year by Transport for London in the framework of EU funded JIVE project. In the same year 2020 also Liverpool is going to have the first fuel cell double decker buses, built by ADL, in operation.
Ballard to launch FCmove at UITP Summit
Ballard Power System produces a wide range of fuel cell systems for different kind of products: from transit to marine vehicles, from rail to material handling and so on.
Wrightbus will integrate Ballard's 8th-generation heavy duty power module – called FCmove – into H2Bus Consortium buses. FCmove products will be officially launched at the UITP Global Public Transport Summit, taking place June 9-12 in Stockholm, Sweden. FCmove products, Ballard points out, will deliver the performance and reduced total lifecycle cost required to meet the ambitious targets of the H2Bus Consortium and deliver an attractive economic value proposition to bus operators.
UITP Summit, Solaris with a fuel cell novelty too…
Still at UITP Summit in Stockholm, Solaris will unveil the Urbino hydrogen, the first fuel cell buses developed by the Polish brand. The bus is also fitted with a Solaris High Power battery which acts as an additional electric power storage facility. According to the information released in June 2018, the Solaris Urbino 12 hydrogen has 29.2 kWh battery capacity.
The bus has already been ordered, in 12 units, from Italian public transport companies SASA Bolzano, with support of EU funds.
H2Bus Consortium to meet a rising demand
Randy MacEwen, Ballard President and CEO said, "The H2Bus consortium is a very exciting development in the deployment of zero-emission fuel cell electric buses across Europe. Together with the JIVE funding program, which targets the deployment of 291 FCEBs, we can expect to see approximately 1,300 European fuel cell transit buses in operation in the foreseeable future. Consortium members intend to provide the most affordable zero-emission bus and hydrogen fuelling solution in order to meet the increasing demand for clean public transportation in Europe's largest cities."