Which bus novelties will be on display at InnoTrans? Ebusco, Solaris, Skoda, Van Hool, VDL, Optibus, Altas (and others) in Berlin
Solaris Urbino 18 hydrogen, Ebusco 3.0, VDL Citea new generation, the fuel cell bus by Skoda. These are just a few examples of bus news to be unveiled at InnoTrans 2022, where 14 buses will be on display. Also Karsan, Optibus, Kiepe Electric, Otokar, Altas, Voith will be attending. On the Bus Display exhibitors will […]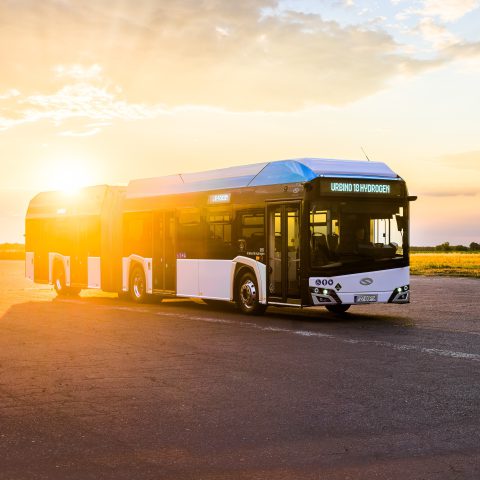 Solaris Urbino 18 hydrogen, Ebusco 3.0, VDL Citea new generation, the fuel cell bus by Skoda. These are just a few examples of bus news to be unveiled at InnoTrans 2022, where 14 buses will be on display. Also Karsan, Optibus, Kiepe Electric, Otokar, Altas, Voith will be attending.
On the Bus Display exhibitors will be displaying their vehicles, alternative drive systems and the corresponding charging infrastructure. In the Summer Garden presentations will feature buses circling the 500-metre demonstration course, with visitors invited to take a test ride at InnoTrans, one of the main public transport exhibitions scheduled for 2022 in Europe.
Solaris to launch the 18-meter with fuel cell
For the first time at a trade fair the Polish manufacturer Solaris is presenting its Solaris Urbino 18 hydrogen, an 18-metre long bus with hydrogen as its main energy source. As on the Urbino 12, a shorter version, ultra-modern fuel cells function as miniature on-board hydrogen plants. The Solaris Urbino 18 hydrogen is one of around 250 world innovations being shown to trade visitors for the first time at this year's InnoTrans.
Ebusco at InnoTrans 2022 with 3.0 and 2.2 models
Ebusco from the Netherlands is presenting its 3.0 version of a fully electric urban bus. In addition to the latest 3.0 version the company is also displaying its Ebusco 2.2, a new electric bus for Berlin.
"We recently delivered the first of 90 Ebusco buses to Germany's largest public transport company", said Peter Bijvelds, managing director of Ebusco. The bus was driven from the company HQ to Berlin without recharging along the 636.8 kilometre long route. On arrival the battery was still charged, InnoTrans says. "We hope that lots of companies will follow this example and purchase emissions-free buses, so that as an industry we can operate safe and climate-neutral services over even longer distances", said Bijvelds, adding, "we are happy to be back at InnoTrans. It is a great opportunity to meet many industry colleagues again and present our innovations."
Skoda H'CITY fuel cell bus
Škoda can also be found on the Bus Display and is displaying its two new innovative models H'CITY and T'CITY 36TR. The Škoda T'CITY 36TR is a 100 per cent low-floor O-bus featuring a new body specially designed for Škoda. The ŠKODA H'CITY is a new hydrogen bus which uses PEM fuel cells and batteries as its energy source. As part of ŠKODA's New Energy Vehicles programme it aims to be a solution for emissions-free cities of the future.
Van Hool and VDL with their news
At InnoTrans the Belgian manufacturer Van Hool is presenting its A12 battery-electric bus, that saw its premiere at European Mobility Expo in Paris. Van Hool's A series is a range of emissions-free public transport buses with which the company is expanding its portfolio of environmentally friendly buses for urban and regional public transport.
VDL Bus & Coach is presenting the new generation Citea in Berlin. "Whereas in previous years zero emissions was the ultimate goal, today it is the norm for a liveable city", said Alex de Jong, business manager, Public Transport at VDL Bus & Coach. "That requires new technologies and a new approach. VDL's new Citea bus concept offers solutions without compromises."
Floor-mounted batteries, a single side panel from composite materials, intelligent energy management, air-conditioning and an ergonomically designed driver environment are the five main innovations of the new Citea product range with four wheelbases and five different versions, which VDL Bus & Coach is displaying at InnoTrans.
Other exhibitors on the Bus Display include Karsan Automotive, Otokar Europe, SBRS, K-Bus, Ventura Systems, Altas Auto, Kiepe Electric and Ferrovie dello Stato Italiane.
An event program at InnoTrans 2022
Accompanying the presentations of new technologies and their uses on public transport will be lectures and debates. On Thursday, 22 September 2022 at 10 a.m. at hub27 the Public Transport Forum will be taking place, where representatives of politics, public administrations and transport companies will discuss innovative strategies for new transport concepts. Afterwards, at the International Bus Forum at 2 p.m., the focus will be on discussing 'Mobility as a citizens' service', with the aim of achieving reliable door-to-door services, which are easily accessible, affordable, networked and can be flexibly and specifically adapted to individual needs.
Voith Group is displaying its H2 energy storage systems for buses and rail vehicles, while Optibus is presenting a case study on saving EUR 600,000 in three months and how valuable the digital transformation is for planning and scheduling public transport. Deutsche Bahn / Bonvoyo will discuss new directions in public transport and the mobility budget. PwC is also taking a new approach to public transport and wants to help shape the future of mobility with AI, while at Door2Door the focus is on on-demand public transit services and realising the full potential of a bus network.