InnoTrans 2022. 95 per cent of the area booked, at least 12 buses on the Bus Display track (Solaris, Van Hool and Ebusco attending)
InnoTrans exhibition area is currently occupied at 95 per cent, organizers say. Trade visitors can witness more than 100 vehicles on the Outdoor Display as well as 12 buses on the Bus Display, including many new products and world innovations. Federal Minister of Transport Dr. Volker Wissing and European Commissioner for Transport Adina Vălean (tbc) […]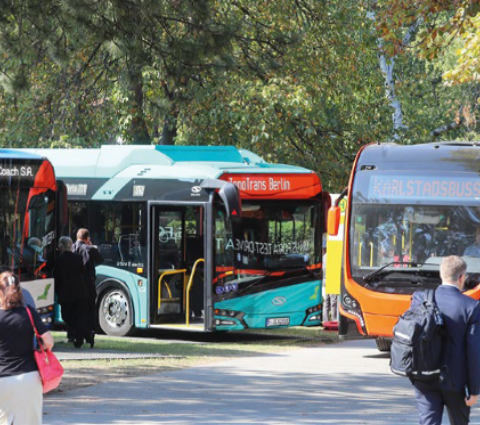 InnoTrans exhibition area is currently occupied at 95 per cent, organizers say. Trade visitors can witness more than 100 vehicles on the Outdoor Display as well as 12 buses on the Bus Display, including many new products and world innovations. Federal Minister of Transport Dr. Volker Wissing and European Commissioner for Transport Adina Vălean (tbc) are expected to attend the opening of the event, one of the main public transport exhibitions scheduled for 2022 in Europe.
The trade fair for transport technology, organized by Messe Berlin, is thriving with its thirteenth edition in 2022 from 20 to 23 September (dates partially coinciding with the ones of IAA Transportation in Hanover). InnoTrans will occupy the entire exhibition grounds at Messe Berlin, including the new trade fair hall hub27. The Outdoor Display with 3,500 metres of rail track is fully booked.
At the last event 3,062 exhibitors from 61 countries presented the global rail industry's innovations to 153,421 trade visitors who came from 149 countries. The five segments at InnoTrans are Railway Technology, Railway Infrastructure, Public Transport, Interiors and Tunnel Construction.
Bus Display at the center of the fair
The Bus Display in the Summer Garden, the centrepiece of the exhibition grounds, is showing buses under normal operating conditions. On the 500-metre long test circuit exhibitors including Solaris, Van Hool and Ebusco are presenting their latest buses with alternative drives and corresponding charging infrastructure.
12 buses are currently registered and due to be demonstrated, InnoTrans press note mentions. Ebusco from the Netherlands for example will present its electric city bus 3.0. Solaris is displaying the Solaris Urbino electric. Rounding off this theme will be the German Transport Forum. On Thursday, 22 September 2022 at 2 p.m., under the heading 'Mobility as a citizens' service – sustainable, smart and available anywhere', the International Bus Forum will be taking place at hub27.
Over 100 vehicles at InnoTrans 2022
This year on the Outdoor Display exhibitors are showing over 100 vehicles, including some world innovations. Siemens Mobility and Deutsche Bahn are presenting the H2goesRail project and the Mireo Plus H, a new generation of fuel cell-powered trains. Stadler is taking part with seven vehicles this year. Tatravagónka, a goods wagon manufacturer from Slovakia, is planning to make a big appearance at InnoTrans with six vehicles supplementing its hall stand.
Mention should also be made of the Ideenzug City (innovative train) – the light rail system of the future – by DB Regio with 12 theme worlds, automatically configurable seating and standing room, a flexible space concept, interactive windows and e-Scooter holders etc. Trade visitors can also look forward to presentations from Alstom, Siemens, Vossloh, Plasser & Theurer as well as numerous other exhibitors.
"In view of the difficult overall conditions and latest developments we did not expect bookings to be this high. Everyone taking part is looking forward all the more to meeting in person. InnoTrans is the world's largest platform for the mobility sector, with a market coverage that is second to none", said InnoTrans director Kerstin Schulz.
Towards InnoTrans 2022
On Tuesday, 20 September 2022, at 10 a.m., the official opening event of InnoTrans will take place at the Palais Berlin. Invitations have been extended to more than 1,000 senior national and international figures representing industry, science and politics. Federal Minister for Digital and Transport Dr. Volker Wissing will welcome the international visitors to this high-profile event. European Commissioner for Transport Adina Vălean has also been invited.
Taking part in the panel discussion, the transport company representatives will be Dr. Richard Lutz, CEO of Deutsche Bahn AG and Michal Krapinec, CEO of the Czech rail company České dráhy.
Representing the industry will be Michael Peter, CEO Siemens Mobility GmbH, Henri Poupart-Lafarge, president of Alstom, and Peter Spuhler, CEO of Stadler Rail Transport S.A. The event will be moderated by Conny Czymoch.
First Hyperloop Conference worldwide at InnoTrans 2022
On Friday 23 September 2022, the Hyperloop Conference will be taking place at InnoTrans in Berlin for the first time (Hall 15.2). The Hyperloop Conference is the first international conference on high-speed transportation worldwide. At the opening of the Hyperloop Conference the following will welcome the attendees with speeches: Oliver Luksic, parliamentary state secretary at the Federal Ministry of Transport and Digital Infrastructure; Carlo M. Borghini (executive director and chief executive at Europe's Rail Joint Undertaking), Keir Fitch (head of Unit Rail Safety & Interoperability – DG Move European Commission), Thomas Jarzombek (speaker of the CDU/CSU parliamentary group on education and research).