Iveco Bus won a tender for 120 electric buses in Italy for carrier Autoguidovie
Iveco Bus has been awarded a tender for 120 electric buses issued by Autoguidovie, the largest Italian privately owned local public transport company. Iveco Bus is also among the four bidders at the 340-units e-bus tender by ATM Milano and will provide 150 e-buses to Italian carrier Busitalia starting in summer 2023. According to figures […]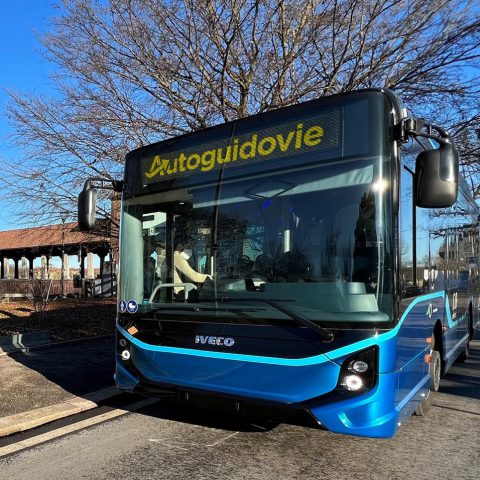 Iveco Bus has been awarded a tender for 120 electric buses issued by Autoguidovie, the largest Italian privately owned local public transport company. Iveco Bus is also among the four bidders at the 340-units e-bus tender by ATM Milano and will provide 150 e-buses to Italian carrier Busitalia starting in summer 2023.
According to figures from Chatrou CME Solutions on the 2022 electric bus market in Europe, 347 battery-electric buses from Iveco were registered last year (the E-Way buses in operation as of end 2022 were 829). Iveco Bus placed fourth in the e-bus market 2022.
Iveco Bus electric buses for Autoguidovie
The purchase of 120 e-buses has been supported with Next Generation EU funds along with national grants.
Autoguidovie will deploy the E-Way buses in different regions, starting with deliveries in the second half of 2023. It has been recently announced that Enel X is going to build electrical infrastructure at the Crema site, where 10 e-buses will be in operation.
Domenico Nucera, President, Bus Business Unit, Iveco Group, said: "We are honored by the trust that customers throughout Europe are placing in our company and our vehicles. And we are glad to be contributing to the ongoing global evolution of public transport towards a zero-emission future. This win is further confirmation that our emission-free mobility solutions can satisfy the different demands of various customers in terms of sustainability, reliability and efficiency."
Stefano Rossi, CEO of Autoguidovie, said: "Our Group is pursuing the virtuous path towards zero-impact mobility. The purchase of electric buses represents the natural continuation for a company that already has one of the most modern and environmentally friendly fleets in Italy and has always promoted public transport as a driver of growth for local communities, businesses and people in the country."
Gianluca Annunziata, Iveco Bus Business Director Italy, stated, "The debut of our 120 100% electric E-Way vehicles into the Autoguidovie Group's fleet will significantly contribute to zero-emission transportation. Indeed, the energy transition is driven by truly sustainable vehicles, which provide an electric solution capable of overcoming all challenges associated with the transportation sector. We are honored to support the Autoguidovie Group in its decarbonization journey".