Iveco won a 225 e-bus tender in Turin (in cooperation with Enel X)
Iveco Bus won the tender issued by GTT Torino, winning all three lots, together with Enel X as utility provider and Iveco Orecchia as dealer. Part of this vehicles will be used on a new BRT line. Earlier this year, Iveco Bus was awarded a tender for 120 electric buses issued by Autoguidovie. Iveco Bus electric buses […]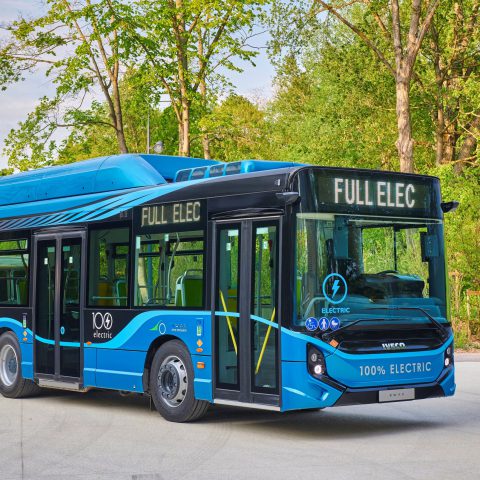 Iveco Bus won the tender issued by GTT Torino, winning all three lots, together with Enel X as utility provider and Iveco Orecchia as dealer. Part of this vehicles will be used on a new BRT line. Earlier this year, Iveco Bus was awarded a tender for 120 electric buses issued by Autoguidovie.
Iveco Bus electric buses for Turin
The manufacturer will also provide 150 e-buses to Italian carrier Busitalia starting in summer 2023. In total, Iveco Bus stated it is going to supply over 1,000 buses in Italy in 2023 (through central purchasing body Consip).
In Turin, the manufacturer will supply 225 electric buses that will operate on the city's urban lines. The framework agreement provides for a further 45 e-buses, that would bring the total to 270 units.
All the vehicles, the supply and installation of charging infrastructure and storage systems are financed with Next Generation EU funds of more than 150 million euro.
The framework agreement provides for the supply of 225 buses E-Way model as follows: 135 12-metre buses, 62 18-metre buses metres and 28 18-metre BRT (Bus Rapid Transit) buses. The latter they will be used on the new route of Line 2. The production of the buses, with the battery packs produced in Turin, will be completed in the new Iveco Bus plant in Foggia.
63% of Turin bus fleet to be electric
"We are particularly pleased because this tender, which is so strategic for GTT, has seen the participation of the main players in the sector – says Serena Lancione, CEO of GTT -. These buses in the coming years will radically change the face of public transport in Turin and will allow a total renewal of the fleet: 63% of GTT's buses will be electric and thanks also to the strengthening of the tram and metro system, more than 80% of travellers in Turin will move electrically and therefore without polluting."
"We are proud to have been selected by GTT for Turin – says Domenico Nucera, President, Bus Business Unit, Iveco Group -. First and foremost we have demonstrated the competitiveness of our product against the best competition, in the wake of the successes already achieved at international level. Furthermore, this supply for GTT will be the first example in Europe of a 'turnkey' contract of our electric buses: not only the vehicles, but also charging services and spare parts, through a winning teamwork with Enel X and IVECO Orecchia. Finally, of course, it fills us with pride to know that the city that hosts the headquarters of Iveco Group will see the most modern electric buses produced by our company".
"We are very pleased to be able to participate in such an important project for the city of Turin, further promoting the spread of sustainable transport in our country – says Armando Fiumara, Head of E-Bus Italia at Enel X -. We are confident that transport on silent and less polluting vehicles will be even more even more preferable by citizens and visitors, in order to respond concretely not only to the objectives of reducing the environmental impact environmental impact, but also to improving urban mobility.