Full electric bus range in 2023, in-house e-axles production by 2024. Iveco Group presents its business strategy
A full electric Iveco bus range is expected in 2023 (the Crossway electrification plan was unveiled recently). In 2024, the goal is to have developed a new full electric and fuel cell heavy range (including in-house production of e-axles). Iveco Group has just presented its Business, Strategy and 2026 Financial Ambitions. Listing on Euronext Milan stock exchange […]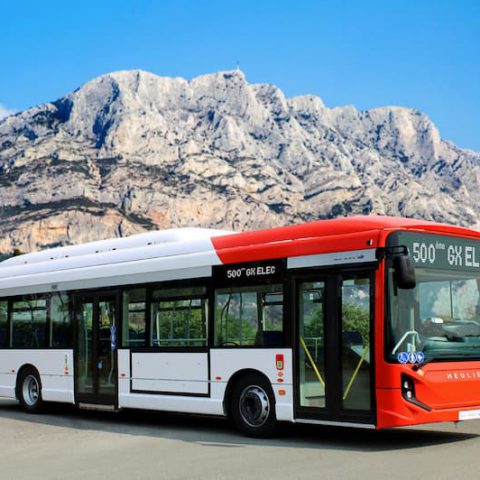 A full electric Iveco bus range is expected in 2023 (the Crossway electrification plan was unveiled recently). In 2024, the goal is to have developed a new full electric and fuel cell heavy range (including in-house production of e-axles).
Iveco Group has just presented its Business, Strategy and 2026 Financial Ambitions. Listing on Euronext Milan stock exchange is expected on January 3, 2022. At the helm of the bus business unit has been appointed Domenico Nucera. Complete structure of the group was revealed in early November.
Iveco Group also announces it has signed The Climate Pledge, a commitment co-founded by Amazon and Global Optimism to reach net zero carbon by 2040
The intention to separate its "On-Highway" (now named "Iveco Group") and "Off-Highway" (Agriculture and Construction) businesses was first announced by CNH Industrial at its Capital Markets Day, held on September 3, 2019.
The demerger, Iveco Group says, «is intended to maximize management focus and flexibility, aligns investment priorities and incentives, better meets respective business needs, and optimizes the cost and capital structure of each Company to drive profitable growth».
Iveco Group strategy, focus on sustainable mobility
More specifically, to tackle climate change issues, the company has integrated a range of carbon-reduction initiatives and specific climate-related topics into the sustainability plan disclosed in the 2020 Sustainability Report of CNH Industrial, defining long-term strategic targets that will drive its business strategy.
Examples of targets are, the group says:
2022: development of next-generation alternative fuel engines running on CNG and LNG, and compatible with biomethane, to further reduce CO2 emissions and Total Cost of Ownership (TCO).
2022: focus on natural gas (NG) engine technologies to achieve ultra-low NOX emissions in urban applications.
2023: development of the next generation Electric Daily (including in-house production of e-drivelines and battery packs).
2023: development of a full electric bus range.
2023: implementation of mild hybrid solutions on diesel and CNG vehicles.
2024: development of a new full electric and fuel cell heavy range (including in-house production of e-axles).
2030: implementation of alternative (electric/hybrid) driveline technologies on all vehicles, to achieve -50% in CO2 emissions.
Iveco Group, what about the financial goals?
The Company's post-Demerger strategy sets out a step change in financial performance over the next five years to 2026.
As a separately listed, independent company, Iveco Group has the following key financial ambitions for 2026:
Targeted total Net Revenues of Industrial Activities at between €16.5 – 17.5 billion compared to €11.8 billion in 2019, a compound annual growth rate up to 5.0%.
The 2026 Adjusted EBIT margin of Industrial Activities is targeted to reach between 5.0
–  6.0%, up to +240 bps increase compared to the 3.6% recorded in 2019. 
Targeted Adjusted Net Profit at between €0.6 – 0.8 billion, compared to €0.3 billion in 2019.
Over the same period, Industrial Activities Investments (Property, plant and equipment and intangible assets – including capitalized R&D) are targeted to increase 80 bps from 4.2% to ~5.0%.
Targeted Free Cash Flow from Industrial Activities of €0.5 billion in 2026, compared to €30 million in 2019.
These ambitions will be achieved through the implementation of the Company's DRIVE Operational Excellence Programme that is designed to deliver across the board improvements in all aspects of operational performance and specifically in the areas of quality, capex and R&D, pricing, and product mix.