Spotlight on MAN projects in the autonomous bus segment. Michael Roth: "Series production by 2030"
Michael Roth, Head of Product Strategy Bus at MAN Truck & Bus, recently spoke about the future of autonomous buses and the challenges of implementing the technology at the VDV Conference and ElekBu exhibition in Berlin. Roth talked about MAN's ongoing project to develop a standard size automated bus, and its plans to demonstrate the […]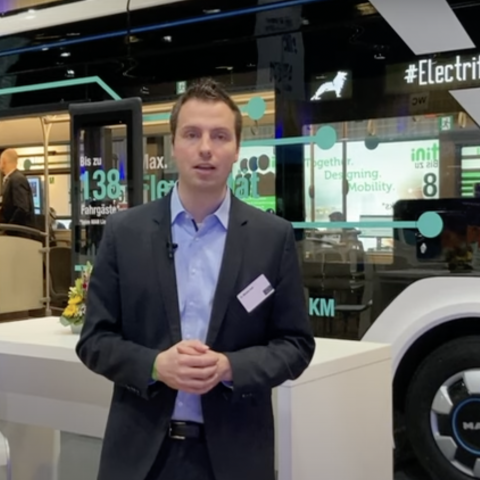 Michael Roth, Head of Product Strategy Bus at MAN Truck & Bus, recently spoke about the future of autonomous buses and the challenges of implementing the technology at the VDV Conference and ElekBu exhibition in Berlin.
Roth talked about MAN's ongoing project to develop a standard size automated bus, and its plans to demonstrate the technology to the public. With a premise: "While autonomous shuttles are an exciting development, there will definitely be a role for regular buses in the transportation industry".
MAN, MIchael Roth and the TCO of autonomous buses
Roth also discussed the cost of implementing autonomous technology, saying, "The bus will be a little more expensive because you have to put ADAS on top. But that won't be that much in our opinion". According to MAN studies, TCO will drop down of 50% with autonomous buses – needless to say where savings are going to come from.
Roth also spoke about the challenges that come with implementing autonomous technology in buses. He explained that it is not just about developing software and embedding it in the vehicle. "There are many other components that need to work together in order to make an automated bus function properly. For example, redundancy is crucial in case of a failure in the steering or braking systems. The airplane industry has for instance a lot of experience in this area".
MAN: series production of autonomous buses by 2030
In terms of testing and development, Roth stated that MAN is currently in the technology piloting phase. He expects to see customer demonstrations of automated buses in real operations in the mid-term, with the goal of scaling up to series production by the end of the decade. However, he noted that "series production for automated buses will be more of a deployment project than simply selling a vehicle".
One particular challenge in developing autonomous buses is ensuring safe and efficient bus stops. Roth explained that a "safety cocoon" can be built around the bus to control the surroundings, and v2x communication can be used to improve the effectiveness of the system. He stressed that while autonomous buses should be able to operate without communication with other vehicles, v2x communication can optimize the system and make it more comfortable for passengers.
A new project in Berlin, soon
MAN Truck & Bus is currently working on a new project that involves fitting a standard size bus with sensors and driving it through the busy streets of Berlin. Roth explains that "The bus will be equipped with a safety driver and will serve as a means of showcasing the capabilities of automated bus technology to the general public.
Currently, MAN Truck & Bus is working on a new project to bring automated buses to the people. The project involves building a standard size automated bus with sensors, driving it through Berlin city center with a safety driver, and communicating with passengers about how the technology works. Roth says that "The aim of the project is to demonstrate how the technology works and to educate passengers on its features. To achieve this, the bus will be equipped with multiple screens that will explain the technology and its benefits to the passengers. The project is being carried out in collaboration with the Technical University of Berlin and IAV, and it represents a significant step forward in the development and implementation of automated buses".