Autonomous buses in public transport, a driverless future ahead? Pilots are multiplying
Autonomous buses and autonomous shuttles: the technology is (almost) ready, the regulatory frameworks not yet, the public not even. But the autonomous bus pilots are multiplying, and several manufacturers already announced autonomous bus fleets launch within a couple years from now. In the meanwhile, short driverless shuttle buses operated in small private areas are not […]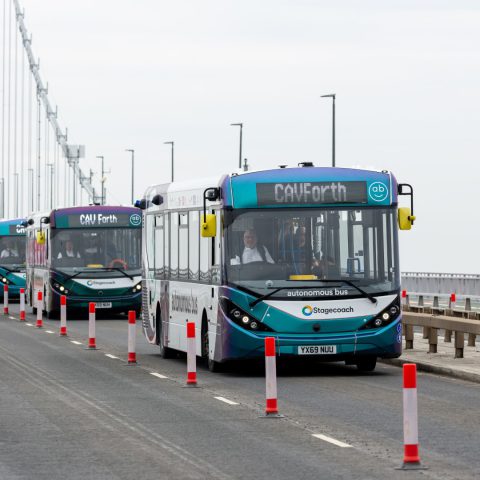 Autonomous buses and autonomous shuttles: the technology is (almost) ready, the regulatory frameworks not yet, the public not even. But the autonomous bus pilots are multiplying, and several manufacturers already announced autonomous bus fleets launch within a couple years from now.
In the meanwhile, short driverless shuttle buses operated in small private areas are not something new (we could mention, for instance, Navya and Easy Mile from the side of the industry, while ZF is quite active in this concern).
MAN and Mobileye join forces for autonomous bus development
According to MAN studies, TCO will drop down of 50% with autonomous buses – needless to say where savings are going to come from.
Michael Roth, Head of Product Strategy Bus at MAN Truck & Bus, in February spoke about the future of autonomous buses and the challenges of implementing the technology at the VDV Conference and ElekBu exhibition 2023 in Berlin.
In May 2023 MAN announced it has entered a cooperation with Intel-owned Mobileye. Their first joint goal consists in launching pilot operation of the first automated city bus with a safety driver from 2025 as part of the just-announced MINGA research project in Munich.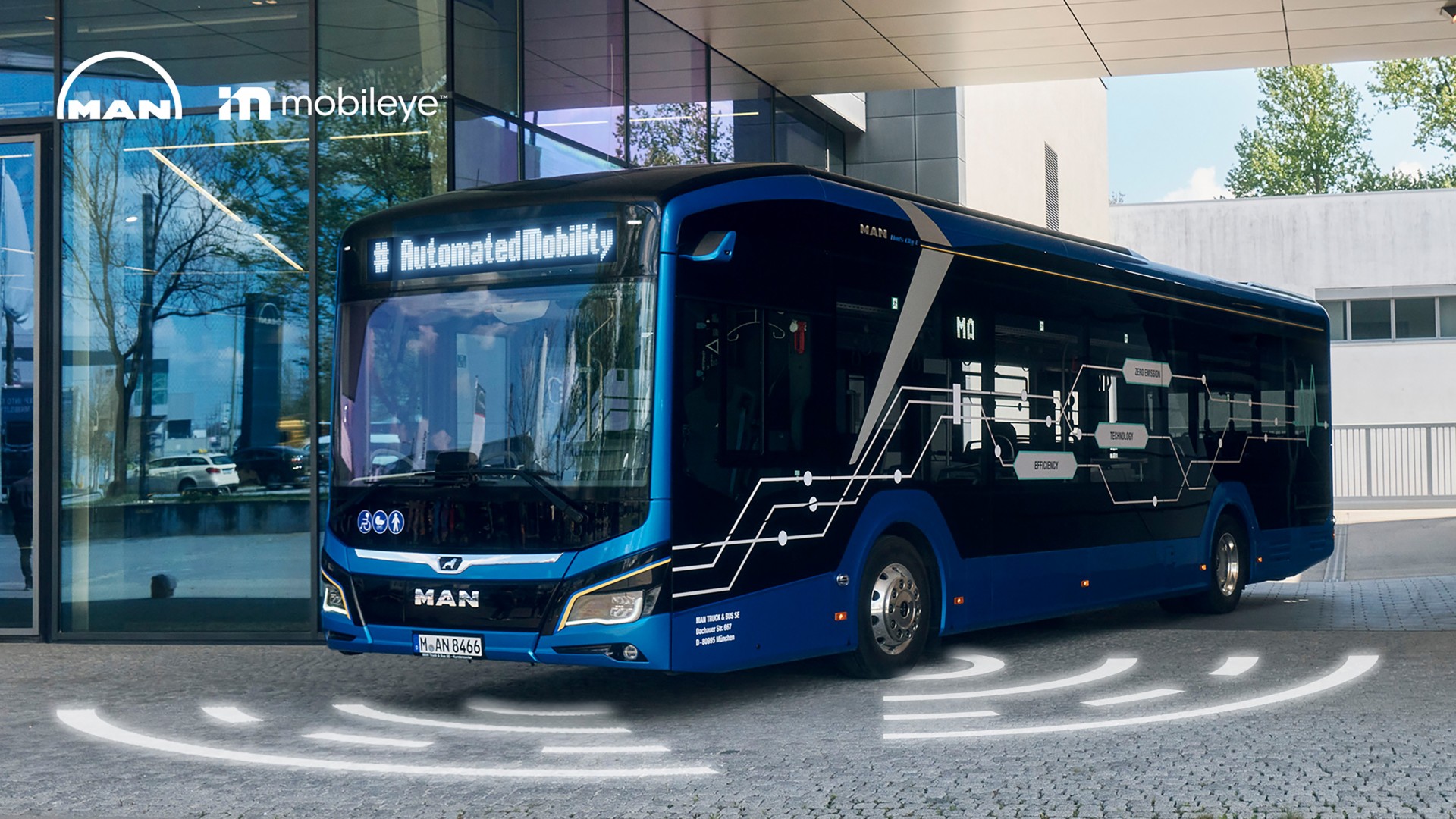 ZF: the focus of autonomous buses
In early 2023 ZF has unveiled its next generation autonomous shuttle. They claim it is built for operations "in urban environments and mixed traffic" and features Level 4 capabilities. It is developed in cooperation with U.S. mobility services provider Beep.
In April 2022 ZF announced it has acquired a 6% stake in StradVision, a South Korean pioneer in artificial intelligence based vision processing technology for autonomous vehicles and ADAS systems.
Driverless technologies for commercial vehicles are among the focus of ZF Commercial Vehicles division, launched July 2021 and headed by Wilhelm Rehm. He said: «In line with ZF's 'Next Generation Mobility' strategy, the division will also help ZF leapfrog towards market leadership in e-mobility, vehicle operating systems, autonomous driving and digitalization».
In 2018 ZF entered a partnership with e.GO Mobile focused at developing the electric shuttle (eventually driverless) e.GO Mover under the umbrella of the newly founded e.GO Moove GmbH joint venture (ZF owns 40 per cent).
Navya and Yutong: autonomous bus activities
In mid-2021 Navya has been awarded 7.5 million euros of subsidies (mainly non-repayable) to pilot four high-tech projects, three of which are part of the Government initiative 'France Relance' program. One of them has the goal of developing and industrializing an autonomous bus based on the Bluebus electric bus. The initiative is led by a consortium composed of Actia, Bluebus and Keolis.
The Yutong Xiaoyu 2.0 has been awarded the design prize 2021 Red Dot Award. Developed by the Chinese group – the largest bus builder in the world for production volumes -, the 5.5-meter shuttle bus stands out for being the world's first autonomous bus recognized by world-class industrial design award, as well as the only bus brand in China winning Red Dot Award.
Volvo, the autonomous bus (concept) is reality
A bus that can move electrically and independently, without driver on board, within the depot? It's already here. Volvo Buses in November 2019 has held a live demonstration of a 7900 Electric city bus equipped for autonomous driving.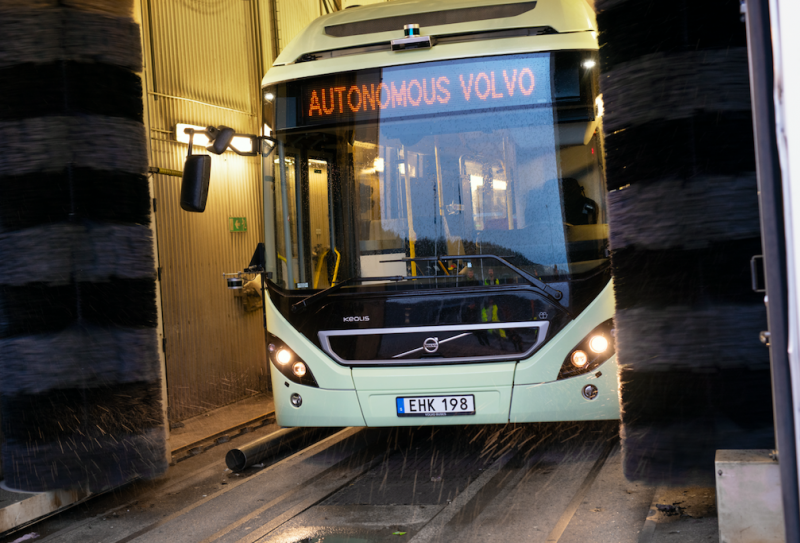 The demonstration took place in cooperation with Keolis in a depot just outside Gothenburg, in Sweden: the vehicle successfully moved between the parking lot and several workstations, including washing, maintenance and electric charging, before parking in the correct location, all with passengers on board.
The first driverless pilot in Singapore
Volvo Buses showcased its first autonomous bus concept in Singapore in March 2019. The vehicle, based on a Volvo 7900 electric bus modified for driverless operation, is the outcome of the cooperation between Volvo and Nanyang Technological University (NTU). The first demonstration took place indeed in Singapore. The Volvo bus will soon begin trials on the NTU campus.
The autonomous bus concept bus has been equipped with sensors and navigation controls that are managed by a comprehensive artificial intelligence (AI) system, Volvo pointed out in a press release. Previously, Volvo Buses had showed the driverless bus concept to a selected public in Sweden in June 2018, during the Volvo Ocean Race competition in Gothenburg (Sweden).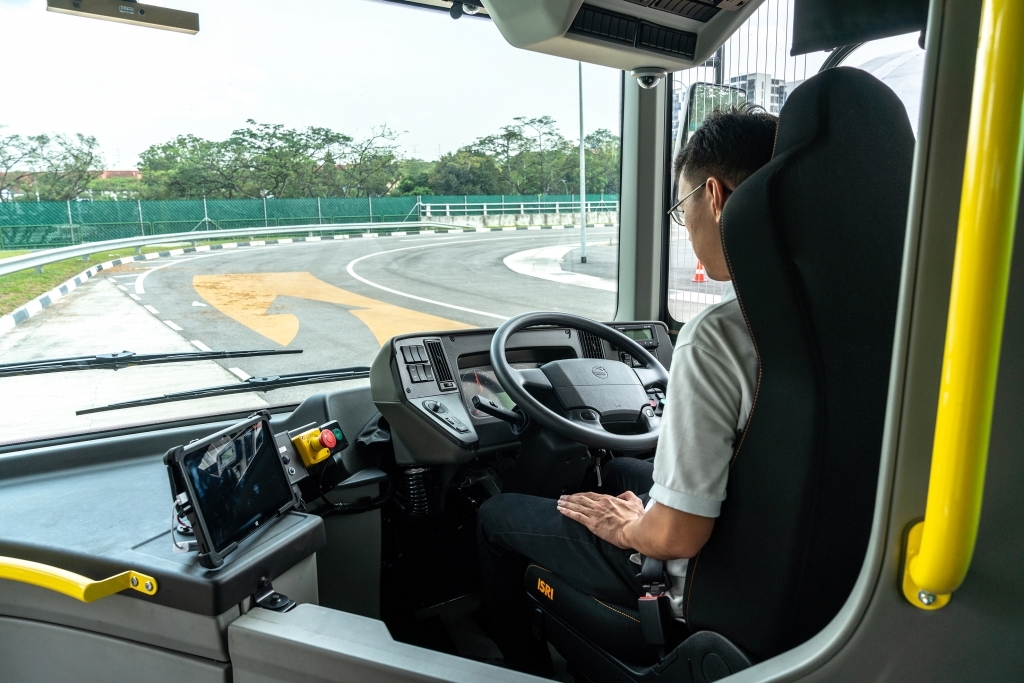 Autonomous driving support when docking
In September 2021 Volvo Buses released it is testing a new concept for autonomous driver support, which consists in a system that assists the driver in situations that require high precision and safety, such as approaching and stopping at a bus stop. The system regulates the bus's speed and steers automatically, allowing the driver to focus on what is happening around the bus.
The Swedish group has also released a study with Chalmers University of Technology claiming that bus drivers show high level of appreciation for autonomous driver support systems that enable buses to dock at bus stops.
Scania autonomous buses are on their way
Nobina to deploy Scania autonomous buses in Stockholm
Remaining focuses on Swedish manufacturers, Scania announced a trial of autonomous buses on regular routes that will be carried out by Nobina in the Stockholm area with two vehicles starting from 2020. In the spotlight there will be the Citywide Electric, the first electric bus ever developed by Scania, that is completing a pilot period in Östersund (Sweden).
Nobina is the largest public transport operator in the Nordic countries. The autonomous bus trial with Scania will be conducted in two stages, initially without passengers before welcoming commuters onboard. Safety being a top priority throughout the trials, the buses will have a safety-driver to monitor operations and assist passengers (a common feature to all the autonomous bus pilots we are reporting about).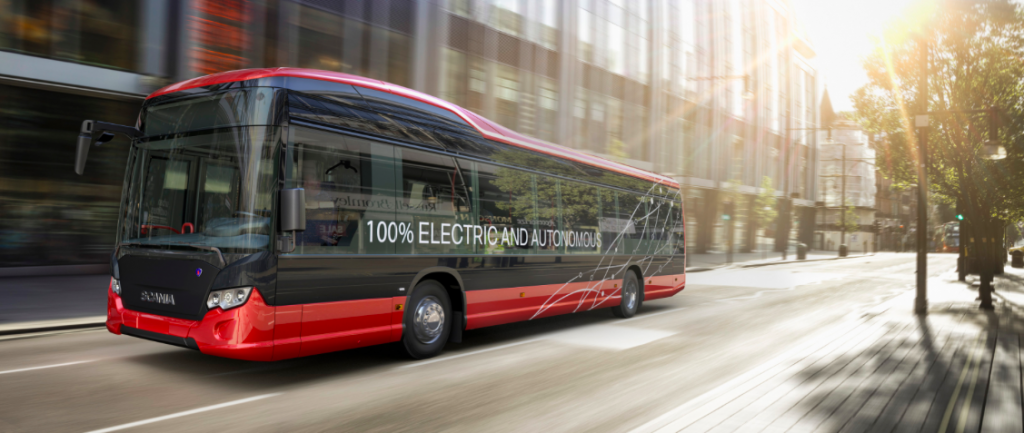 In the framework of the pilot, two Scania Citywide LF electric buses will connect the rapidly expanding new residential area Barkarby (where several innovative public transport projects are already under way, as BRT infrastructure and new digital solutions), approximately 20 kilometres from downtown Stockholm, with a nearby metro station. Charging operations will be executed in depot overnight.
Scania looks at Chinese driverless future. With Haylion Technologies
It dates back to April 2018 the partnership between Scania and Haylion Technologies, a company committed in the development of solutions for the Chinese transport sector, with a focus on autonomous driving, electrification and connectivity. The two companies will work together in order to accelerate the commercialization of autonomous transport applications and the transition towards a sustainable transport system.
Since the end of 2017, Haylion Technologies has been testing autonomous buses on public roads with the Shenzhen Bus Group.
ADL and Stagecoach performing autonomous bus fleet in Scotland
In 2022 another project on autonomous buses has been launched in Scotland, as announced by partners Alexander Dennis and Stagecoach. In this case, the vehicles deployed will be diesel buses. The project, supported by UK government with £4.35 million, is based on the cooperation between several partners: Stagecoach and Transport Scotland, the manufacturer Alexander Dennis Limited and the technology company Fusion Processing.
Five driverless Enviro200 buses will carry people between Fife and Edinburgh through the Forth Road Bridge. Project was finally kicked-off in May 2023.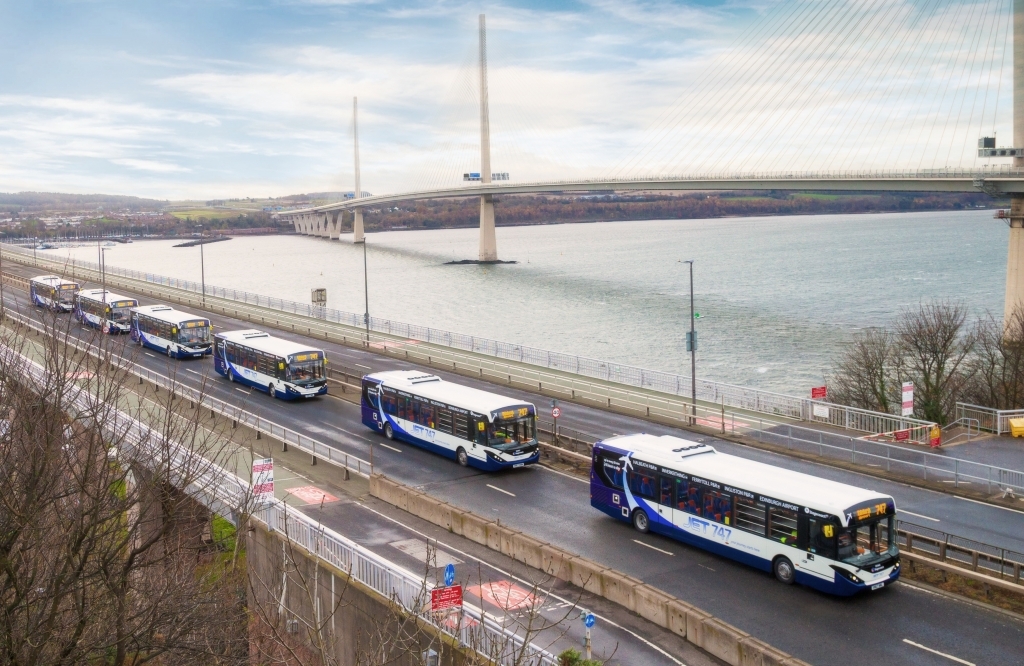 It is worth mentioning that the same network of partners already started to work jointly to experience autonomous bus operations in the depot, being the smart depot, where buses move in driveless mode for parking and being washed, one of the first kind of application of autonomous bus that could become reality.
Iveco autonomous bus, from the smart garage to the roads
Iveco and EasyMile to launch an autonomous bus in 2021
Iveco autonomous bus prototype is taking the floor in early 2021. It is being developed in the framework of STAR project and thanks to a wide range of partnerships between Iveco Bus and a group of companies and laboratories. The main partner is anyway EasyMile, a French company that already developed and presented a driverless electric shuttle (they were present at UITP Summit 2019 as well). The news was announced by Iveco in late June 2019.
Iveco Bus is equipping its prototype with electronic components and sensors. EasyMile, a world leader in intelligent mobility solutions, is providing its technology as well as its experience in platform integration, deployment and autonomous vehicle fleet management.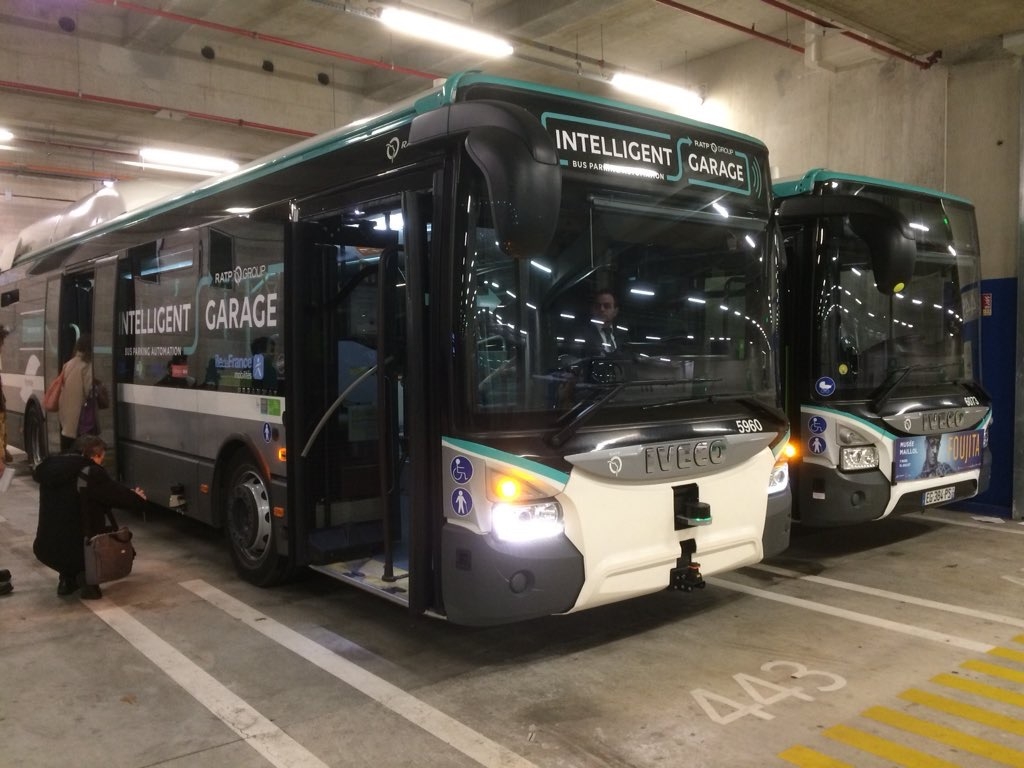 Iveco Bus, the smart depot bus in Paris
To date, the experience of Iveco Bus in autonomous bus operations was already proved by the smart depot' pilot held in Paris in spring 2018 with an Iveco Urbanway. The principle is that buses, equipped with sensors, park themselves in the depot, without human involvement. This offers the advantage of a quicker manoeuvre, saving time and space: the vehicle drives itself, optimising the space available, on entering and exiting the depot. Refuelling and washing can also be carried out in full autonomy.