Rampini goes with Sapio for all-Italian hydrogen supply chain
Testing of hydrogen-powered fuel cell buses and optimised refuelling systems for public transport vehicles. This is at the heart of the Memorandum of Understanding signed between the Sapio Group, in collaboration with the Baccarelli Group in Umbria, and the bus manufacturer Rampini, that is going to unveil this year its 8-meter new fuel cell bus […]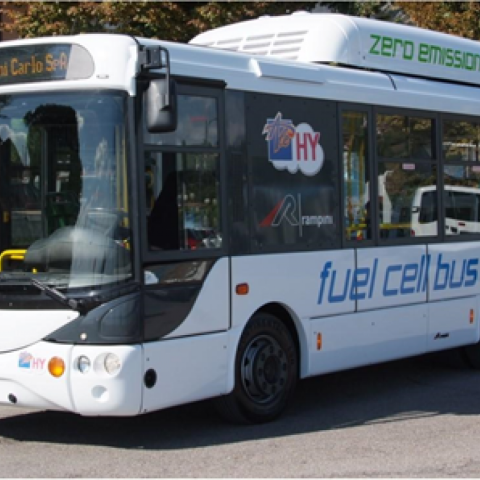 Testing of hydrogen-powered fuel cell buses and optimised refuelling systems for public transport vehicles. This is at the heart of the Memorandum of Understanding signed between the Sapio Group, in collaboration with the Baccarelli Group in Umbria, and the bus manufacturer Rampini, that is going to unveil this year its 8-meter new fuel cell bus (in the picture, a bus from the former hydrogen-powered range).
The agreement between Sapio and Rampini aims to support and promote development in the sector by making available and underpinning the Italian supply chain in activities focused on the energy transition and sustainable mobility in particular.
Rampini deal with Sapio for all-Italian hydrogen supply chain
The Sapio Group, founded in 1922 and based in Monza (close to Milan), operates in the industrial and medical gases and homecare sectors throughout Italy and abroad, with a presence in France, Germany, Slovenia, Turkey, and Spain. Having a turnover of more than 700 million euro and some 2250 employees, the Group produces, develops and markets gas, innovative technologies and integrated services for the industrial sector. Sapio is an active member of the national hydrogen association, H2IT, and the Clean Hydrogen Alliance.
"The future of our country starts with what we can achieve today," declared Alberto Dossi, President of the Sapio Group. "Rampini is a leading company in the design and production of electric and hydrogen vehicles and we at Sapio are proud of this significant collaboration which is yet another clear example of the commitment we intend to make to help reduce greenhouse gas emissions by 2030. Sapio will contribute its experience and expertise in hydrogen production, engineering and the construction of H₂ refuelling stations for all kinds of vehicles."
Rampini General Director Fabio Magnoni says: "Looking towards the future means respecting the environment. Today, our company designs and manufactures with this in mind. Day-by-day, we want to improve our knowledge so as to achieve products that are less and less invasive in terms of environmental impact. Our production of electric buses with hydrogen range extender is the concrete solution in setting the coordinates for smart and sustainable mobility. It will play a decisive role in the public transport of the future. This strategic and all-Italian partnership with Sapio is a big step towards the engineering and supply needs of hydrogen for all our potential urban public transport clients".