Scania, the electric bus pilot in Sweden becomes… wider
Three electric buses by Scania are running on a bus route in Östersund (Sweden) from March 2018 for a pilot. And other three vehicles will be added soon. A new electric bus route will be established. The line is one among nine routes operated by Nettbuss Stadsbussarna in Östersund. The next step? The serial production of the […]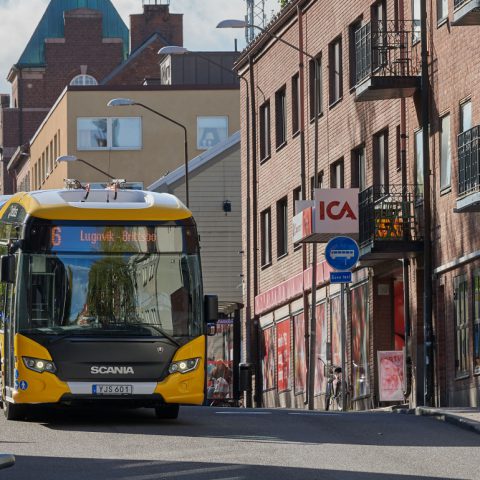 Three electric buses by Scania are running on a bus route in Östersund (Sweden) from March 2018 for a pilot. And other three vehicles will be added soon. A new electric bus route will be established. The line is one among nine routes operated by Nettbuss Stadsbussarna in Östersund. The next step? The serial production of the electric bus Citywide LF Electric.
Scania published a long report on its website about the pilot underway in Östersund,
from which we took the information (and pictures) provided in this article.
The complete story can be viewed clicking HERE.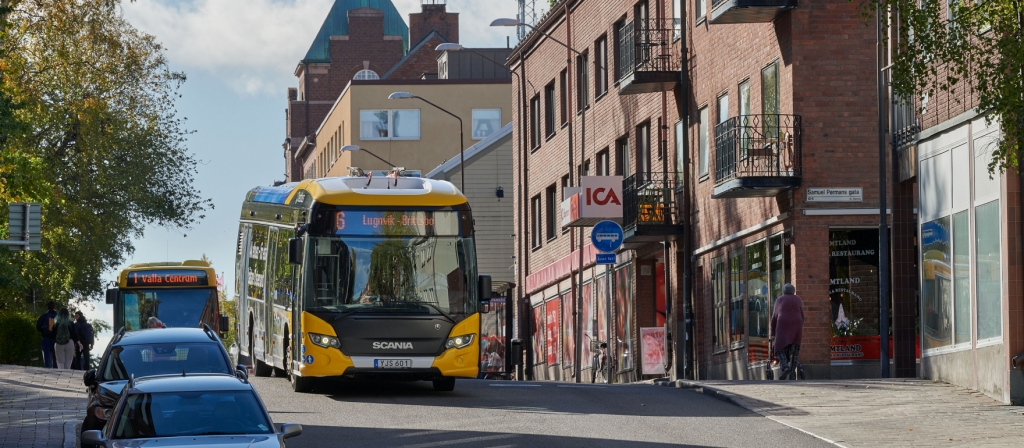 Three Scania zero emission bus in operation. And other three… soon
Line 6 in Östersund (500 km north of Sweden capital city Stockholm) is a newly established 14-kilometre long main bus route that runs from Torvalla, south of the city, through the city centre and to the newly built Brittsbo district in the north. The route is operated by Nettbuss with seven buses. Among them, there are three battery electric buses from Scania, the first ever produced by the Swedish manufacturer. Since Line 6 began its operations in March 2018, three electric buses have rolled 120,000 kilometres. More than 300,000 travellers have commuted.
The pilot becomes wider
The pilot is going to involve other vehicles: "In the beginning of 2019, we will add another three of Scania's electric buses to Line 6. Our plan is to open another electric bus route at Frösön, where Östersund's Airport is located", says Anne Sörensson, Climate Coordinator and Project Manager for the electric bus project in Östersund . "We are also exploring the possibility of using electric buses at the two world championships that Östersund and Åre will host in the beginning of 2019 – she adds -: The FIS Alpine World Ski Championships 5-17 February, and IBU World Championships Biathlon 7-17 March".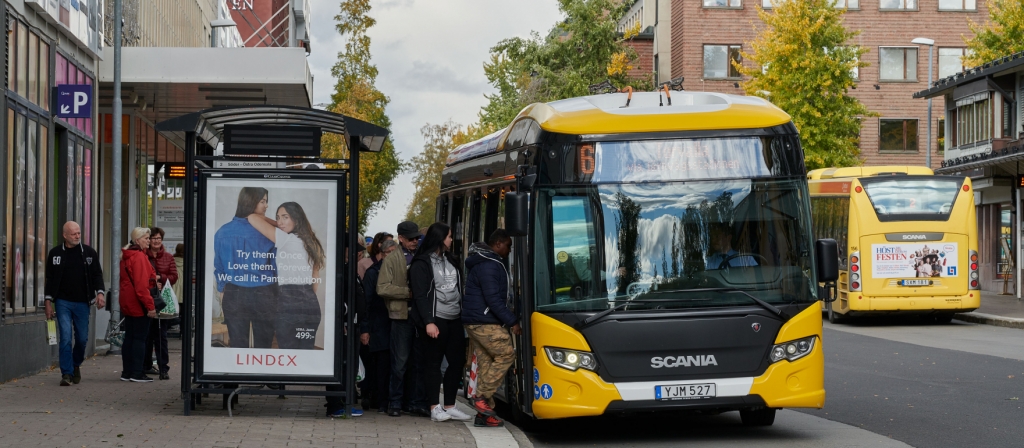 Östersund on the way to become fossil fuel free
Östersund aims at the electrification of the entire transport sector. Östersund's mission is to be fossil fuel free in 2030. The electric buses are supplied with hydroelectric power that come from Billsta stream, fifty kilometres south of Östersund.
In the region, the transition is driven by a partnership between the municipality, companies, organisations, regional and national authorities, Scania points out. Since 2015, municipalities and county councils in Sweden can seek funding from The Swedish Transport Administration to promote sustainability through urban environment agreements. Charging infrastructure for electric buses may be included in the city's environmental agreements, if they are a part of a larger solution with other public transport facilities, such as dedicated bus routes with bus stops and signal systems. In the first round of applications in 2015, Östersund's municipality was granted co-financing for an electric bus line. One of the reciprocal requirements was that it should be completed by 2018.
Östersund choose Scania
The municipality selected the model Scania Citywide Low Floor, unveiled at Busworld 2017 in Kortrijk and showed again at IAA Hannover 2018, where Scania unveiled the first LNG coach in the world. The electric buses operated by Nettbuss are equipped with a 130-kW electric motor powered by 110 kWh lithium ion batteries. The buses are equipped with composite flooring, additional roof insulation and LED lighting. The three vehicles that will be launched in early 2019 will have more powerful electric motors and even larger batteries, Scania points out. No further information have been provided yet.
Below, Sustainable Bus' interview to Karin Rådström, Scania Vice President, Head of Buses and Coaches
Pantograph charging for Scania electric buses
During peak hours, on line 6 the buses run every 15 minutes and the line is covered by a total of seven buses. The line has more than 800,000 passengers per year and is operational 16 hours a day. Each Line 6 bus covers 330 kilometres a day. Part of the route has dedicated bus lanes. At the end stations in Brittsbo and Torvalla Centrum, the buses are charged for 6-8 minutes using pantographs, before returning to the other end station where they are recharged again. A full charge gives the buses enough range for a return trip. Therefore, the buses can continue driving even if one of the charging stations is out of service, or if there is no time to charge the bus.