First Solaris e-buses land in Genoa (Italy). With a novelty: CeTrax motor instead of AxTrax
Genoa's public transport electric transition project is taking more and more shape with the presentation, held today, of the first units of the 30-vehicles batch of Solaris 12-metre electric buses. The delivery of all 30 will be completed by July. By the end of the year also a further 15 10.5-metre Irizar e-buses are scheduled […]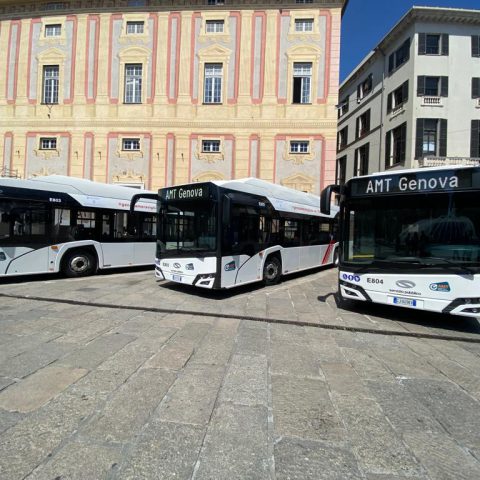 Genoa's public transport electric transition project is taking more and more shape with the presentation, held today, of the first units of the 30-vehicles batch of Solaris 12-metre electric buses. The delivery of all 30 will be completed by July. By the end of the year also a further 15 10.5-metre Irizar e-buses are scheduled to arrive (they'll join the already delivered 14 vehicles).

Solaris e-buses with CeTrax by ZF
What is interesting, the Solaris e-buses are said – in the press note issued by the carrier AMT – to be equipped with CeTrax motor by ZF (instead of the AxTrax electric portal axle). The central motor by ZF, launched in mid-2020, was for the first time announced as a fit for the Solaris 15 LE Electric.
The Solaris e-buses, model Urbino 12 Electric, are 12-metre buses with a total capacity of 83 passengers of which 20 are seated. Contract was awarded in late 2021. They are equipped with a low floor, a platform for wheelchair access, an air conditioning system with heat pump, on-board video surveillance cameras and passenger counters. The driver's seat is fully separated by the passenger compartment, with a front half-door dedicated exclusively to driver access.
The vehicles are full battery-electric, have four battery packs with a total weight of 2,240 kg and a total nominal power of 352 kWh. The charging system is plug-in. These vehicles have a single ZF-branded electric motor, CeTrax type, with a constant power output of 160 kW.
Solaris e-bus fleet to be housed at Cornigliano depot
The entire Solaris fleet will be housed at the Cornigliano depot, thus becoming the second electric hub for public transport in Genoa (following Mangini). The first e-buses will enter service as early as this afternoon on line 3. The others will gradually be put into service on urban bus lines 3, 63, 8 and 5.
"We are continuing our electrification project. Today we are presenting the first 12-metre electric vehicles of the AMT fleet. By July there will be 30 of them and they will be housed in the Cornigliano depot so that they can be used on the lines in the western part of Genoa," says Marco Beltrami, President of AMT. "This is an important step, both in terms of the number of vehicles and the important work we are completing in the depot to be able to charge vehicles of this size. Our electric project is increasingly in the vanguard in the Italian panorama and goes hand in hand with the many initiatives for the overall improvement of our service that we are carrying out".