The case for electric commuter shuttles in the Silicon Valley
2020 is expected to be a crucial year for the switch of commuter shuttles in the Silicon Valley to battery-electric technology. In this framework, the biotechnology corporation Genentech represents today a bright rare case: the company is going to convert half of its commuter shuttles fleet to zero emission by the end of the year. […]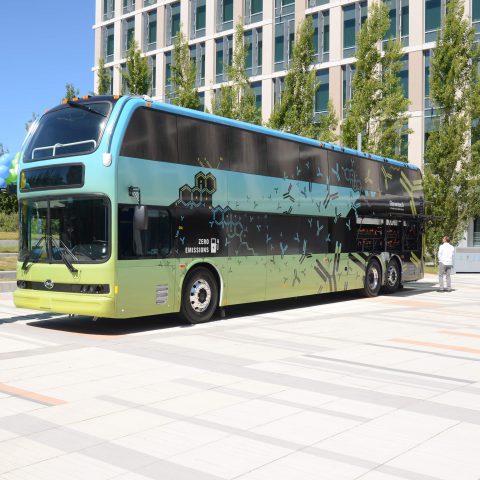 2020 is expected to be a crucial year for the switch of commuter shuttles in the Silicon Valley to battery-electric technology. In this framework, the biotechnology corporation Genentech represents today a bright rare case: the company is going to convert half of its commuter shuttles fleet to zero emission by the end of the year. Ten e-coaches are already in operations, and there are plans to add further 20 units in the months to come.
The topic is addressed in a detailed report from Katie Fehrenbacher for GreenBiz.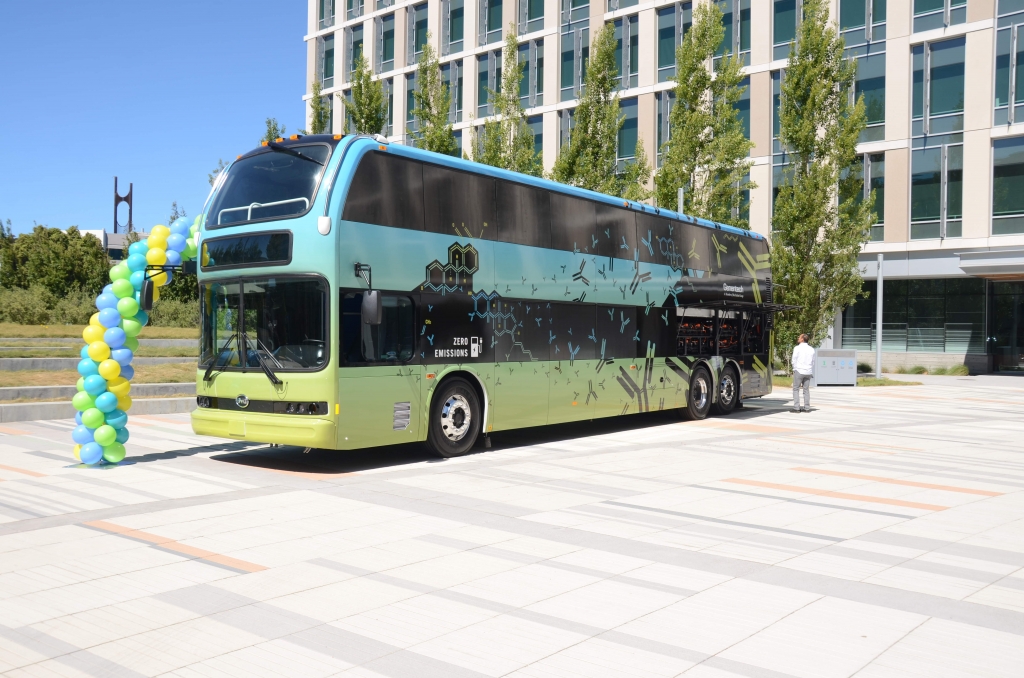 Genentech bets on electric commuter shuttles
Over 1,000 private commuter buses runs every day across San Francisco Bay Area. They carry employees of the high-tech company based in the area from home to work and viceversa. Genentech's buses (called GenenBuses) stand out in this panorama: the company has invested so far in ten battery-electric coaches by BYD. They run from as far as Vacaville and San Josè to South San Francisco. It's not something particularly new: they have been launched in summer 2018, GreeBiz highlights. And the first were four double decker. Charging takes place at Pacific Gas & Electric, thanks to a new transformer installed in order to supply the bus charging depot.
What is really new is that this month the company is going to receive 11 further vehicles. And is planning the purchase of another group of 10 vehicles. By the end of 2020, according to the statements collected by GreenBiz, Genentech employees will be travelling on more than 60 electric commuter shuttles.
Electric city buses on a rise, commuter shuttles not
Genentech has been the first company in the Silicon Valley to bet on zero emission technology for the commuter shuttles fleet. But soon other companies such as Facebook and bus operator Hallconn should be adding electric buses to their fleets, GreenBiz points out.
It is widely known that, while battery-electric applications are already established in China and are gaining ground all over the world in the field of city buses for public transport (over 10 per cent of sales in Western Europe in 2019 should be electric), with regards to coaches things are more complicated. An issue of range and of financing: such an expensive switch is easier where capitals are not private. LNG is considered today the most viable alternative to diesel in the coach field, according to IRU.
Anyhow, Chinese manufacturers are already selling zero emission coaches: BYD and Yutong electric coaches are running in Germany and France in two pilot routes launched by Flixbus (although in Germany the pilot has reportedly been stopped due to technical problems). The group is looking to hydrogen technology for future applications.
In late 2019, in France, the interurban line 33E between Beauvais and Compiègne, was partially turned electric.
Electric coaches? No demand in Europe so far
In the US it looks like the demand for this king of application is growing stronger. Motor Coach Industry (MCI) is launching a new electric coach, andFlixbus already took the opportunity to test it. MCI is part of New Flyer Industries group.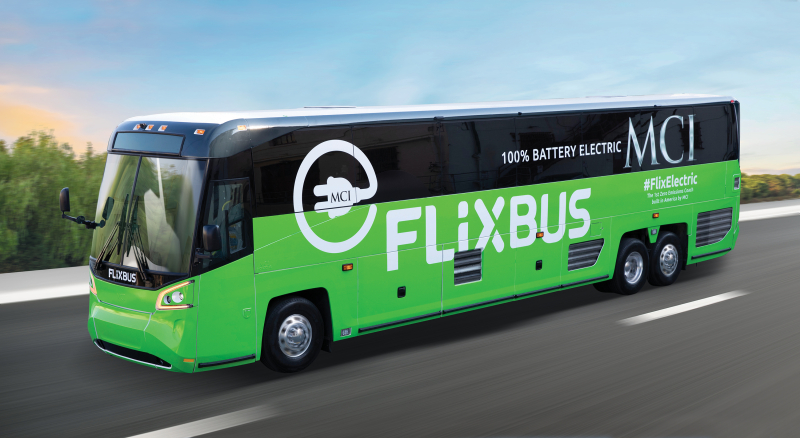 Van Hool launched at Busworld Brussels 2019 an electric coach (with Proterra technology) addressed at North American market. The Van Hool CX45E will be displayed at United Motor Coach Expo later this month and commercial deliveries are following.
The Belgian manufacturer is established in Europe as well. We asked CEO Filip Van Hool why the company is not commercializing in Europe such a vehicle. «We are offering the bus in the West because in the West there is a demand – this was mr. Van Hool's answer -. We received the request to develop it from the market. But this technology can perfectly be integrated in European coaches. When there will be a demand in Europe, we will be able to integrate this same technology package on our coaches. We are ready».