Up to 25 fuel cell buses will hit Liverpool City Region's roads
Up to 25 fuel cell buses will hit Liverpool City Region's roads. The buses will be the Enviro400 hydrogen double deck bus developed in partnership between Alexander Dennis and Arcola Energy. The first vehicles are expected to begin operation in 2020. The Liverpool City Region is set to be the first place in the North of England […]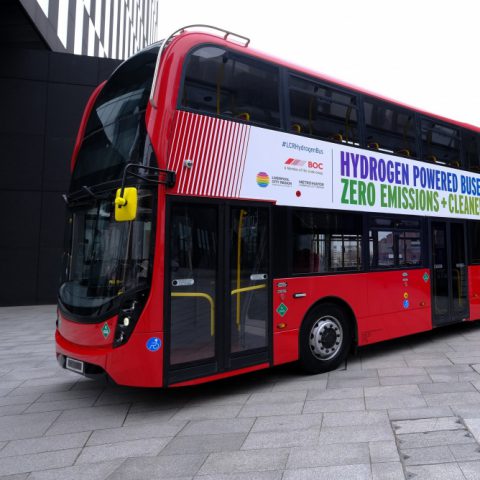 Up to 25 fuel cell buses will hit Liverpool City Region's roads. The buses will be the Enviro400 hydrogen double deck bus developed in partnership between Alexander Dennis and Arcola Energy. The first vehicles are expected to begin operation in 2020.
The Liverpool City Region is set to be the first place in the North of England to trial hydrogen buses following a successful £6.4million bid to the government's Office for Low Emission Vehicles.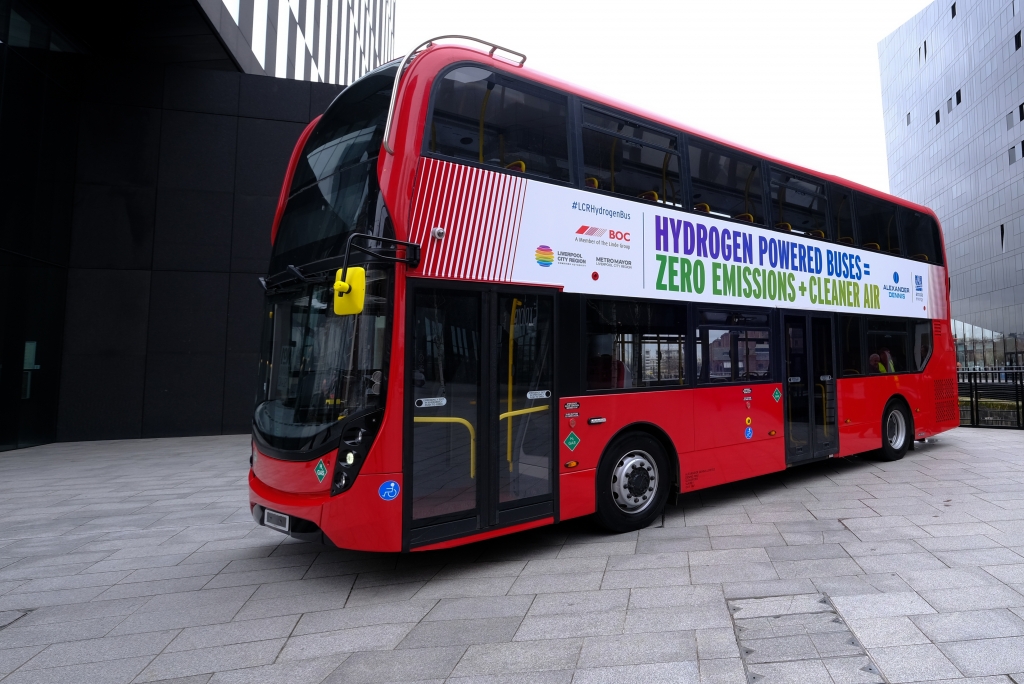 Arriva and Stagecoach involved in the project
The bid, partners explains in a press release, was put forward by a consortium led by industrial gases company BOC (UK and Ireland's biggest industrial and medical gases producer), and including the Liverpool City Region Combined Authority and Arcola Energy, working with bus-makers Alexander Dennis, and will be progressed in conjunction with Arriva and Stagecoach, as members of the city region's Bus Alliance.
The Liverpool City Region Hydrogen Bus Project will see the creation of a new hydrogen refuelling station at the BOC plant in St Helens, which produces hydrogen for industrial customers in the region and further afield. It will initially deliver 500kg of hydrogen every day
Target: zero carbon economy in Liverpool by 2040
The project will potentially see up to 25 hydrogen–powered buses on the streets of the Liverpool City Region and will contribute to the city region's plans both to improve air quality and work towards a zero carbon economy by 2040.  The first bus trial is expected to take place in 2020, subject to agreement with the Bus Alliance.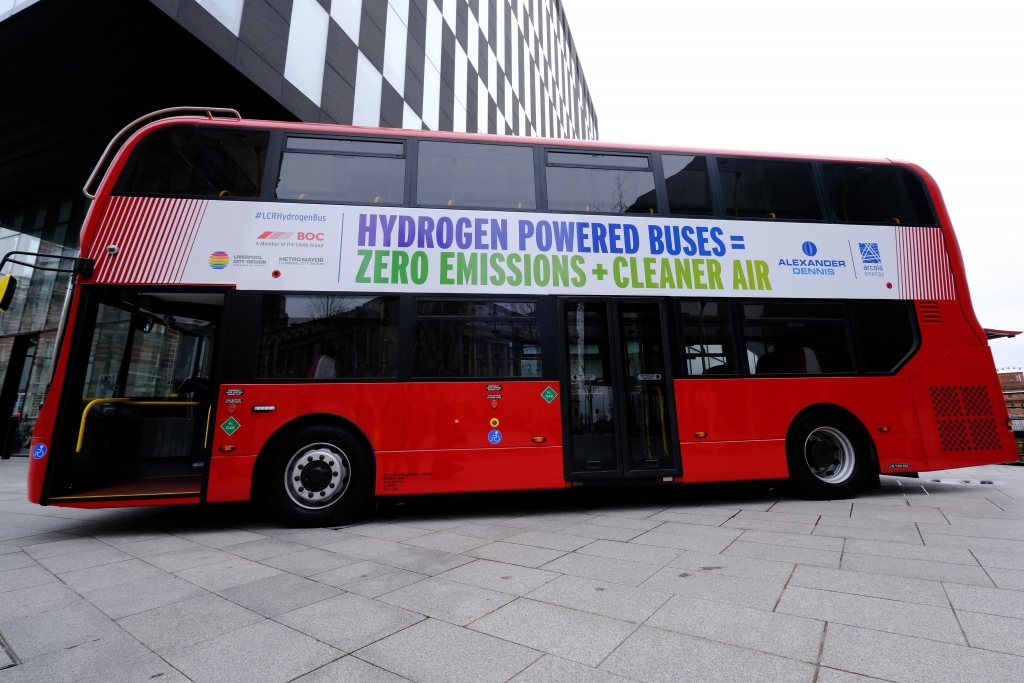 ADL fuel cell bus with Arcola Energy
ADL has been working on a hydrogen double deck bus for over two years. The Enviro400 fuel cell has been developed through extensive collaboration between ADL's in-house Advanced Engineering teams and expert hydrogen and fuel cell system integrators Arcola Energy. The hydrogen-powered Enviro400 has an electric driveline with axle-mounted motors by ZF. The on-board battery is charged by feeding hydrogen from secure tanks to a fuel cell system where it is converted to electricity. No external battery charging is required and the vehicle's only emission is water vapour. A prototype has successfully completed route shadowing trials in several UK cities.
As reported on Coach&Bus Week in October 2016, a £150,000 funding for a project to build a new hybrid fuel-cell double-decker bus was awarded to a partnership between Arcola Energy, Alexander Dennis Ltd (ADL) and Warwick Manufacturing Group. The funding came from the Niche Vehicle Network (NVT), which is supported by the Office for Low Emission Vehicles and Innovate UK.
Fuel cell buses, a bright future ahead?
Fuel cell buses are expected to importantly grow their market share in the years to come. ZeEUS eBus Report #2 released by UITP says fuel cell buses are expected to have a market share of 2 per cent in 2020 and 10 per cent in 2030, in the segment of urban buses and in European area. Still a little "slice" compared to the 52 per cent forecast of battery electric… but the multiplication for five is anyway impressing and opens up interesting scenarios for after 2030 years. This year, European manufacturer Solaris Bus & Coach (taken over by Spanish group CAF) will unveil the Solaris Urbino 12 hydrogen, a new generation vehicle deriving power from a hydrogen fuel cell. The presentation will take place at UITP Public Transport Global Summit 2019 in Stockholm (9-12 June).
Also Van Hool have long since been betting on the electric future through hydrogen. Two premieres are ready to be launched in the short and medium term: the new A330 FC hydrogen bus and the innovative Van Hool Exqui.City 18 FC bus, which will be on the road from the end of 2019 in Pau, France. It will be the first BRT system in Europe running on hydrogen.
Another competitor in the field of fuel cell buses is Toyota: its Sora has been approved and launched on the market (in the picture below). And the Japanese company also started a collaboration with Portoguese Caetanobus.
At Euro Bus Expo 2018 in Birmingham Wrightbus announced the launch of its fuel cell double decker bus, named Streetdeck FCEV. Fuel cell system is made by Ballard, drivetrain is by Siemens.
Ballard FCvelocity is also adopted by El Dorado National's 40-foot (12 meters) Axess Fuel Cell Electric Bus, available in the US. The vehicle successfully completed testing at The Altoona Bus Research and Testing Center under a program established by the Federal Transit Administration (FTA).
Liverpool: the beginning of a green energy revolution
With regards to Liverpool Bus Project, Steve Rotheram, Metro Mayor of the Liverpool City Region, said: "With a low-carbon economy worth more than £2 billion a year, we are already in the vanguard of the green energy revolution and the Liverpool City Region Hydrogen Bus Project is another very exciting step in that direction. Introducing commercially-viable hydrogen-powered buses would not only help our city region tackle poor air quality and achieve our ambition of being zero carbon by 2040 but would put us at the forefront of a technology that could be transformative for the rest of the country and beyond."
Jan Ellringmann, BOC Head of Sales & Marketing, added: "As the market leader in industrial gases in the UK, BOC has produced hydrogen safely and efficiently for many decades, including from our site at St Helens. As pioneers of hydrogen's use in low-carbon transport – commercial vehicles and cars as well as buses – BOC is delighted to be working with the project partners to help bring cleaner air to Liverpool City Region."
Ben Todd, CEO of Arcola Energy said, "We are excited to see the ambition that the Liverpool City Region has for clean transport and delighted that the city region will be the site for the first fleet of zero emission buses using our innovative hydrogen and fuel cell technology. We are in the process of setting up our production facility here and I am personally looking forward to seeing both fleets of zero emission buses and new high-value manufacturing being established in my home town."
Billy McFie, Commercial Director, Alexander Dennis Limited, said: "We are pleased to be collaborating with Liverpool City Region on this exciting project as it underlines our commitment to delivering a range of low and zero emission technologies for all operational requirements."
Howard Farrall, Arriva Merseyside managing director, said "At Arriva we are continually looking for ways to ensure our vehicles are as environmentally-friendly as possible. We are delighted that the Liverpool City Region is once again leading the way with bus innovation and we are happy to take part in this project."
Rob Jones, Managing Director of Stagecoach Merseyside, Cheshire and South Lancashire, said: "Stagecoach is a business that's passionate about cutting emissions and we are continually innovating to deliver cleaner, greener travel. All our vehicles are fitted with eco-driving systems which lower emissions and we've shown the biggest commitment to using 100 per cent biofuel of any UK bus operator. We're delighted to be working closely with our Bus Alliance partners to develop and pioneer new approaches in sustainable travel and ensure the Liverpool City Region meets its carbon neutral targets and continues to set a direction for sustainable travel which will be an inspiration for cities across the North."