VDL, electric buses for every kind of needs. Wide portfolio, focus on fast charging
Following, our 4th and last report about Ebus test 2018, held in Bonn in October 2018. The event is organized by the German magazine Omnibusspiegel. In this fourth article we focus on the VDL Citea SLFA-181 Electric, one of the three contenders. You can click HERE for the introduction, HERE for the overview on the Sileo […]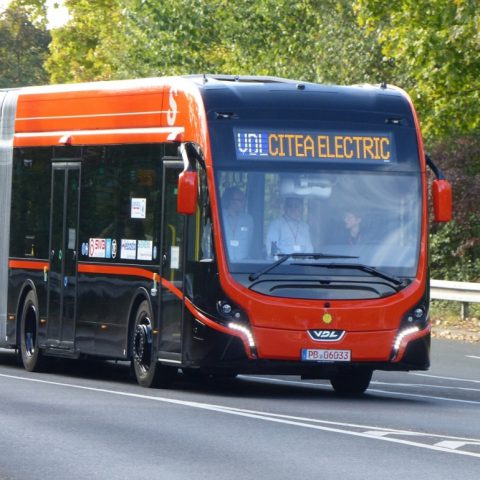 Following, our 4th and last report about Ebus test 2018, held in Bonn in October 2018.
The event is organized by the German magazine Omnibusspiegel.
In this fourth article we focus on the VDL Citea SLFA-181 Electric, one of the three contenders.
You can click HERE for the introduction,
HERE for the overview on the Sileo S 18,
HERE for the overview on the Solaris Urbino 18 Electric

250 VDL electric buses, currently in operation, 15,000 'electric' kilometres covered so far and 250 vehicles to be delivered (the figures are updated at October 2018).
The Citea Electric portfolio covers a wide range of lenghts: the nine metres of the Ligh Low Entry (LLE), the 12 metres of the Low Floor (LF), the articulated Low Floor, available in 18, 18.1 and 18.75 metres long versions.
The transport capacity ranges from 55 to 150 passengers. Up to now, the best seller has been the articulated vehicle.
43 units were supplied in Eindhoven and 100 around Schipol airport in Amsterdam for Connexxion (Transdev group).
VDL Bus & Coach was leader in electric bus European market in 2018, and recently received the EBUS Award 2019 during ElekBu exhibition in Berlin.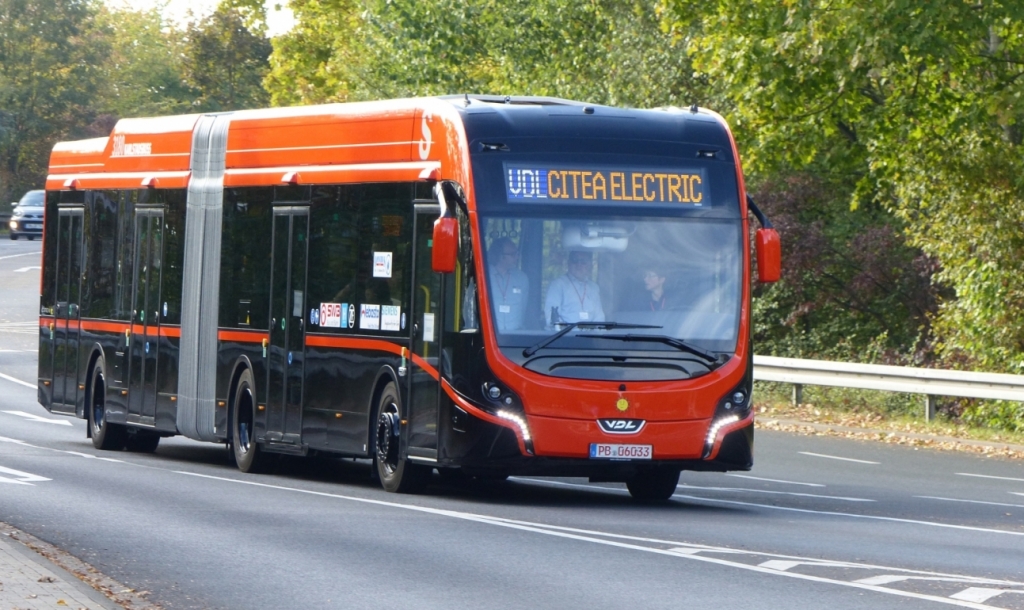 Karstad electric bus on Bonn's roads
The bus which took part to the Ebus Test 2018 in Bonn was one of the four vehicles bound to Karlstad, Sweden, where they'll be part of Keolis' fleet. The vehicles will be deployed on a newly introduced BRT line.
The five-kilometre route, fitted with 10 stops, will be covered in twelve minutes.
Charging operations will be carried out, during the service, through the two fast charging infrastructure at both ends of the line, capable of delivering 450 kW of power.
VDL, fast charging in the spotlight
Under the bonnet works the Siemens central electric motor (synchronous with permanent magnet). The Citea is equipped with the 1DB2022 version, the most powerful in Siemens ELFA range.
The motor develops up to 210 kW of peak power and 3,800 Nm of torque. The weight? 235 kilos.
The battery pack available on the Citea range can vary from 127 to 288 kWh.
The Citea for Karlstad features a 169 kilowatt hour battery split in four modules placed on the roof.
The supplier is Microvast, as for the Amsterdam – Schiphol fleet. This battery can be partially recharged with power up to 450 kW via pantograph, and thus represents the most suitable option for transport systems based on fast charging on the line.
Moreover, VDL can rightly present itself as the main supplier of opportunity charged bus fleets in Europe.
VDL electric bus, quality in the manufacturing
The cockpit is entirely digital, with information on consumption trends, state of charge and available range. When the doors are opened, on the screen are displayed information related to on-board diagnostics.
The electric bus Citea SLFA-181 Electric for Karlstad features four doors (the front one is 900 mm wide, the others 1,200 mm). The best quality of the Dutch bus, as pointed out by the team of test jurors, is the quality of construction, which deserved highly positive ratings.
The bus received positive marks also in terms of absence of vibrations and suspension comfort.
No noise comes from the joints. Optional features include a diesel heat pump, double glazing, underfloor heating and thermical insulation.