Electric buses in Veluwe (NL) face problems with driver seat position and pulling to the right, according to investigation
An investigation conducted by TUV Nord has revealed that almost all of the electric BYD buses operating on the Veluwe in the Netherlands have improperly adjusted driver's seats. The news is reported on Dutch specialized media OV Magazine and is based on a report by Dutch radio and TV station Omroep Gelderland. Additionally, 70 percent […]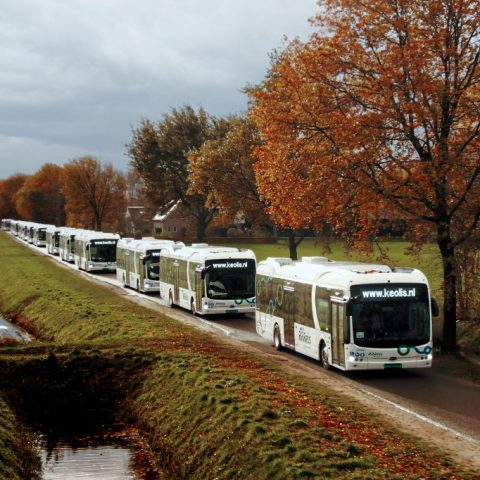 An investigation conducted by TUV Nord has revealed that almost all of the electric BYD buses operating on the Veluwe in the Netherlands have improperly adjusted driver's seats. The news is reported on Dutch specialized media OV Magazine and is based on a report by Dutch radio and TV station Omroep Gelderland.
Additionally, 70 percent of the buses pull to the right when driven straight. The buses were formerly operated by Keolis, but were taken over by the new operator EBS in December 2022. The buses are not only used in Gelderland, but also in Overijssel, with plans to expand to Flevoland later this year.
The issues of BYD buses in the Netherlands
"When EBS took over the buses, they were inspected by a research firm, which discovered a total of 64 defects. A list was created for each problem, indicating the percentage of buses that were affected. Omroep Gelderland obtained these lists through a request under the Freedom of Information Act", OV Magazine writes.
The buses must remain in use for another 13 years under the granted concession. Keolis purchased the buses, but they are now owned by the provinces that awarded the contract after Keolis lost the contract due to 'rigged' orders for the 259 BYD buses (from those buses, by the way, some issues rose).
The driver's cab has long been the subject of numerous complaints. Drivers have reported that the improperly adjusted seats caused damage to the seats themselves and have resulted in drivers getting sick. According to the investigation, 91 percent of the buses had improperly adjusted seats.
Besides the improperly adjusted driver's seats, the list of issues revealed that 70 percent of the buses tend to pull to the right. A report stated that this could result in long-term arm problems due to the need for the driver to provide constant resistance with their right arm.
The 64 issues identified by the inspection include complaints from drivers that the seats are causing physical pain, including back, shoulder, and arm pain. The heating control panel on almost half of the buses is also reported to be malfunctioning.
EBS: "We are aware of the issue"
EBS Director Wilko Mol said, as quoted on OV Magazine, that the company is aware of the issues and is working to improve the situation. However, the company needs time to make the necessary changes. According to Mol, fewer complaints have been received recently. EBS claims that they have made arrangements with BYD, the manufacturer of the buses, and an maintenance company to address the issues