Volvo Buses – MCV agreement is done (and includes also the development of an intercity e-bus)
Not just electric city buses: also "an electric bus for intercity traffic" is included (although "later") in Volvo Buses – MCV agreement, announced in late April 2023 when a letter of intent was signed. Now the agreement is done. Production is expected to start in 2024 and the first electric buses with chassis from Volvo […]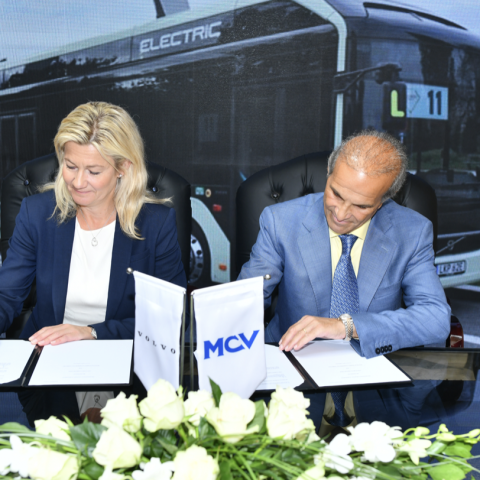 Not just electric city buses: also "an electric bus for intercity traffic" is included (although "later") in Volvo Buses – MCV agreement, announced in late April 2023 when a letter of intent was signed. Now the agreement is done.
Production is expected to start in 2024 and the first electric buses with chassis from Volvo and bodies from MCV will be on the market in 2025.
Volvo – MCV deal for e-bus production
The agreement with MCV is the next step in Volvo Buses' new business model in Europe, that includes the decision  to cease the production of complete buses, both urban and coach, in Europe. Earlier, Volvo Buses had signed letters of intent with MCV for the manufacture of bodies for city and intercity buses, and with Sunsundegui for tourist buses.
Volvo Buses communicates that "during autumn, Volvo Buses will continue planning together with MCV with the aim of starting production in 2024. Customers should be able to place orders in the last quarter of 2023, which means deliveries should be possible in the first quarter of 2025".
"By completing the agreement with MCV, they can now manufacture our bodies so that we can offer customers in Europe a complete range of Volvo's city and intercity buses in the premium segment. MCV is a perfect partner with the skills and capacity to meet the high demands of our European customers," says Dan Pettersson, Senior Vice President at Volvo Buses.
Under the new business model in Europe and the agreement with MCV, Volvo Buses will continue to be the point of contact for customers regarding spare parts and services, both for new offers and for customers who already have Volvo buses in their fleet.
"Our business model means that we have close collaboration with some of the world's leading bodybuilders, which allows us to combine our expertise in each area. It improves our ability to develop and adapt solutions to meet customers' needs now and into the future," says Dan Pettersson.