1,600 zero emission buses funded in Germany with Federal grants. Eight PTOs awarded with 600 million euros
1,600 zero emission buses (and 110 biomethane-powered ones) financed in Germany: the Federal Transport Minister Volker Wissing has awarded grants amounting to 600 million euros (part of the 1.25 billion plan announced last year) within the new "Directive on the promotion of alternative drive systems for buses in passenger transport". Funds for e-buses in Germany […]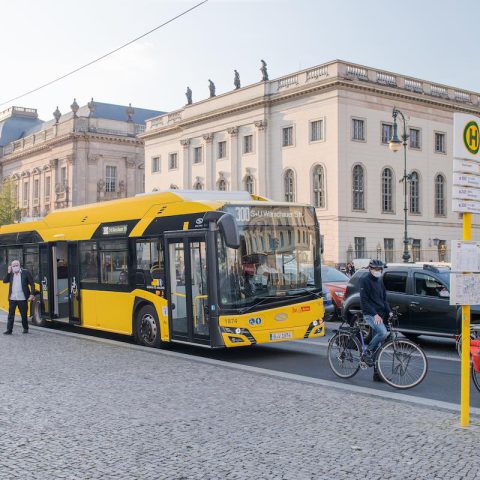 1,600 zero emission buses (and 110 biomethane-powered ones) financed in Germany: the Federal Transport Minister Volker Wissing has awarded grants amounting to 600 million euros (part of the 1.25 billion plan announced last year) within the new "Directive on the promotion of alternative drive systems for buses in passenger transport".
Funds for e-buses in Germany Berlin leads
The financed vehicles are 1,400 battery-electric buses, 150 fuel cell buses, 50 trolleybuses and 100 gas buses. The associated maintenance and charging infrastructure will also be funded. Major recipients of funding will be Hamburger Hochbahn and VHH with the already announced 472 vehicles, followed by Transdev Germany Berlin, with 325 e-buses, 40 H2 buses and 110 powered with biomethane. BVG Berlin ranks third: it is expected to get 350 battery-electric buses.
A second round of grants in the next months
The current handover of notifications marks the first awarding from the first call for proposals occurred last year. Further applications are currently being processed. The second funding call is currently being planned and is expected to be published in the second quarter of 2022.
The following eight transport companies were awarded with fundings, the Federal Ministry for Digital and Transport points out:
KVG Kieler Verkehrsgesellschaft mbH: 50 battery-electric buses
Stadtwerke München GmbH: 71 battery-electric buses
Transdev GmbH Berlin: 325 battery-electric buses, 40 fuel cell buses, 110 biomethane buses
Bremer Straßenbahn Aktiengesellschaft: 50 battery-electric buses
City of Esslingen am Neckar: 51 battery-powered trolleybuses
AeroGround Flughafen München GmbH: 72 battery-electric buses
Berliner Verkehrsbetriebe (BVG): 350 battery-electric buses
Regionalverkehr Köln GmbH: 108 fuel cell buses
Hamburger Hochbahn AG and Verkehrsbetriebe Hamburg-Holstein GmbH (VHH) in Hamburg: 472 e-buses