Trams? No, trolleybuses! Nancy turns to Hess: 25 maxi vehicles expected in 2024
by Stefano Alfano Nancy has placed an order with Hess of Bellach (GH) for 25 double-articulated trolleybuses of the Lightram 25 model, which are already in operation and performing very well in Swiss cities of Bern, Zurich, Lausanne, Lucerne and St. Gallen. The French town, with a population of around 110,000, has decided to bet […]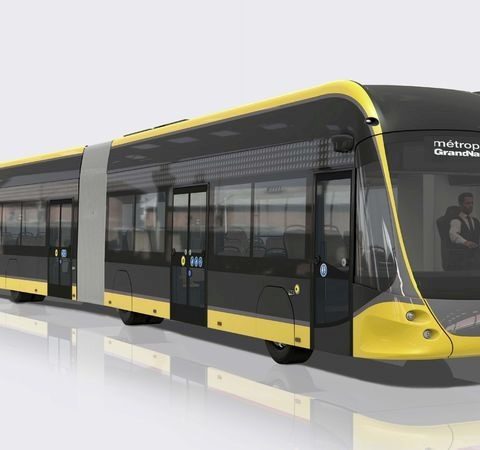 by Stefano Alfano
Nancy has placed an order with Hess of Bellach (GH) for 25 double-articulated trolleybuses of the Lightram 25 model, which are already in operation and performing very well in Swiss cities of Bern, Zurich, Lausanne, Lucerne and St. Gallen.
The French town, with a population of around 110,000, has decided to bet on trolleybuses instead of trams.
Other French cities with trolleybus networks have also made significant investments: Lyon has received 34 new Lightram 19 articulated trolleybuses from Hess; St. Etienne got 22 Trollino built by Solaris with Skoda Electric; Limoges has ordered in 2018 4 new 18-meter trolleybuses (they have been introduced on the busiest routes of Limoges network, after having undergone testing in Nancy this summer).
Guided Light Transit vehicles evolve in trolleybuses
The new trolleybuses will replace the Guided Light Transit vehicles (TVR) built by Bombardier and in operation since December 2000, on the 11 km-long T1 line linking the municipalities of Essey, Les, Nancy and Vandoeuvre (Les- Nancy, passing through the municipalities of Nancy and St. Max). The line has 28 stops and is used by about 45,000 travellers per day.
An interesting project, as the TVR has nevertheless given rise to a few issues during operation and is now 20 years old. Mathieu Klein, Mayor of Nancy since July 2020, presented the project for the use of 24-meter trolleybuses on 26 August 2021, and it was approved at the end of 2021.
The cost savings are significant: only €50 million to convert the line into trolleybus operations, with partial reuse of the existing overhead line, compared to the €500 million that would be needed to build a tram line. The T1 line will undergo only minor route changes.
Hess trolleybuses coming in Nancy in 2024
The new vehicles are expected to have 10% more capacity than the current TVR vehicles, which are expected to run until spring 2023. Provisional bus operation is planned for one year to adapt the overhead line to trolleybus operation, and the trolleybuses will be delivered by Hess in 2024.
The technical specifications of the vehicles are still at the design stage, but it should be noted that the maxi trolleybuses can accommodate up to 200 people, as in the configuration envisaged for the Swiss Bernmobil, and room can be provided for wheelchairs and for bicycles.