MAN Lion's City E, depot charging only. Demo fleet in Germany from 2020
Around two thirds of city bus operations will be electric by 2030. It's the assumption that is guiding MAN Truck & Bus along a strategy that is culminating in the mass production of the MAN Lion's City E from the second half of 2020, following trials that will take place in Hamburg, Munich and Wolfsburg. […]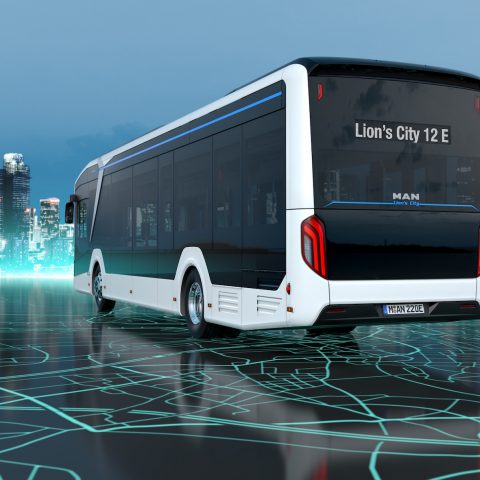 Around two thirds of city bus operations will be electric by 2030. It's the assumption that is guiding MAN Truck & Bus along a strategy that is culminating in the mass production of the MAN Lion's City E from the second half of 2020, following trials that will take place in Hamburg, Munich and Wolfsburg. According to MAN, the bus will be able to travel for 200 km in average conditions over entire battery life. What is more interesting, MAN is opting for depot charging only.
Furthermore, MAN has already established a specialised consultation team called MAN Transport Solutions for custom transport solutions that deliver maximum cost effectiveness.
MAN, batteries in place of the engine compartment
The fully electric version of the new MAN Lion's City city bus has been unveiled at the 2018 IAA for Commercial Vehicles. This tops off MAN's new generation of city buses, following on from diesel and gas engines with a zero-emissions variant.
Its most striking feature is the lack of a rear engine compartment, with the batteries installed on the roof, making room for an ideal seating area at the back. MAN points out that this positioning moves the batteries away from the vehicle's rear, which is vulnerable in the event of a crash. Furthermore, it allows for more design flexibility, more pleasant lighting and up to four additional seats in the interior.

The central motor? In house
MAN has opted for one central motor to power its electric bus (on the rear axle), or two to power the articulated bus (on the second and third axles). The driveline, according to statements that date back to spring 2018, is likely to be the one developed by MAN together with Scania, two companies under the umbrella of Traton group.
Central motors, according to the manufacturer, are easier to access and more simply designed than motors in close proximity to the wheels, with related advantages in terms of maintenance and total cost of ownership (TCO).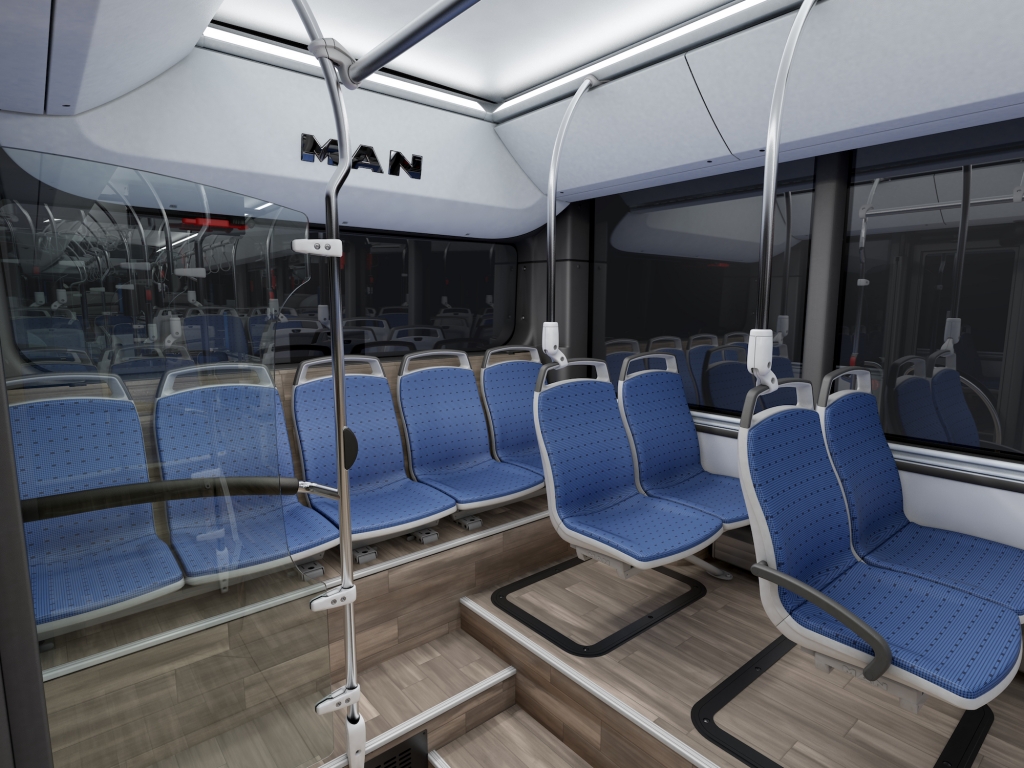 What a battery on MAN Lion's City E
The fully electric driveline produces 160 to 270 kW in the solobus. The power used for this comes from the modular batteries with 480 kWh capacity (solobus) or 640 kWh (articulated). In selecting these, MAN decided to take advantage of precision-engineered battery cell technology from the company's existing range, MAN highlights. The Lion's City E, according to the manufacturer, can reliably ensure their range of 200 km (or up to 270 km under favourable conditions) over their batteries' full life cycles.
The batteries are plugged into a CCS and charged at the depot, which can fully charge solobuses in under three hours and articulated buses in under four with an average charging power of 100 kW.
MAN Lion's City E, for depot charging. Only
The choice for depot charging only could be surprising to someone. The Lion's City E won't be equipped with fast charging equipment. MAN explains that the company surveyed close to 200 customers throughout Europe and concluded that flexible and uninterrupted service (without opportunity charging) is more important than an unlimited range. Especially since battery technology is developing at a rapid pace. It will be possible to upgrade the Lion's City E to the next battery generation. Charging outside of peak hours will also enable operators to tap into smart charge management and benefit from lower electricity rates, further adding to the cost effectiveness of running electric bus services.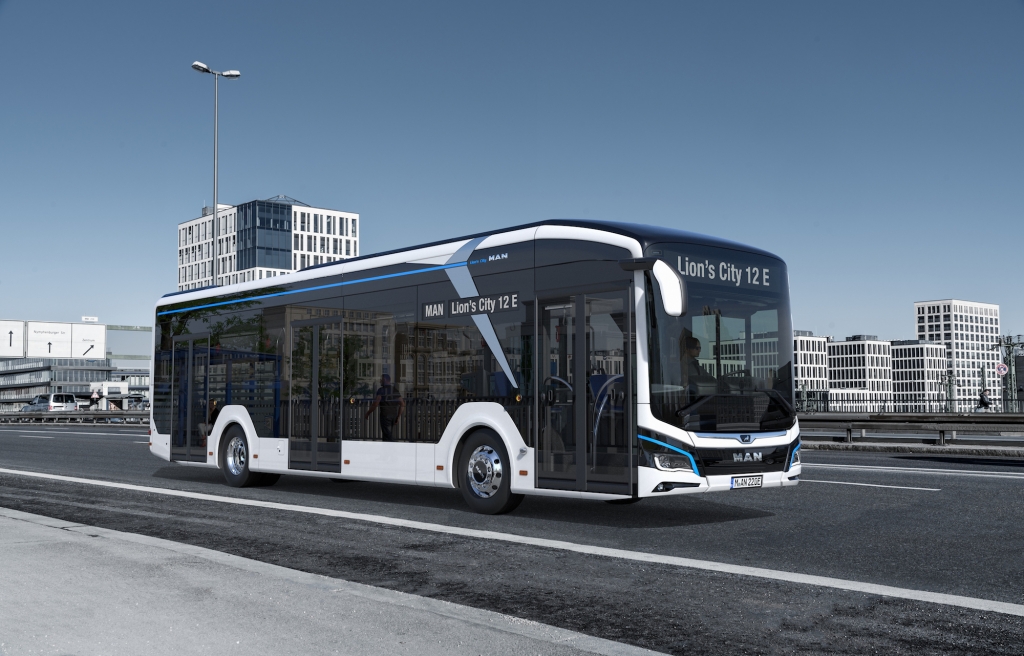 MAN Lion's City E, the roadmap
As part of MAN's plan for electric vehicles (known as the eMobility Roadmap), a demo fleet will be tested to establish its suitability for everyday use in a series of field trials in 2020, partnering with various European operators, mainly German. To this end, MAN has entered into several innovation partnerships with mass transit operators from Hamburg (Hamburger Hochbahn and Verkehrsbetriebe Hamburg-Holstein), Munich (Stadtwerke München and Münchner Verkehrs Gesellschaft) and Wolfsburg (Stadtwerke Wolfsburg and Wolfsburger Verkehrs-GmbH). Another partnership MAN has agreed is with two companies from Luxembourg: Voyages Emile Weber and Losch Luxembourg, a Volkswagen Group importer and the largest dealership group in the country. The MAN Lion's City E vehicles will then go into mass production in the second half of 2020.
MAN electric bus to be produced in Poland
MAN is approaching the beginning of its 'electric' era investing 27.4 million euros in Starachowice plant, where the complete electric bus will be produced. The operating company, MAN Bus Sp. z o.o. Starachowice, received approval in August 2018 to expand its activities to include manufacturing complete electric buses within the "Starachowice" Special Economic Zone. The capital expenditure related to accommodating electric-powered bus production is estimated at close to 118 million Polish złoty (around €27.4 million). Completion of the works is planned for the end of 2021. In Starachowice are already produced low-floor city buses. 1,724 buses have rolled off the production line in the past year alone, MAN reports.