Thomas Built electric school bus debuts in New England
Beverly Public Schools in Massachusetts opt for the newly released Thomas Built electric school bus Saf-T-Liner C2 Jouley, equipped with Proterra technology with regards to electric drivetrain and batteries. Also a Proterra 60kW charging system has been selected. The project represents the first all-electric school bus in Beverly and the first Thomas Built all-electric school […]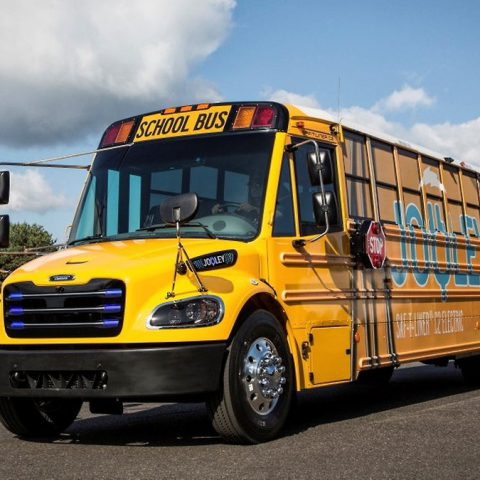 Beverly Public Schools in Massachusetts opt for the newly released Thomas Built electric school bus Saf-T-Liner C2 Jouley, equipped with Proterra technology with regards to electric drivetrain and batteries. Also a Proterra 60kW charging system has been selected.
The project represents the first all-electric school bus in Beverly and the first Thomas Built all-electric school bus in New England, Proterra points out.
The first large order for Thomas Built electric school bus has been finalized early this year: 50 vehicles have been allocated for the initial phase of Dominion Energy's electric school bus replacement program in Virginia.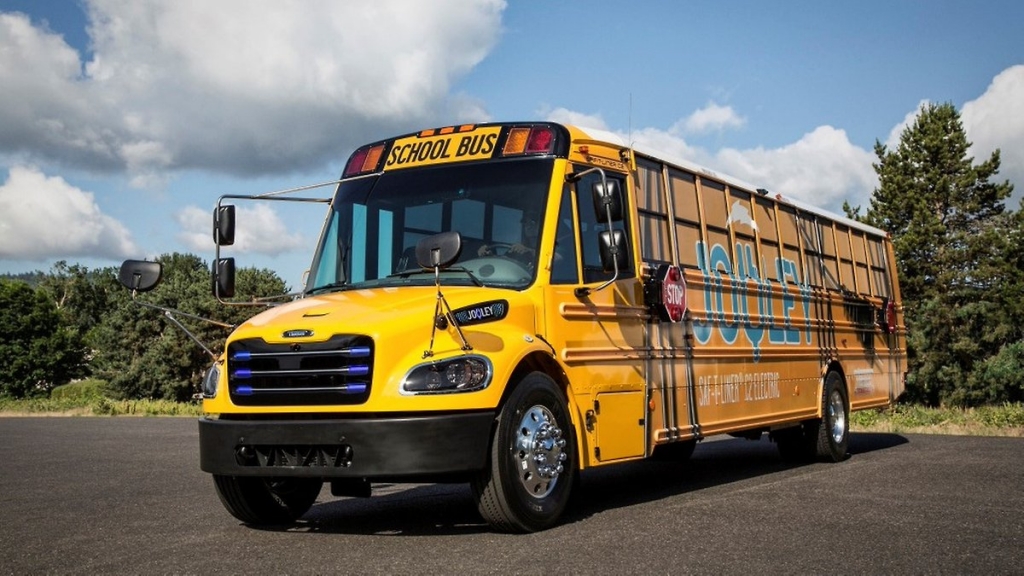 Thomas Built electric school bus for Massachusetts
With regards to the order of Thomas Built electric school bus, Proterra recalls that in January 2019 the Massachusetts Department of Environmental Protection (MassDEP) announced the availability of VW Settlement Trust-funded open grant programs aimed at reducing emissions of nitrogen oxide and greenhouse gas across Massachusetts, while supporting electrification of the state's transportation network.
Highland Electric Transportation, based in Hamilton, Massachusetts, secured grant funding from the Massachusetts VW settlement program to acquire the electric bus.
Jouley: Thomas Built electric school bus (with Proterra)
The Saf-T-Liner C2 Jouley couples 220 kWh of total energy capacity with the Proterra drivetrain. It can fast charge in about three hours with the Proterra DC charging system.
The vehicle has been developed through the partnership with Daimler, Daimler Trucks North America LLC and Proterra. The cooperation was announced at IAA Commercial Vehicles in Germany in September 2018 and is focused on the topic of school bus electrification, which is highly relevant for North American market. Then, the launch of the first Jouley was officially announced by Proterra in the end of October 2018 during the 44th Annual National Association of Pupil Transportation (NAPT) Conference.
In June 2019 the Jouley received full CARB and HVIP Certifications and was elected eligibile for funding from the California Energy Commission (CEC).
"We are proud to work alongside a strong partnership of innovative leaders in Massachusetts to deliver clean, quiet pupil transportation to Beverly," said Proterra CEO Ryan Popple. "School buses are one of the best applications for battery-electric vehicle technology and electric school buses provide transportation that improves the air quality for student riders and the community."
"We are excited to introduce our battery all electric Jouley school bus to Massachusetts," said Caley Edgerly, president and CEO of Thomas Built Buses. "Even more so, we are passionate about leading the industry in electric school bus innovation with a strong partner like Proterra on our side. With zero emissions at the tailpipe, virtually no noise pollution and limited maintenance, the Saf-t-Liner C2 Jouley will have a unique impact on the students of Beverly Public Schools, the community at large, drivers and technicians. We cannot wait for Beverly Public Schools to experience the future of pupil transportation."
A partnership behind the delivery of Thomas Built electric school bus
A strong partnership has formed to deliver clean, quiet pupil transportation to Massachusetts students, which includes Highland Electric Transportation, the city of Beverly, Beverly Public Schools, the local utility provider National Grid, Proterra, Thomas Built Buses and New England Transit, the local Thomas Built Buses dealer.
Under an innovative new business model, Highland Electric Transportation has partnered with the City of Beverly and the Beverly Public Schools Transportation Department to deploy the Thomas Built electric school bus within the established transportation department's operations. Highland will own, fuel and pay for all maintenance, while the Beverly transportation department will drive and dispatch the vehicle within its regular operations. Highland is also working with National Grid and is deploying a vehicle-to-grid strategy with the electric school buses.
An innovative business model
"We are excited to lower the upfront cost of an electric school bus by offering our innovative model to Beverly. We expect operations to be less expensive than the cost to operate a traditional diesel vehicle, and we have taken that risk," said Duncan McIntyre, CEO of Highland Electric Transportation. "We look forward to working with the city of Beverly, National Grid, Proterra and Thomas Built Buses to deliver exceptional pupil transportation and vehicle-to-grid opportunities."
"The City of Beverly is setting a positive example for other cities across the region," said Gregg Knight, Chief Customer Officer, National Grid, US. "I am proud of the partnership between National Grid, the City of Beverly, Highland Electric Transportation and Proterra for bringing this electric school bus to fruition. The transportation sector is the largest contributor of greenhouse gas emissions in Northeast. As a utility serving 20 million people across MA, NY, and RI, National Grid is committed to helping decarbonize the transportation sector. The introduction of the electric school bus in Beverly moves us all one step closer to that commitment."
Leader in sustainability, with Thomas Built electric school bus
The city of Beverly is a leader in sustainability efforts and has a long history of supporting and adopting green and sustainable initiatives, Proterra highlights. Further, Mayor Cahill is a member of the Climate Mayors Steering Committee, a group of over 20 mayors who will serve as a leading voice in efforts to further climate action across the U.S. making up the Climate Mayors coalition.
"Beverly is excited to be acquiring our first electric school bus by partnering with Highland Electric Transportation. This electric school bus will produce zero greenhouse gas emissions and reduce our school district carbon emissions significantly. In addition, the total cost of ownership in the long term will save the city valuable tax dollars. Transitioning our diesel school bus fleet to all electric is an important part of addressing climate change and protecting the health of thousands of school children in our City," stated Beverly Mayor Michael Cahill.