Yutong takes stock of its 2021. 42,000 buses sold, a total of overall 80,000 buses exported so far
With around 42,000 buses sold In 2021, Yutong Bus achieved growth against the global trend. What is significant, the Chinese group exported 4,911 large and medium buses. Up to now, Yutong states it has exported accumulatively over 80,000 buses of various types, covering six major regions including Europe, America, Asia-Pacific, CIS, Middle East, and Africa […]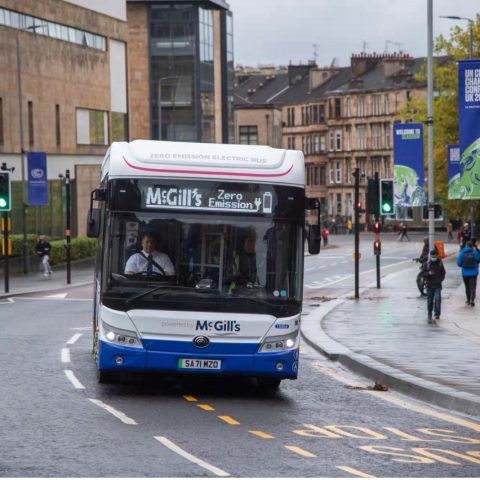 With around 42,000 buses sold In 2021, Yutong Bus achieved growth against the global trend. What is significant, the Chinese group exported 4,911 large and medium buses. Up to now, Yutong states it has exported accumulatively over 80,000 buses of various types, covering six major regions including Europe, America, Asia-Pacific, CIS, Middle East, and Africa etc.
The group makes public it has achieved a 0.17% revenue growth in 2021. The 42,065 buses built last year mean a slight 0.2% increase from the previous year, while bus sales reached 41,828 recording a 0.17% YoY increase, with 2021 net profit predicted to grow US$ 7.87 million to $23.61 million.

Yutong new energy buses and emissions savings
Up to now, Yutong's new energy buses have been promoted globally more than 160,000 units which can reduce fuel consumption by more than 2.1 billion liters, save gas by more than 300 million cubic meters, and reduce carbon emissions cumulatively by more than 23 million tons, according to Yutong's own calculations.
New energy bus orders have been contracted by Yutong in several world regions. One of 2021 highlights is the delivery of 741 e-buses in Qatar, where they'll be operating in the framework of the Soccer World Cup. In the cooperation with Qatar, besides providing battery electric buses, Yutong has also reached an agreement with the other party to jointly invest in the establishment of an electric bus assembly plant in Free Trade Zone of Qatar.
Yutong: electric trolleybuses in Mexico
In August 2021 a batch of 10 Yutong 18m battery electric buses (BRT) were officially delivered and put into operation in Mexico City, becoming the world's first high-platform project of such buses. Yutong entered the Mexican market with clean energy and new energy vehicles in batches, demonstrating the group ability to realize differentiated products for the global market. Before that, Yutong had exported the world's largest batch of dual-source trolleybuses to Mexico in 2020, a real first in Latin America.
Europe is since a few years in the spotlight of the Chinese group. Poland introduced the first batch of Chinese battery electric buses in the first half of 2021, also from Yutong Bus. "Yutong E12 battery electric buses have established a good reputation as a new energy brand in Northern Europe by its stable operation in extremely cold weather", Yutong says. In February and October 2021, Keolis repurchased Yutong new energy buses twice, which is the most powerful proof that Yutong have won market recognition by its outstanding products.
Yutong Electric Safety Standard
In order to promote the power battery safety technology to a new level, Yutong has also launched its world premiere of Yutong Electric Safety Standard (YESS). "From whole vehicle to the battery, from the system to the components, five layers of protection are interlocked, realizing three major improvements of safety level, all-climate capability and road adaptability of the power battery, enabling consumers to take Yutong buses more at ease and enjoy every safe, energy-saving and pleasant public travel", the group specifies.
In June 2021, Yutong's autonomous bus Xiaoyu 2.0 won the 2021 Red Dot Award, becoming the world's first autonomous bus to win the World Industrial Design Award. Following Xiaoyu, Yutong won the "2021 Red Dot Brand and Communication Design Award" for its outstanding performance in the "Internet of Vehicles Digital Fleet Management System", becoming the first domestic bus digital solution company to win this honor.
In order to lead the intelligent upgrade of the transport industry and boost mobility with technology, Yutong has also launched 2021 bus smart cloud platform and a full range of Yuwei high-end bus products.
KD assembly in over ten world countries
In Kazakhstan, Yutong has customized 100 medical testing vehicles, contributing to China's efforts to prevent and fight against the pandemic in Kazakhstan. In addition, the CKD factory jointly built by Yutong and the locality has also been put into operation officially in June 2021 and can produce battery electric buses. In the future, Yutong adds that the plant will further increase the localization rate of bus manufacturing and enhance the production capacity of Kazakhstan's domestic automotive industry.
At present, Yutong Bus has completed localized cooperation through KD assembly in more than ten countries and regions.
In the end, a future-oriented statement: "In the future, Yutong will continue to build its brand reputation, focus on overseas key markets, work intensively, and solidly promote the Yutong model. With high-quality products, good services and earnest fulfilment of corporate social responsibilities, Yutong will achieve the satisfaction of market stakeholders, and support the long-term, sustainable, and healthy development of overseas markets. Yutong will build its excellent brand image and market reputation, leading Made in China to become the most famous Chinese brand".