Caetano fuel cell bus on a test in Oviedo
The city of Oviedo will test a Caetano H2.CityGold for the next three months From 15th of April. The bus will run through the different TUA lines. In December 2020 a strategic alliance was announced between Toyota Europe, CaetanoBus and Finlog in an effort dedicated to the development and production of fuel buses in Europe. In January 2021 the public transport […]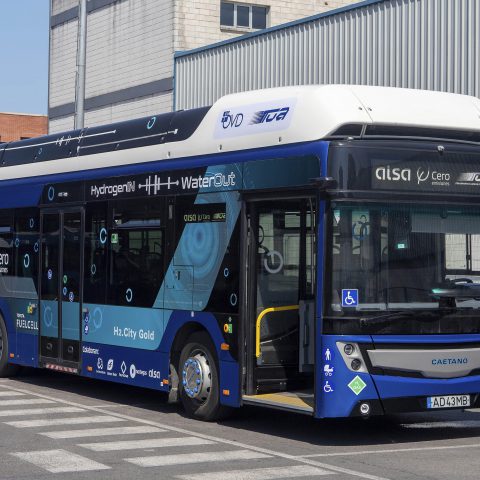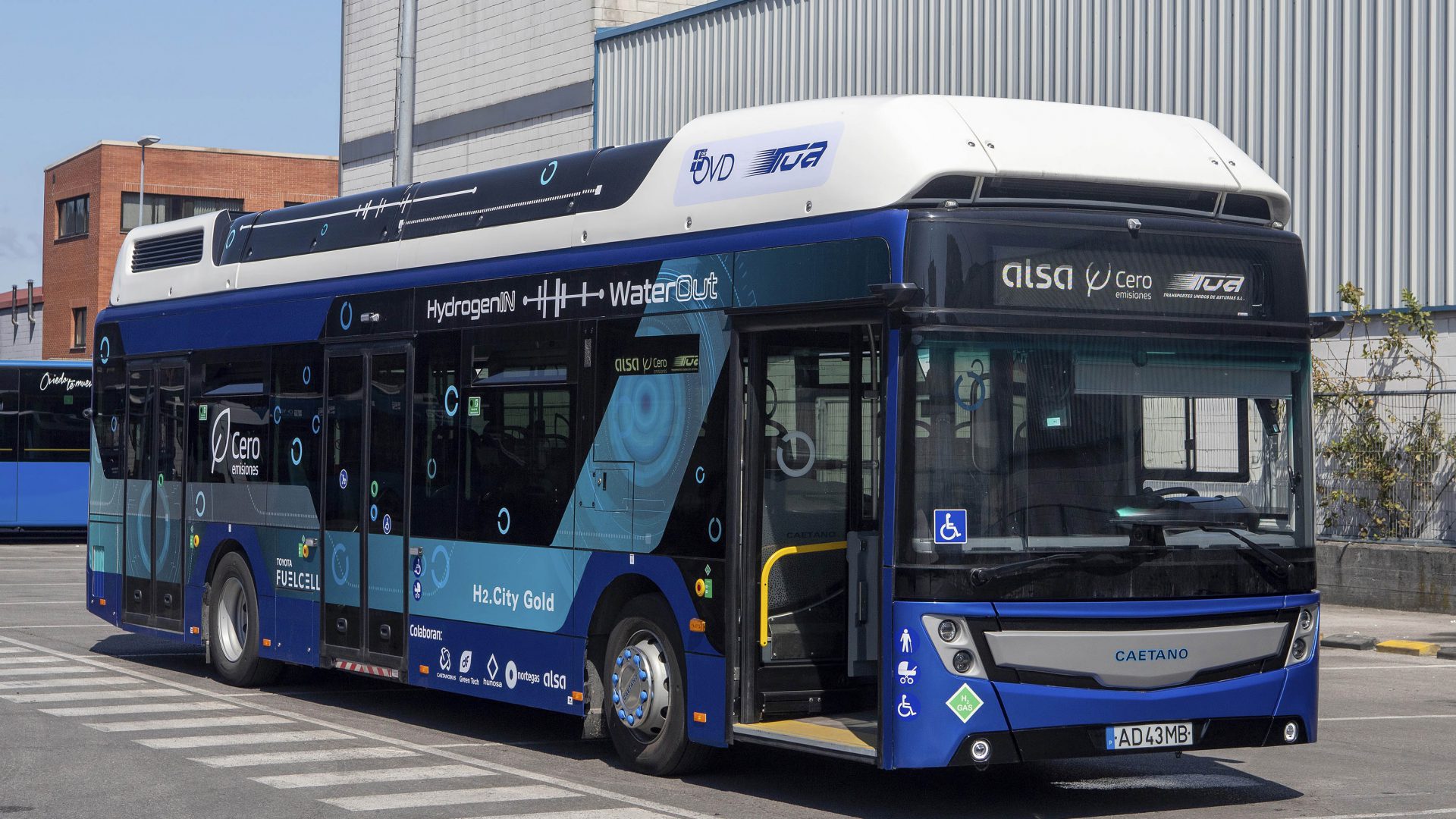 The city of Oviedo will test a Caetano H2.CityGold for the next three months From 15th of April. The bus will run through the different TUA lines.
In December 2020 a strategic alliance was announced between Toyota Europe, CaetanoBus and Finlog in an effort dedicated to the development and production of fuel buses in Europe.

In January 2021 the public transport operator of Wiesbaden, in Germany, chose Caetano to deliver 10 hydrogen buses in the last quarter of 2021. In the same country the Portuguese producer has already been selected as the supplier to deliver four hydrogen buses to Bielefeld's Transport Company and supplied two hydrogen buses to the eFarm Project.
In Wiesbaden the 12-meter fuel cell bus units will be operated by ESWE Verkehr, the public transport operator of Wiesbaden, on the routes 16 and 17. The same operator has ordered as many as 56 units of Mercedes eCitaro.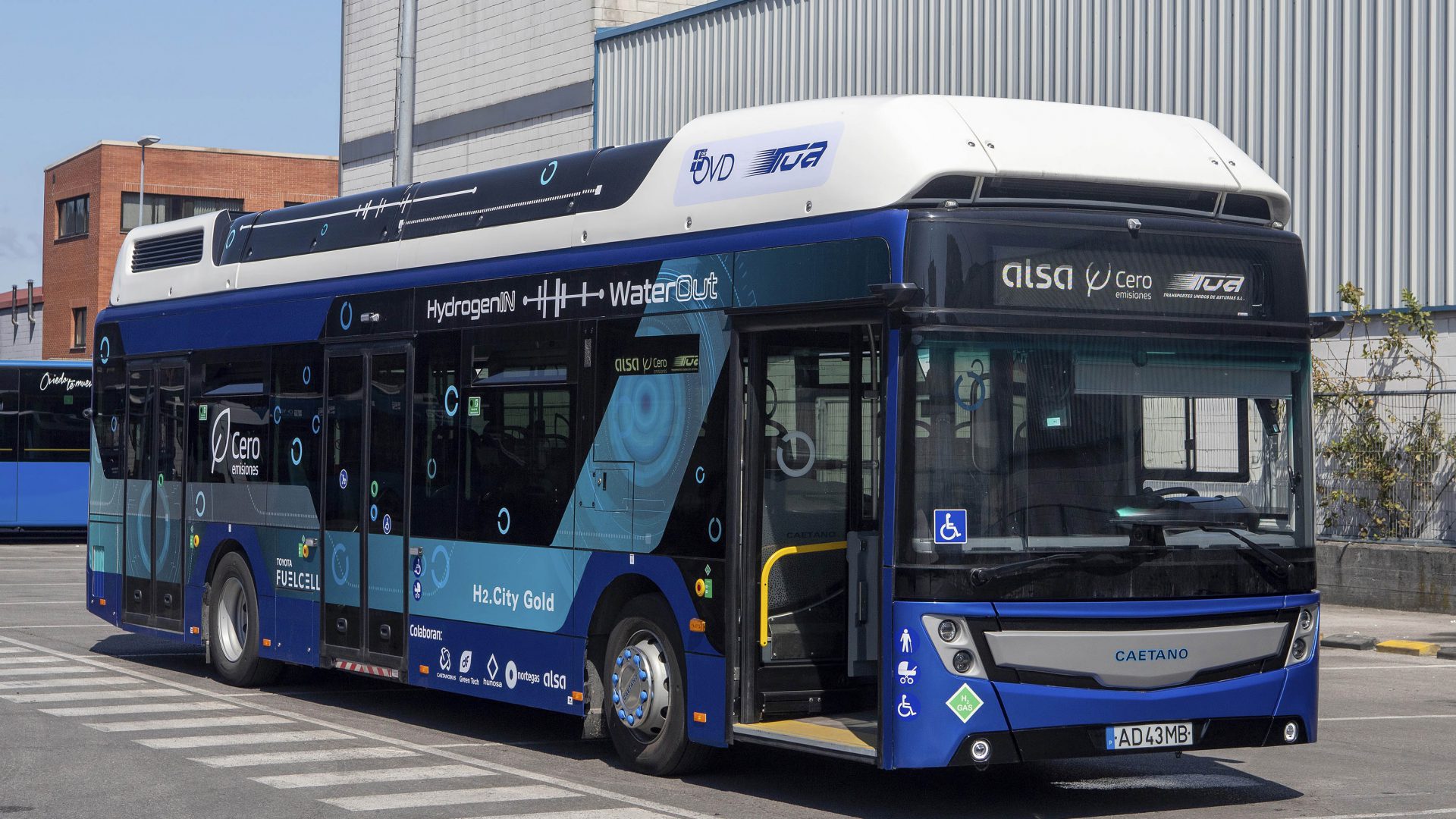 Caetano hydrogen bus in Oviedo
On the 15th of April, the mayor of Oviedo, Alfredo Canteli together with the Councillor of Infrastructure, Nacho Cuesta, presented the Caetano H2.CityGold as the hydrogen bus that will run in Oviedo for the next months in a ceremony held in Plaza de la Catedral of Oviedo.
The representatives of the participating companies in this initiative, CaetanoBus, ALSA, Authorities of Oviedo, Duro Felguera, Grupo HUNOSA and Nortegas, also attended the ceremony.
For the next three months, Oviedo's public transport operator, part of ALSA, will test the operational capabilities of Caetano hydrogen bus in regular passenger traffic on different TUA lines.
With this initiative, Oviedo joins other major European capitals, such as Madrid, London, Paris and Dublin, which also tested Caetano hydrogen-powered buses, in order to understand the potential of this disruptive technology.
The director of ALSA in the Cantabrian Coast also advanced that the strategy for the implementation of these vehicles in the city is scheduled for 2022.
"It is an honour for Caetano to have its H2.CityGold bus as the first hydrogen-powered bus to be tested in Oviedo. Our target is to start H2 bus operation from 2022 and we are working together with municipalities and partners to achieve a zero emission society. We are proud to contribute to the future of mobility in Asturias region with our H2.CityGold." said Kohei Umeno, Chief Commercial Officer at CaetanoBus.