Ekoenergetyka joins ChargeUp Europe, the EV charging infrastructure industry association
ChargeUp Europe just added Ekoenergetyka as its 15th member. The EV charging infrastructure industry association is then further spreading its geographic coverage across the EU, and highlighting the upward trend of the emobility momentum in Central and Eastern Europe. Launched in 2020, ChargeUp Europe accounts now 15 full industry members, two knowledge partners, and two […]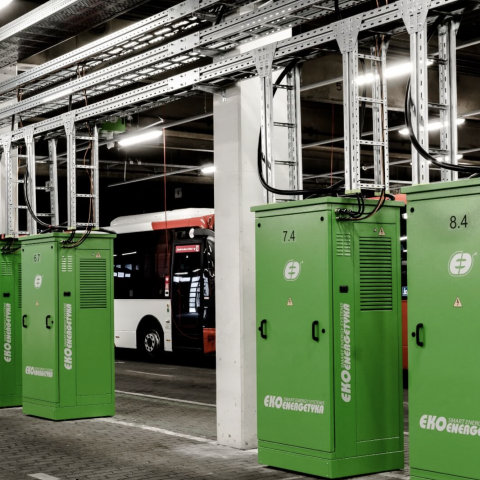 ChargeUp Europe just added Ekoenergetyka as its 15th member. The EV charging infrastructure industry association is then further spreading its geographic coverage across the EU, and highlighting the upward trend of the emobility momentum in Central and Eastern Europe.
Launched in 2020, ChargeUp Europe accounts now 15 full industry members, two knowledge partners, and two ecosystem partners, all working together to accelerate the rollout of EV charging infrastructure and enable seamless charging for drivers across the EU. Among ChargeUp Europe members there are ABB, Allego, EVBox, consulting company Arthur D. Little.
Ekoenergetyka joins ChargeUp Europe
To date, the Polish supplier has implemented several electric bus charging projects in Europe. The largest is in Paris, where Ekoenergetyka has won a tender issued by RATP and is delivering 274 chargers with a total capacity of 24.5 MW. The company has been working also for TMB Barcelona and is in charge to supply 130 charging stations in Berlin, besides being involved in Munich electric bus depot project.
Ekoenergetyka is a Polish technological company from Zielona Góra is present in over 130 cities in 18 countries around the world. The company, founded over founded 12 years ago by two university friends, Bartosz Kubik and Maciej Wojeński, is today the second SME company in the country employing over 400 people. It is the largest manufacturer of charging infrastructure for electric vehicles in Poland with a 90% market share, Ekoenergetyka itself says. It specializes in the production of charging stations for electric vehicles from passenger to heavy duty, with a particular focus on e-buses.
So far, Ekoenergetyka highlights it «has launched over 1,400 high-power charging systems, and 5,000 charging cycles are carried out in this network every day. The company also provides global implementation and maintenance services, as well as monitoring and remote management of the charging infrastructure from its own Service Support Center».
ChargeUp, Ekoenergetyka, a pan-European ecosystem
Maciej Wojenski, Co-Founder and Vice-President said: "We are very excited to join ChargeUp Europe, becoming a member is an important step towards achieving our goal of co-creating a Pan-European open eco-system of charging infrastructure and ensuring a seamless customer experience across borders and use-cases. We strongly believe that by only coming together the industry as a whole has a chance to succeed in achieving EU CO2 ambitions. We look forward to working closely with other members and advancing the e-mobility industry together.