23 new e-buses for Barcelona. TMB goes again with Solaris and Irizar
14 Solaris Urbino 18 Electric and nine Irizar i2e articulated will be in operation in Barcelona on H16 line with the livery of TMB. The tender launched in summer 2019 has ended its journey with the awarding of two contract for totally 23 e-buses. The procurement has a value of 20.7 million euros, and the new […]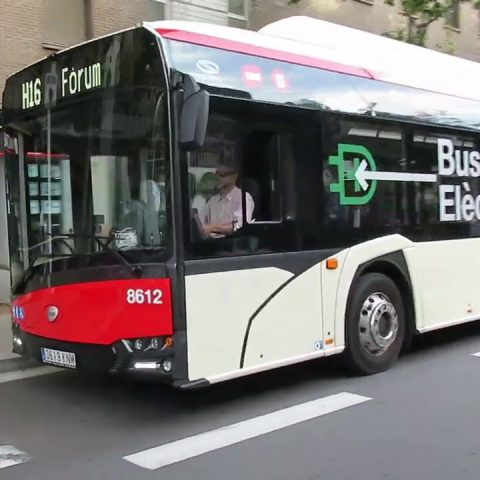 14 Solaris Urbino 18 Electric and nine Irizar i2e articulated will be in operation in Barcelona on H16 line with the livery of TMB. The tender launched in summer 2019 has ended its journey with the awarding of two contract for totally 23 e-buses. The procurement has a value of 20.7 million euros, and the new vehicle will replace diesel vehicles on the first zero emission route of Barcelona public transport network. The tender included also six electric minibuses.
They won't be the first e-buses of TMB fleet: between end of 2018 and beginning of 2019 the public transport company rolled out three articulated electric buses from Solaris and four units of ie tram supplied by Irizar. And in summer 2019 a batch of 105 MAN Lion's City, some with CNG drivetrain some with mild hybrid module, were ordered.
266 alternative drive buses in Barcelona 2019 – 2021
The acquisition of the 23 electric vehicles is part of TMB's plan to renew and update the fleet of city buses in Barcelona and the metropolitan area with the introduction of 266 electric, hybrid and natural gas buses in the period 2019-2021. The target is clear: by 2030 the whole TMB fleet will be made only of alternative drive buses.
This goal is being supported by funding from EU: in June last year the European Investment Bank (EIB) announced it is granting a 73.5 million euros loan to the public transport company of Barcelona. The money will be used to buy 254 new buses. 116 of them will be electric buses. The new vehicles will be delivered according to a timeline that should be concluded in 2021.
New electric buses in Barcelona, pantograph is not missing
The 23 new electric articulated buses (whose delivery is expected at the beginning of 2021) will be used to continue the transformation of the H16 (Pg. Zona Franca – Fòrum / Campus Besòs) into the first TMB line entirely operated via zero emission vehicles. Therefore, the two ends of the line will be equipped with fast charging stations.
Of the 23 buses, 14 will be Solaris' New Urbino model and the rest will be the Irizar i2e type, all 18 metres long and equipped with pantographs. Therefore, the new vehicles will be very similar to the 7 electric vehicles (4 Irizar and 3 Solaris) that are currently already operating on the H16 line.
These 23 buses will be featuring a new interior layout. Also, interestingly, the articulation section will be translucent, to improve the illumination of this area.