20 fuel cell double decker buses will run in London
Transport for London will operate 20 fuel cell double decker buses (through EU funded JIVE project). The vehicles, built by British manufacturer Wrightbus and powered by Ballard Power Systems, are scheduled to arrive in London next year. In the same year 2020 also Liverpool is going to have the first fuel cell double decker buses, built […]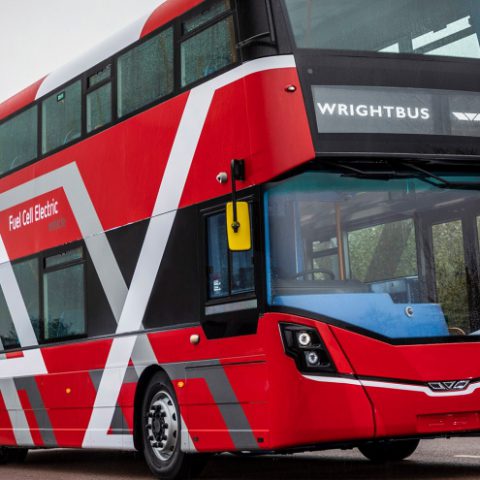 Transport for London will operate 20 fuel cell double decker buses (through EU funded JIVE project). The vehicles, built by British manufacturer Wrightbus and powered by Ballard Power Systems, are scheduled to arrive in London next year. In the same year 2020 also Liverpool is going to have the first fuel cell double decker buses, built by ADL, in operation.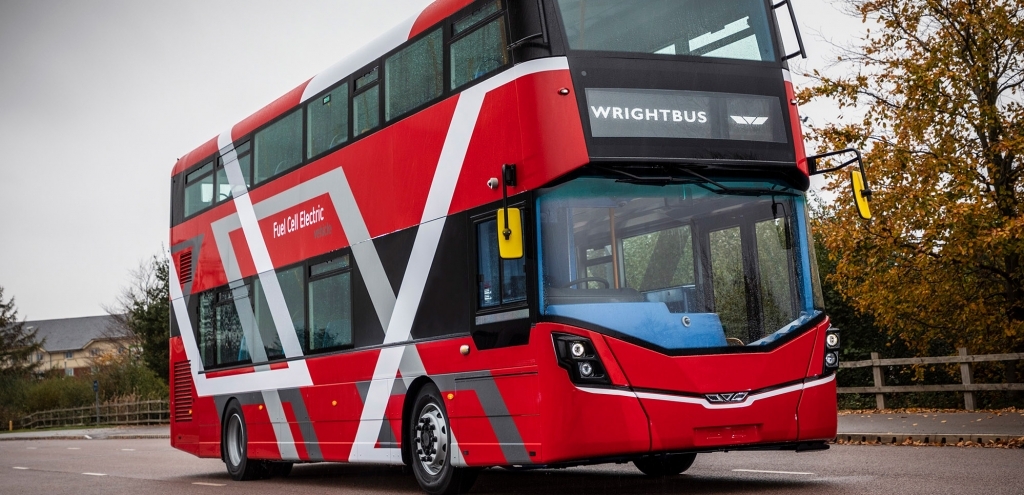 Hydrogen double decker buses
The hydrogen double decker buses will be introduced on three London bus routes next year, Trasport for London says in a press release. London's public transport company has ordered 20 of these buses as part of its drive to make London's transport zero-emission. It follows the introduction of the world's first Ultra Low Emission Zone last month.
Streetdeck FCEV in the framework of EU JIVE project
The Wrightbus Streetdeck FCEV is 10.9 meter long and can carry up to 64 passengers (it shares the same chassis with the battery electric version). Battery pack, in the Streetdeck FCEV, is able to store 48 kWh: thanks to the fuel cell system (Ballard FCVelocity), they're enough to cover, according to the manufacturer, 322 km (200 miles). A 426km extended range is also available. Refueling the bus takes approximately seven minutes. Heating and cooling systems are zero emission as well. Automatic BMS continuously monitors and balances the stored power while the vehicle is in use. The bus has been developed as part of the JIVE project funded by EU (Joint Initiative for Hydrogen Vehicles across Europe), and has already been ordered by the city of London, still in the framework of JIVE.

13,8 million euros for hydrogen buses and infrastructure
TfL is investing £12m in the new buses and the fuelling infrastructure. Wrightbus in Northern Ireland will manufacture them. Transport for Londons points out that the investment will help creating new jobs in the region. More than £5 million of funding is being provided by European bodies and £1 million from the Office of Low Emission Vehicles, TfL says. To encourage the take-up of this trailblazing technology in other cities in the UK and Europe, TfL is leading procurement within the 'Joint Initiative for hydrogen Vehicles across Europe' (JIVE) project. JIVE aims to bring down the cost of the vehicles by buying in bulk with other authorities – helping put the price per bus on a par with the other cleanest fuels.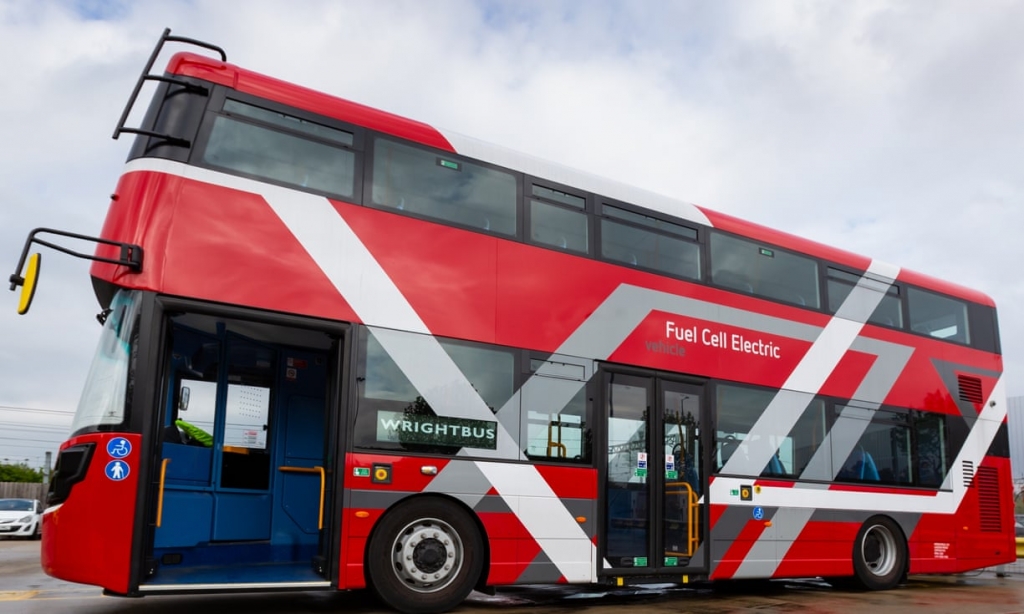 Hydrogen buses to clean up London's air
Sadiq Khan, Mayor of London, said: `We all have a role to play in cleaning up London's toxic air and I've always said that TfL should lead from the front. Following the launch of the world-first Ultra Low Emission Zone last month I'm delighted that TfL has today signed a contract to bring 20 state-of-the-art, zero-emission hydrogen buses to London's streets. We are investing a record £85m in cleaning up our bus fleet, and I am proud that London now has the largest zero-emission bus fleet in Europe.'
As part of the Mayor's Transport Strategy, TfL is committed to using only the cleanest buses in its fleet. Ten Low Emission Bus Zones have been introduced, reducing harmful NOx emissions by 90 per cent on some of the capital's busiest roads. All of the buses in the Ultra Low Emission Zone and seventy-five per cent of the entire bus fleet already meets these standards, with all buses set to be upgraded by October 2020. This will make the whole city a Low Emission Bus Zone.
TfL zero emission bus fleet grows
The double decker hydrogen buses will expand TfL's growing number of zero-emission buses. There are currently a total of 165 zero emission buses, with a further 68 electric double deckers on the roads by the summer.  TfL has also recently announced that the route 323 will become fully electric next year, along with two further routes, which will be announced later this month.
Claire Mann, TfL's Director of Bus Operations, said: `London has the cleanest bus fleet in Europe, but we know we need to go further and faster to tackle the public health emergency caused by dirty air. Innovating and using hydrogen means we have flexibility in matching the right fuel with the operational requirements of the network. `We are also pleased to be leading an initiative that brings down the cost of buying the greenest buses across the continent and within our own country, as we know pollution doesn't respect national or local boundaries.'
Dr Penny Woods, Chief Executive of the British Lung Foundation, said: "London's air is toxic, and it needs to change. We know air pollution is a threat to all our health, and children, the elderly and those with existing lung and heart problems are most at risk, so it's good to see the Mayor of London tackling the issue head on. This move to cleaner public transport, alongside the introduction of the ULEZ, shows London's leading the way in the fight to clean up the air we breathe and we look forward to seeing even more ambitious action from TfL."
Darren Shirley, Chief Executive of Campaign for Better Transport, said: "Millions of people across the country live in areas which currently exceed legal limits for air pollution. Cities need to be doing more to improve their air quality, including investing in clean technologies as a matter of urgency. We welcome this move to clean up London's bus fleet and its polluted air.'
Fuel cell buses, a bright future ahead?
Fuel cell buses are expected to importantly grow their market share in the years to come. ZeEUS eBus Report #2 released by UITP says fuel cell buses are expected to have a market share of 2 per cent in 2020 and 10 per cent in 2030, in the segment of urban buses and in European area. Still a little "slice" compared to the 52 per cent forecast of battery electric… but the multiplication for five is anyway impressing and opens up interesting scenarios for after 2030 years. This year, European manufacturer Solaris Bus & Coach (taken over by Spanish group CAF) will unveil the Solaris Urbino 12 hydrogen, a new generation vehicle deriving power from a hydrogen fuel cell. The presentation will take place at UITP Public Transport Global Summit 2019 in Stockholm (9-12 June).
Also Van Hool have long since been betting on the electric future through hydrogen. Two premieres are ready to be launched in the short and medium term: the new A330 FC hydrogen bus and the innovative Van Hool Exqui.City 18 FC bus, which will be on the road from the end of 2019 in Pau, France. It will be the first BRT system in Europe running on hydrogen.
Another competitor in the field of fuel cell buses is Toyota: its Sora has been approved and launched on the market (in the picture below). And the Japanese company also started a collaboration with Portoguese Caetanobus.
At Euro Bus Expo 2018 in Birmingham Wrightbus announced the launch of its fuel cell double decker bus, named Streetdeck FCEV. Fuel cell system is made by Ballard, drivetrain is by Siemens.
Ballard FCvelocity is also adopted by El Dorado National's 40-foot (12 meters) Axess Fuel Cell Electric Bus, available in the US. The vehicle successfully completed testing at The Altoona Bus Research and Testing Center under a program established by the Federal Transit Administration (FTA).