Busworld North America is underway. With ABC, MCI, Daimler Coaches, Prevost, Temsa, BYD in the forefront
Busworld North America's doors were opened on Saturday 4th Februrary in Detroit. It's the first edition of a new format realized in cooperation with the motorcoach operators' association American Bus Association (ABA), whose marketplace is taking place together with the exposition. It's no surprise, then, that the Busworld North America 2023 has taken a clear […]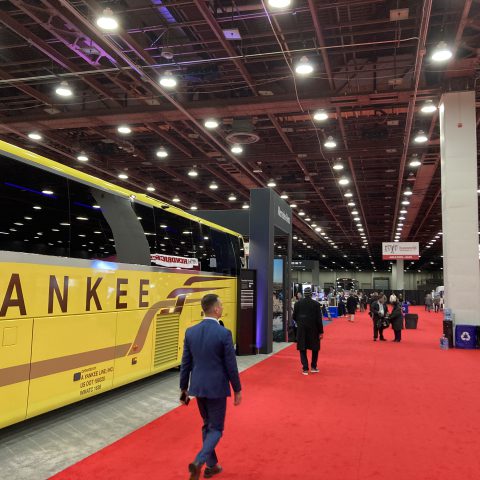 Busworld North America's doors were opened on Saturday 4th Februrary in Detroit. It's the first edition of a new format realized in cooperation with the motorcoach operators' association American Bus Association (ABA), whose marketplace is taking place together with the exposition. It's no surprise, then, that the Busworld North America 2023 has taken a clear orientation towards the touristic and private market.
The exhibitors' list features some big brands such as ABC Companies, MCI, Daimler Coaches, BYD, Prevost, Temsa, Marcopolo. Other attending companies will be Adastec (partner of Karsan in the autonomous Atak project), Bridgestone, Dafo, Heliox, Zenobe.
"We had the opportunity to visit several Busworld – Exhibitions edition in Belgium and we know that there is not something similar in the world. We were so impressed that we wanted to work with them and bring this event in North America", said ABA President and CEO Peter Pantuso at the opening ceremony.
Below, a focus on what we have been seeing so far at the exhibition [BEING UPDATED]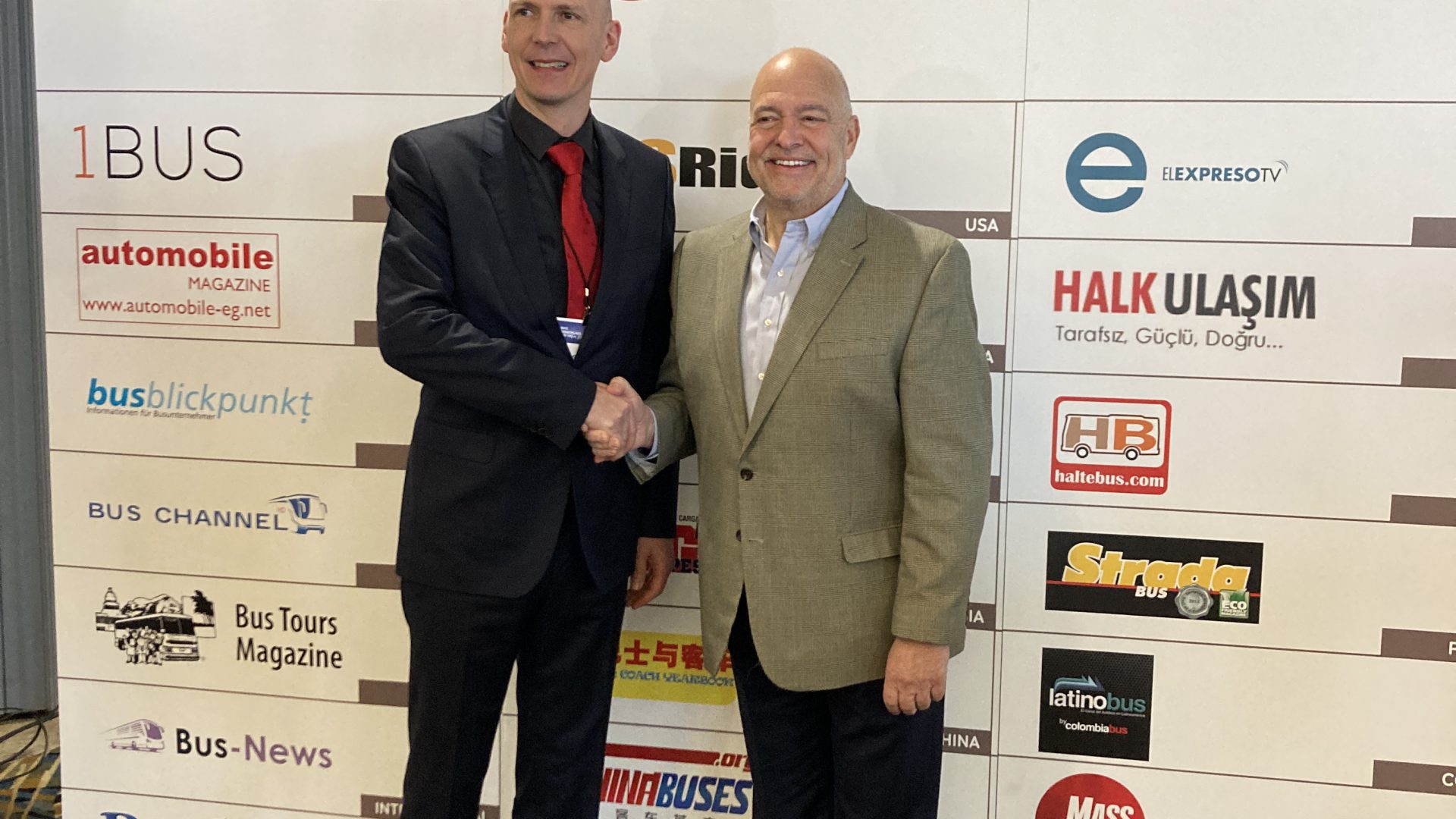 Prevost at Busworld North America with a brand new coach
The main novelties presented at Busworld North America is Prevost (Volvo Group) new coach H3-45. It is set to improving fuel efficiency by up to 12% thanks to aerodynamic improvements as well as reducing wind noise by 50% in the driver area, manufacturer says. "On the safety and comfort side, the H3-45 boasts an HVAC system that's 20% more powerful, defrosts 37% faster than SAE requirements and is eight decibels quieter", Prevost says.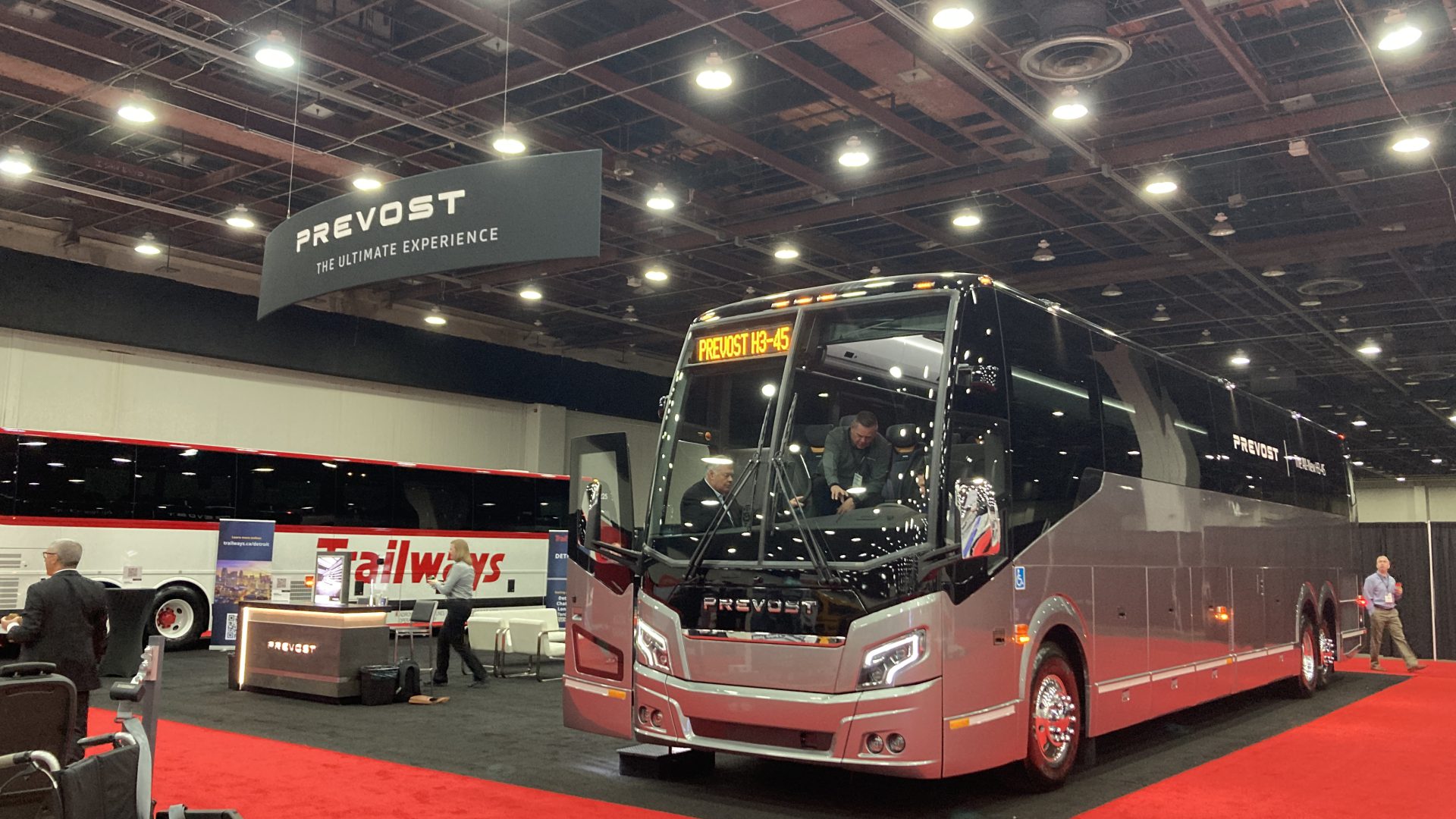 And the Canadian-based group has also novelties in store concerning energy transition: "We plan to introduce an electric motorcoach in 2026 in North America with batteries from Volvo Group built in Sweden", states Prevost President Francois Tremblay.
Daimler Coaches North America joins the exhibitions with two Tourrider models, a premium and a business (main difference relies in global height). It features ABA 5 as a standard and Sideguard assist on request.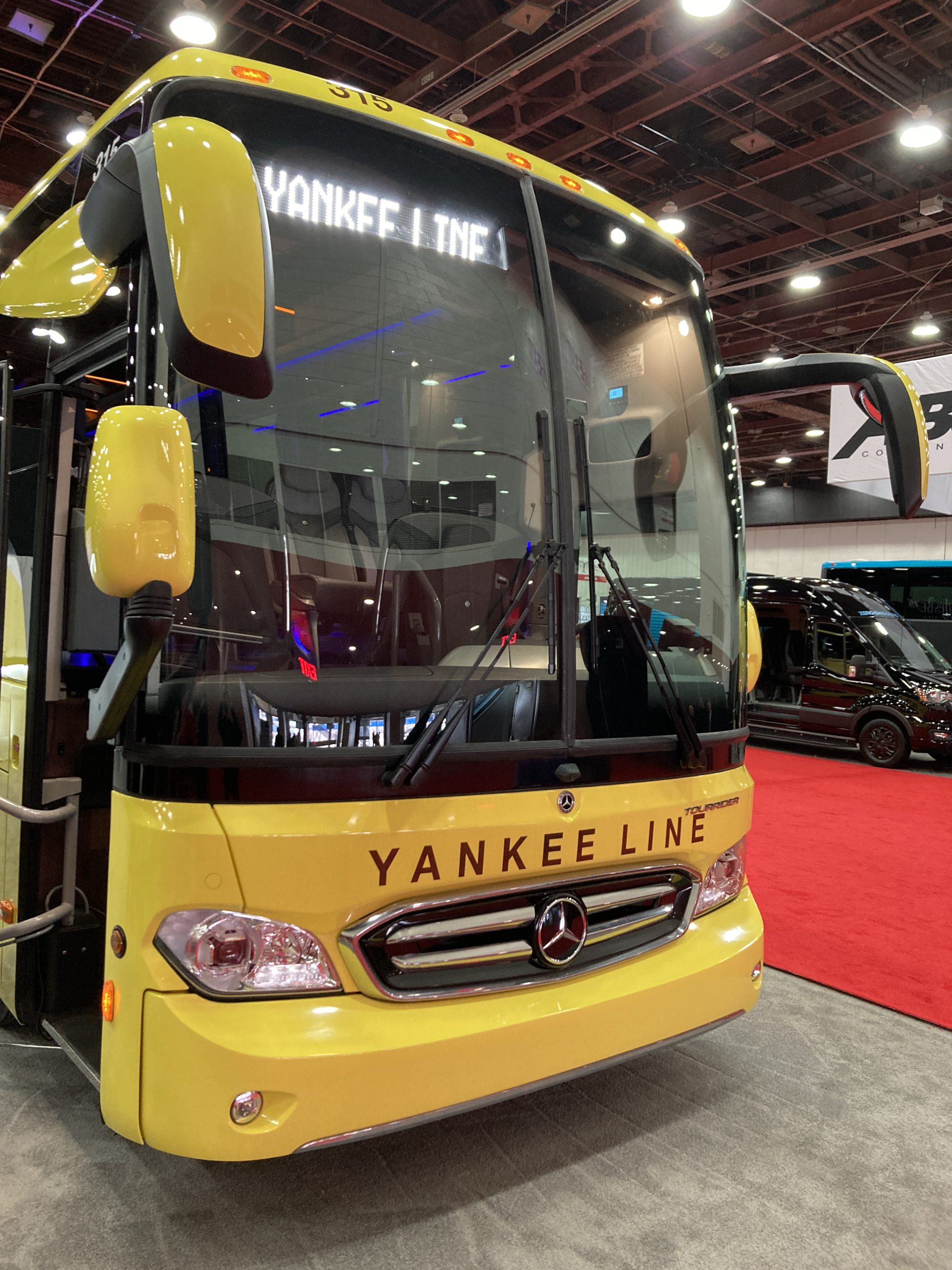 ABC Companies, the focus on motorcoach electrification
ABC Companies is Van Hool dealer in North America. They brought at the expo a diesel-powered CX35 but Vice President of Marketing Thom Peebles has been stressing the topic of energy transition, as the company has in the portfolio the battery-electric coach CX45E (plus a double-decker model) powered by Proterra battery system: "We have between 100 to 150 electric motorcoach on delivery by end of 2023. Last year electric coach business made 12 per cent of our sales. This year we expect to reach 21 per cent", he said.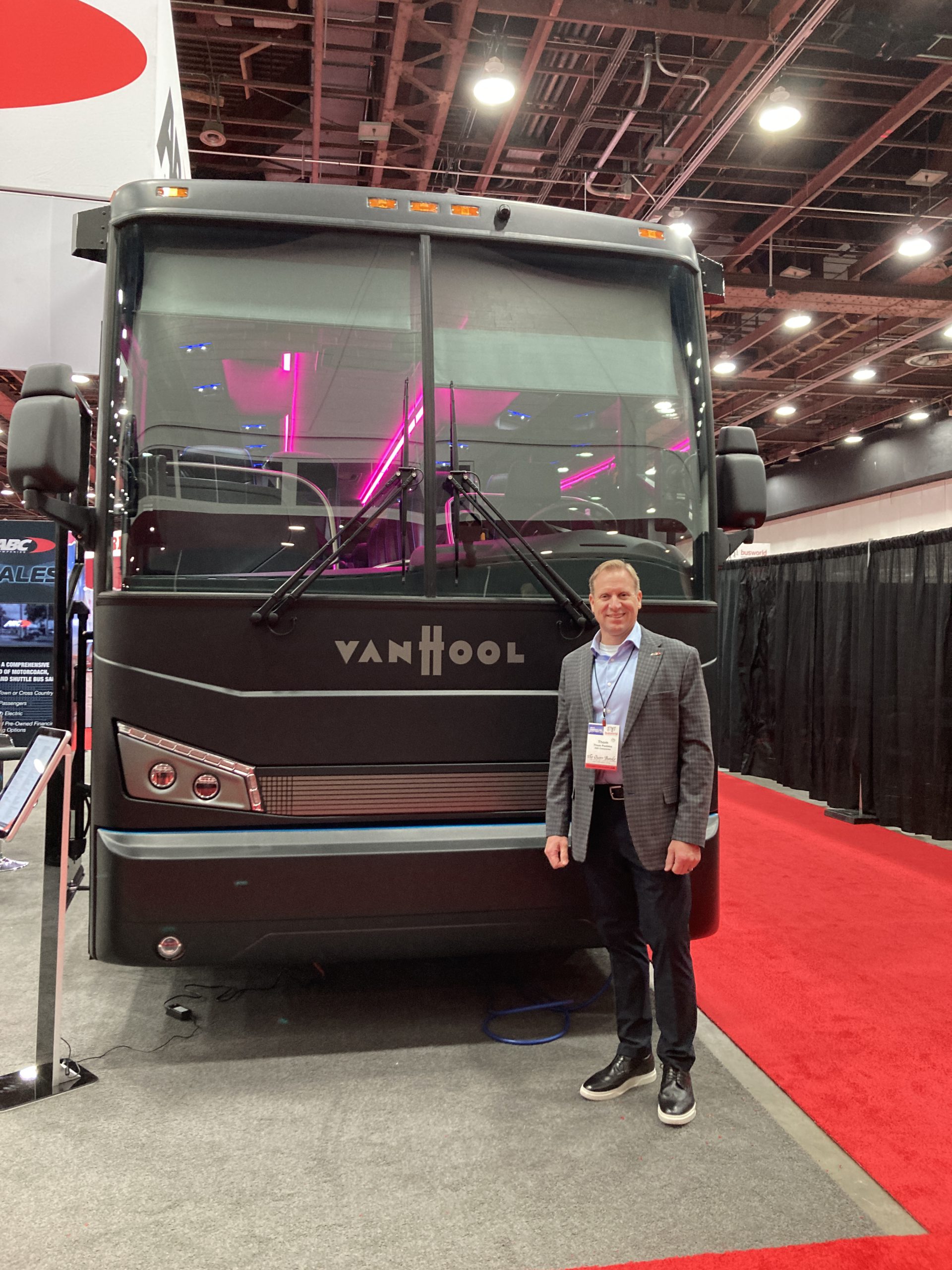 NFI company MCI is at Busworld with the J4500 motorcoach. NFI Parts has recently announced the expansion of its parts warehouse space in Fresno, CA, doubling the square footage. It is now stocked with a majority of high-demand MCI coach maintenance parts and will continue adding inventory over time to meet customer demand.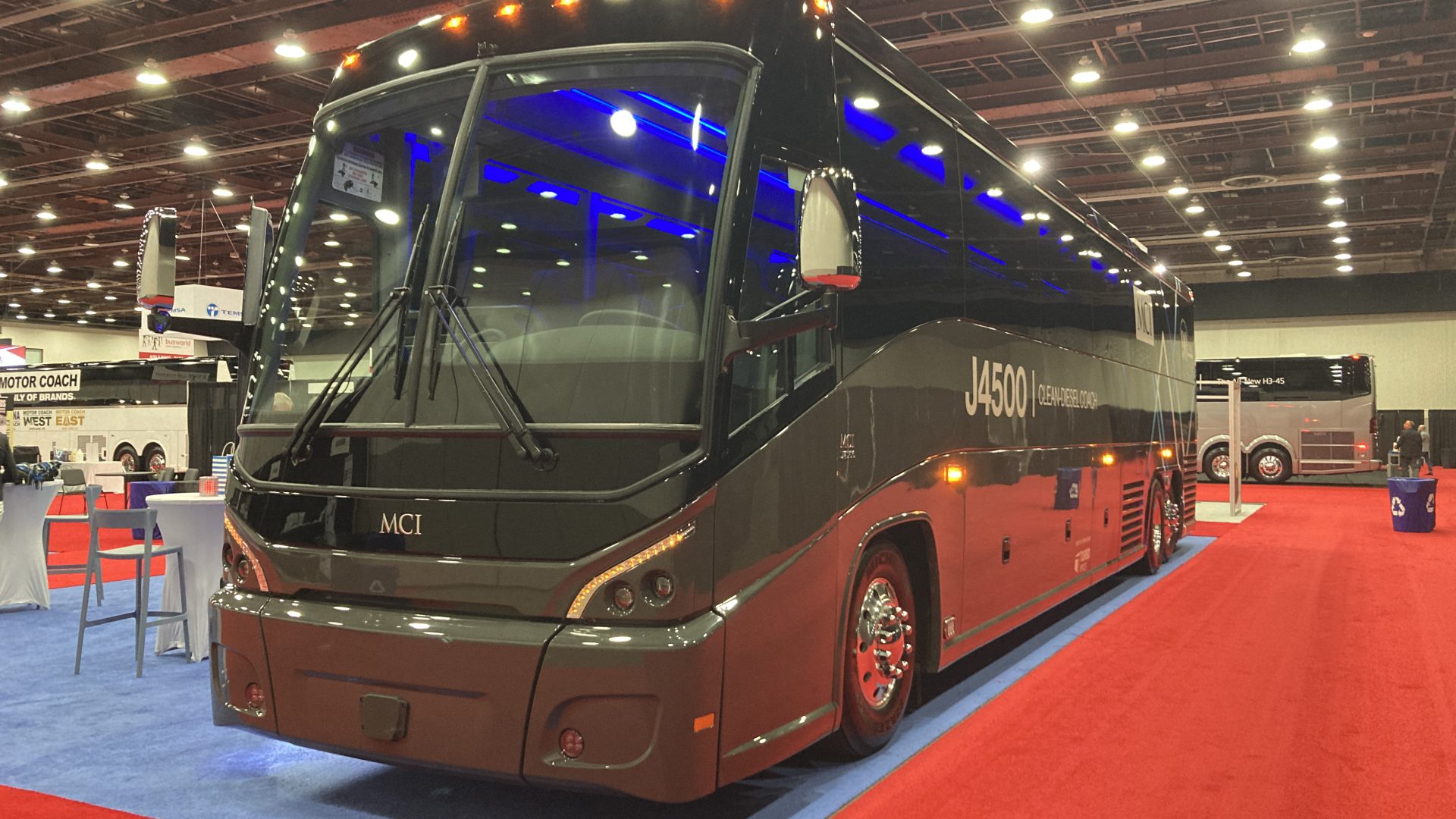 NFI CEO Paul Soubry stated: "As far as Q3 2022, the market was around 40% cent less than in 2019. Global issues such as supply chain disruption is affecting everybody, including us. We expect to reach by end 2023 a sales volume around 70 per cent compared to 2019".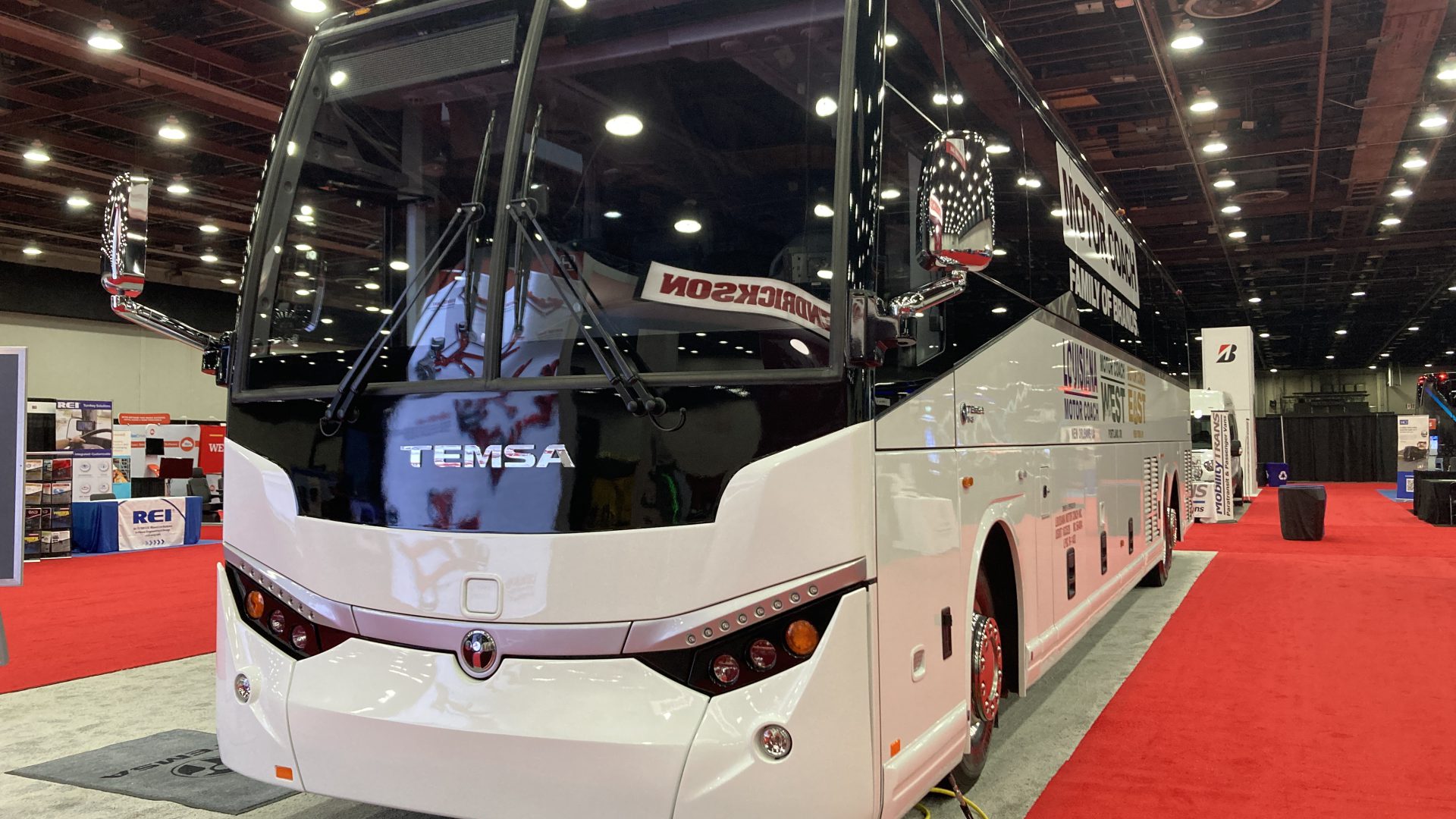 Temsa brought to Detroit a TS45 coach, powered by Cummins X12 engine with an output of 455 hp. "In 2022 we achieved a market share between 18 and 20 per cent in the private coach market, growing from the 8-10 per cent we had before. And 50 per cent of our sales, in 2022, came from new customers", said Fatih Kozan, Managing Director at Temsa North America. Finally BYD with a K9M forty foot battery-electric bus.