Busworld North America is under preparation. The first edition of the new exhibition will be held in January 28-30, 2021 at the Baltimore Convention Center in Baltimore (Maryland), United States.
This first Busworld North America will follow exactly 1 year after the inaugural seminar Busworld Academy North America at the ABA Marketplace coming January 13-14, 2020 in Omaha, Nebraska. Here, the future of the North American bus & (motor)coach market, as well as the challenges and trends in the region lying ahead will be discussed.
However, the next Busworld edition will be Busworld Turkey, scheduled in early March 2020. In October 2019 Busworld Europe had its first time in Brussels (and in that framework the Sustainable Bus Awards 2020 were handed over). The result was the biggest edition ever, with as many as 40,000 visitors.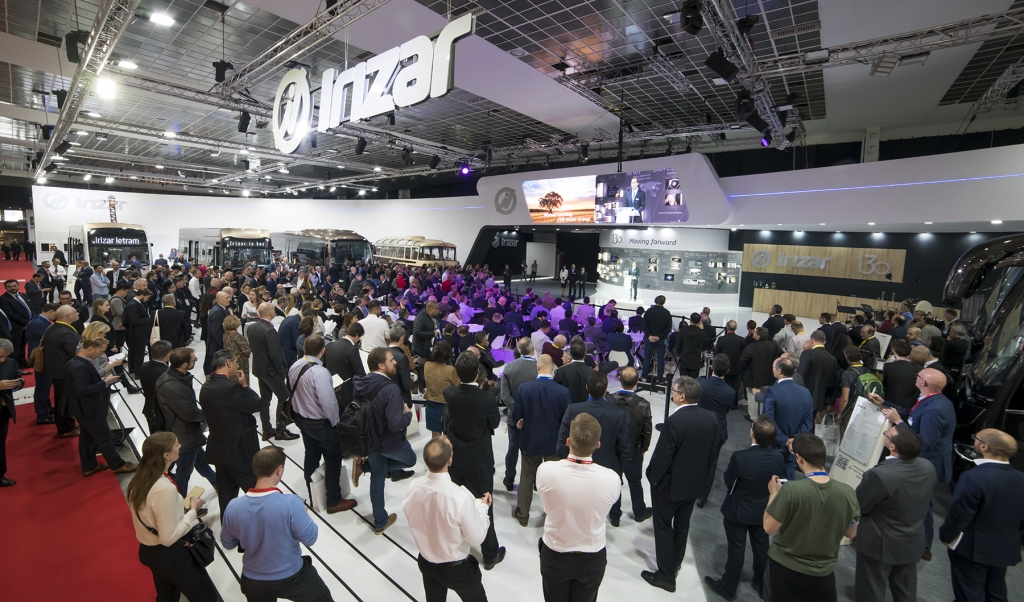 Busworld North America on track
«North America has been an untapped market for Busworld so far, but as many things are moving in the industry globally, Busworld is convinced that Busworld North America will be the perfect platform to help bringing both local and international industry professionals together to increase business opportunities and exchange knowledge and experience, that eventually will benefit the North American passenger», Busworld highlights in a press release.
One third of the buses will be electrified by 2045
California and New York city have taken the lead in the transition to clean transportation by setting the target at 100% zero-emission (transit) bus fleets by 2040 (California is at the forefront: as stated on CARB, no diesel buses will be purchased from 2029 on). Following this statement nearly every state in the US now has a program to replace its diesel buses for electric versions.
Today there are only about 650 electric buses on US roads, but under the current pledges by states, cities and urban transit agencies, at least a third of the nearly 70,000 buses in the country will be electrified by 2045. Recently Los Angeles Department of Transportation (LADOT) ordered 130 battery-electric buses, the largest single order of battery-electric buses to date in the United States. According to P&S market research, electric bus market in the US will see a CAGR (Compound Annual Growth Rate) of 18,5 % between 2018 – 2024. A percentage that grows to 40 per cent with regards to battery electric buses only.
650 electric buses today operating in US
Other regions and cities in North America such as British Columbia, Montreal, Toronto and Mexico City (where 63 battery trolleybuses manufactured by Yutong are currently on delivery) have recently also jumped on the zero-emission bus story.
Noticeably, according to an analysis released by the Union of Concerned Scientists (UCS), across the United States, electric buses have lower global warming emissions than diesel and natural gas buses, even in cities with power grids that depend on coal and natural gas power plants.
US coach market on a rise
Today the coach industry alone in North America counts more than 3,200 companies that represent over 37,000 coaches, which assure over 575 million passenger trips each year. The sales of coaches has shown a steady growth in the past decade. The bus market on the other hand is forecasted to grow at a CAGR of 7.59%, to reach 7.76 billion USD by 2022, Busworld points out. Huge investments in research and increasing production in the region by various manufacturing companies are the thriving engine behind the growth, and of course the shift towards alternative powertrain driven vehicles, such as electric buses.
Busworld North America together with ABA
Busworld North America 2021 will be organized together with ABA, the American Bus Association, alongside their renowned yearly ABA Marketplace as a separate event. ABA, founded in 1926, profiles itself as the association for coach, travel and tour companies in North America. With its 1,000 coach and tour companies in the US and Canada, and another 2,800 member organizations representing the travel and tourism industry and suppliers of bus and products and services, it is the oldest, largest and most respected voice in the industry in the North American region.