EBS has awarded 193 e-buses to VDL for the Dutch Zaanstreek-Waterland concession
EBS has no intention to make a bad impressione when it'll take the reins of the newly formed Zaanstreek-Waterland concession in December 2023. The operator (from Egged group) is indeed procuring as many as 193 new-generation VDL Citea. They'll be delivered starting in September 2023. For VDL Bus & Coach, this is the largest order […]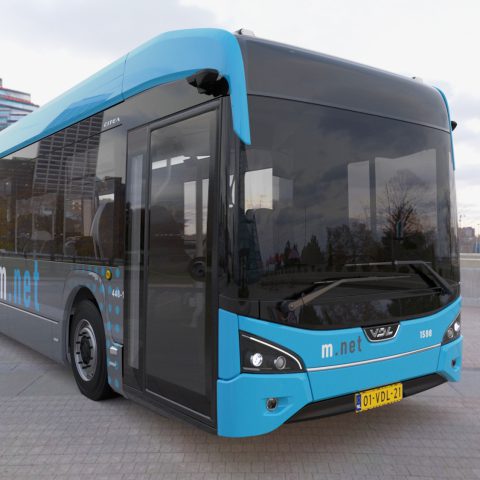 EBS has no intention to make a bad impressione when it'll take the reins of the newly formed Zaanstreek-Waterland concession in December 2023. The operator (from Egged group) is indeed procuring as many as 193 new-generation VDL Citea. They'll be delivered starting in September 2023.
For VDL Bus & Coach, this is the largest order it has ever received for electric vehicles.
VDL Bus & Coach is to supply 60 new-generation VDL Citea (launched at InnoTrans 2022) of type LE-122 and 133 VDL Citeas of type LE-135. The VDL Citeas LE-135 will come in both R-Net and M-Net versions. The vehicles will be equipped with battery packs with a capacity of 490 kWh (LE-122) and 552 kWh (LE-135) respectively.
The bus, purpose-built for electric traction, was previously presented on an online event in May 2021. The launch was announced in December 2020. The first vehicles are going to be deployed in Lahti, Finland. A large order was scored in France.
VDL Citea new generation for Zaanstreek-Waterland concession
The new product family is the outcome of a new concept entirely developed on an electric driveline. And, for the first time, it houses batteries in the floor (in the standard version of 306 kWh). Maximum battery capacity is 490 kWh, with the kWh exceeding 306 put on the roof. Battery modules are assembled in-house by the VDL group. Formula is NMC, supplier not mentioned. What is interesting is passenger capacity: 110 people can be welcomed on the version with standard battery capacity.
"According to the client Transport Region Amsterdam, EBS is stepping into an ambitious and flexible concession. EBS will start with a high transport offering and respond quickly to changing circumstances such as growing passenger numbers. EBS is also highly committed to technological innovation, such as paying by means other than the public transport chip card, and planning doorto- door journeys. In addition, even more than in the current concession, EBS will focus on inclusivity, so that all different target groups can make optimal use of public transport", VDL explains.
VDL, the largest order so far for the Citea new generation
"We are immensely proud to be able to run public transport in Zaanstreek-Waterland for the next 15 years. Opting for electric buses is the logical choice for us. This order will see our fleet of electric buses grow to more than 500. We have great confidence in the cooperation with VDL for this Zaanstreek-Waterland concession," said Wilko Mol, CEO of EBS.
"We are immensely proud that VDL Bus & Coach is able to supply the entire new fleet for this newly formed concession," said Rolf-Jan Zweep, who took over the role of CEO at VDL Bus & Coach from Paul van Vuuren on 1 January 2023. "EBS and VDL are acquaintances, as we were previously able to provide EBS with 10 electric articulated vehicles for the Waterland concession and 23 electric low-entry vehicles for use in Haaglanden. The newly delivered buses will also cover a lot of kilometres annually. The new-generation VDL Citea is ideally suited for this with its efficient energy consumption and optimal driving characteristics. The vehicles will be furnished in a luxurious and homely style, so passengers will experience the ride as a very pleasant way to get to their destination."