BVG Berlin: 90 e-buses are up for grabs. A tender is underway, with option for further 60 vehicles
90 e-buses are up for grabs in Berlin. BVG has issued a tender for 12-meter low floor city buses with full electric drive. The tender includes an option for as many as 60 further vehicles. In June 2020 BVG Berlin ordered 90 Solaris Urbino 12 Electric. It was the fourth order signed by BVG with Solaris […]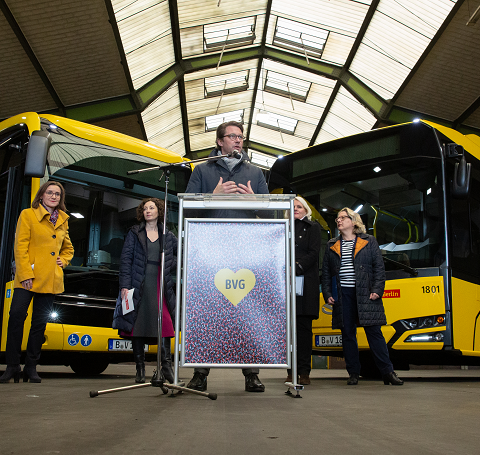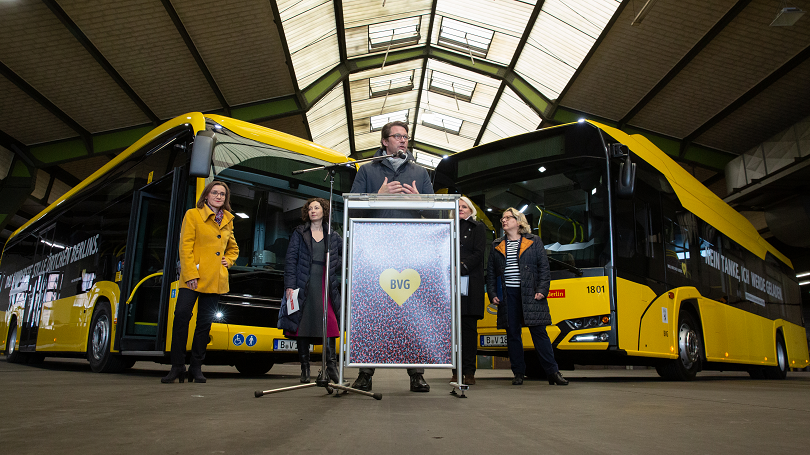 90 e-buses are up for grabs in Berlin. BVG has issued a tender for 12-meter low floor city buses with full electric drive. The tender includes an option for as many as 60 further vehicles.
In June 2020 BVG Berlin ordered 90 Solaris Urbino 12 Electric. It was the fourth order signed by BVG with Solaris Bus & Coach for electric buses, and follows the 15 units supply ordered one year ago and the articulated bus batch (15 units as well) bought in March 2019. Further 5 Solaris e-buses are running in Berlin since a few years. Also 15 eCitaro were ordered.
The Senate of Berlin has put out the goal of a 100 percent locally emission free bus fleet by the year 2030.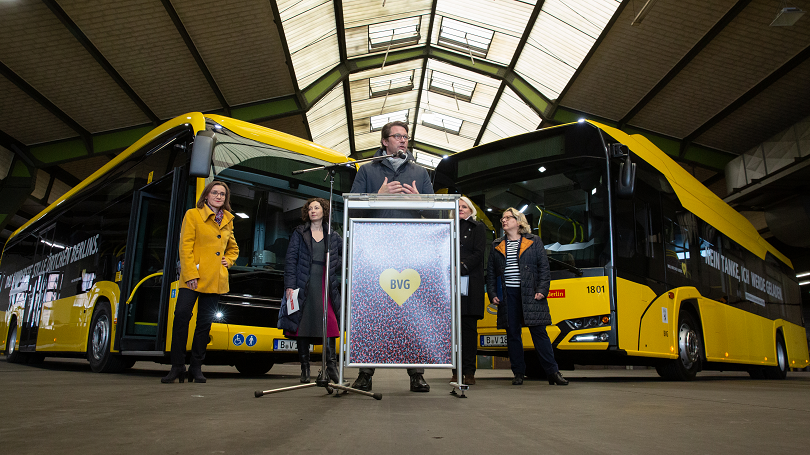 90 e-buses on a tender in Berlin
The 90 vehicles purchase is part of a project funded by the Federal Ministry of Transport and Digital Infrastructure and the Federal Ministry for the Environment, Nature Conservation and Nuclear Safety, with use of European funds.
The procurement is under the category 'Negotiated procedure with prior call for competition'. Among the requirements, the candidate bidders must have delivered at least 45 city e-buses in the last 3 years. Bids are to be accepted until 09/11/2020 at 12.00.
The procurement description says: «BVG currently has a total of around 1,500 buses in its fleet, which are used to serve around 150 bus routes. In the coming years, BVG plans to increase the use of electrically operated city buses. The aim is the economical use of quiet, clean and environmentally friendly electric buses. The contract to be awarded comprises the supply of 90 vehicles including the supply of spare parts for selected components. The vehicles are to be designed by the bidder in such a way that the range is maximised».
«Even with today's technology, our bus fleet could be operated electrically. Depending on the type of technology used, there will be additional costs in comparison to a fleet of diesel vehicles. We therefore optimize our operations along with the constant arrival of new e-buses», Jannes Schwentu, BVG Berlin spokesperson, told in an interview with Sustainable Bus.