EMT Madrid launches a BRT. 10 Irizar ie tram on a line with traffic light priority
EMT Madrid has launched a new BRT line, operated via electric buses, that will connect the Valdebebas and Sanchinarro districts with the Ramón y Cajal Hospital via a segregated lane and, for the first time, with traffic light priority. The BRT line will allow a 30-minute connection between the two end of the line. This […]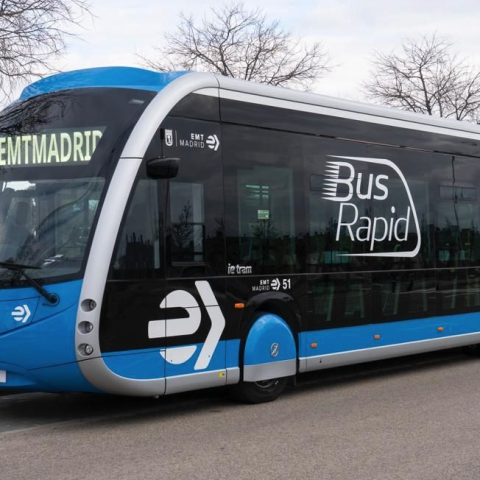 EMT Madrid has launched a new BRT line, operated via electric buses, that will connect the Valdebebas and Sanchinarro districts with the Ramón y Cajal Hospital via a segregated lane and, for the first time, with traffic light priority. The BRT line will allow a 30-minute connection between the two end of the line. This has been made possible thanks to an investment of 23 million euros.
Concerning BRT technology, UITP has recently launched the eBRT2030 project, a new European Union initiative that aims to support sustainable urban transport by proposing innovative solutions for electric Bus Rapid Transit.
The route has a total length of 31 kilometres: 19 kilometres exclusively on segregated roads and with traffic priority.
The line will have a fleet of ten buses (Irizar ie tram) that is part of the largest EMT contract awarded so far for electric vehicles: a total of 150 buses, of which 90 units were awarded to Irizar e-mobility last year.
According to the calculations of the municipal government team, this new line, launched within the framework of the Madrid 360 Environmental Sustainability Strategy, will mean an accumulated saving of more than 700,000 kilometres per year in journeys normally made by private car, as well as a reduction in emissions of around 125 tonnes of CO2 and nearly 200 tonnes of NOx.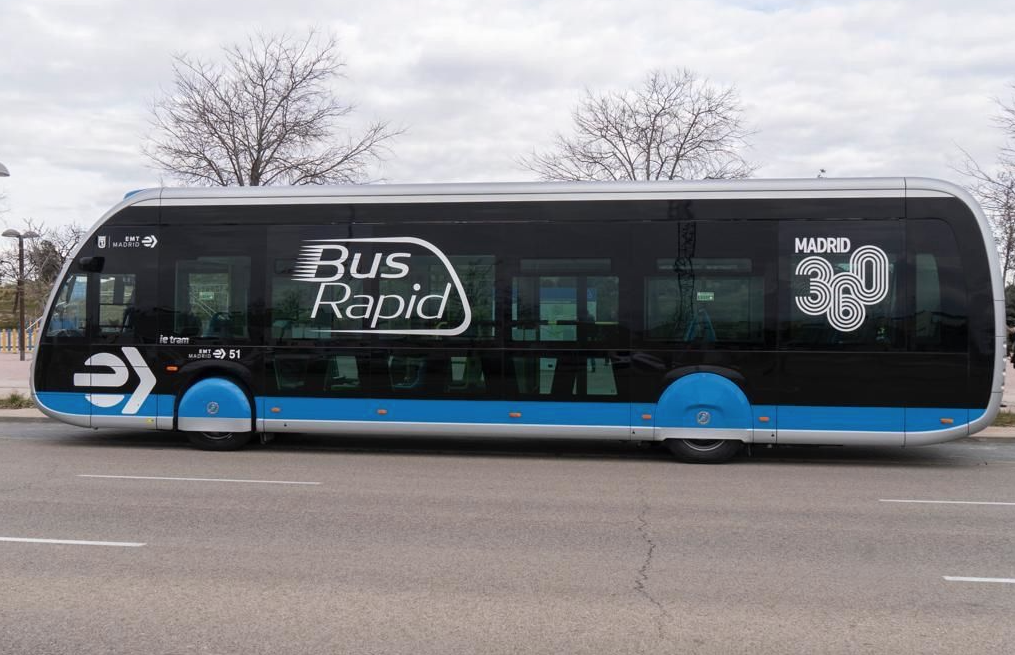 The presentation of EMT Madrid BRT system
The Mayor of Madrid, José Luis Martínez-Almeida, accompanied by the Delegate for the Environment and Mobility, Borja Carabante, and the Managing Director of the Municipal Transport Company (EMT), Alfonso Sánchez, presented a few days ago the first Rapid Bus Transit line which will start being operational in May.
The new BRT line involves an investment in buses of 5.3 million euros excluding VAT, of which 2 million euros come from European Next Generation funds. A budget of 12.8 million euros has been earmarked for the construction of the segregated platform, of which 4 million, including VAT, will go towards the traffic lights.
The Irizar ie tram e-buses headed to Madrid BRT are fitted with cameras instead of rear-view mirrors. Inside, the layout of the vehicle is designed to accommodate up to 100 passengers.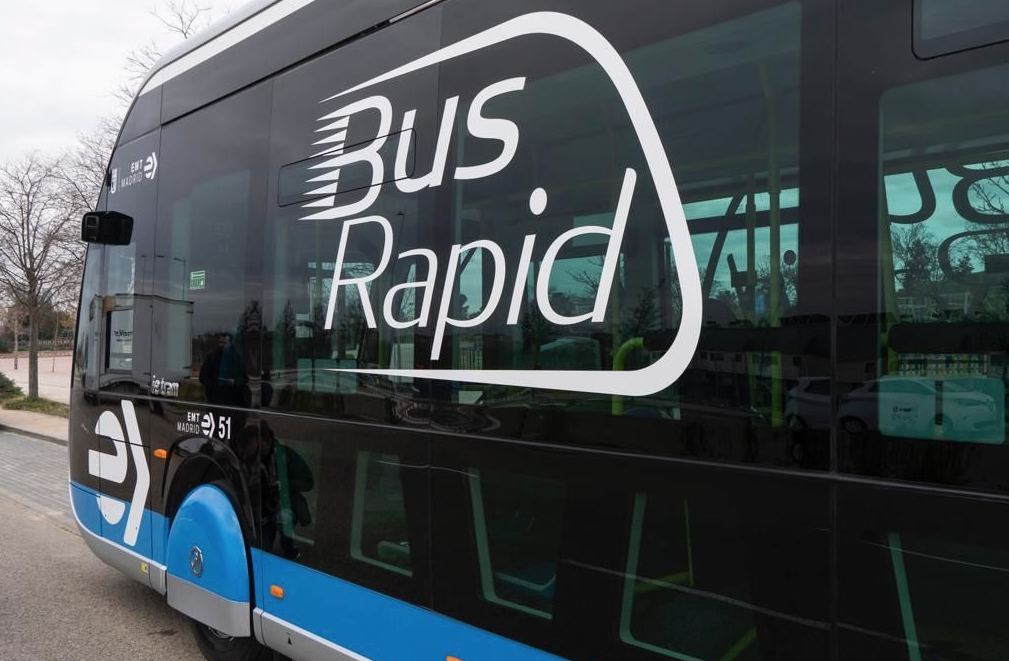 BRT line in Madrid: priority given to buses
Talking about the light priority system given to the BRT buses, there will be 68 crossings and 390 detectors will be used to warn the devices of the right-of-way for BRT. Each bus will have an on-board beacon that will be used by the 167 loops in the pavement to detect the beacon and initiate the bus priority procedure. In addition, more than 12 kilometres of fibre optics will be installed to transmit the information and images from ten new cameras to the Mobility Management Centre, from where the correct functioning of the system will be controlled.