What we have seen at Euro Bus Expo 2022
by Alex Byles From 1 to 3 November at Birmingham's NEC in the UK, Euro Bus Expo 2022 made its return. With over 200 exhibitors and 80-plus vehicles on display, there was a host of product launches and technology announcements. We summarise the show's pressing developments. Presenting a variety of product launches, Euro Bus Expo […]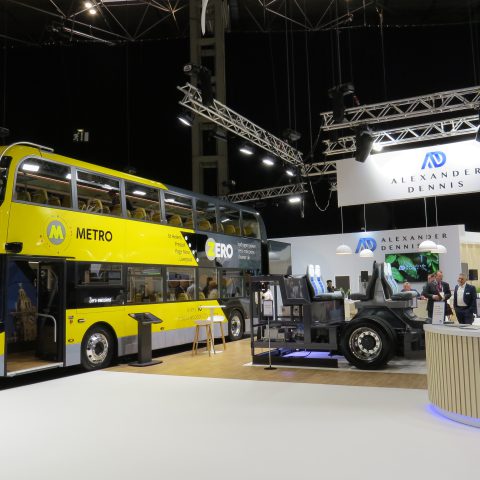 by Alex Byles
From 1 to 3 November at Birmingham's NEC in the UK, Euro Bus Expo 2022 made its return. With over 200 exhibitors and 80-plus vehicles on display, there was a host of product launches and technology announcements. We summarise the show's pressing developments.
Presenting a variety of product launches, Euro Bus Expo made a welcome return for the healthy number of mainly UK visitors. Alongside positivity for the show's return and an improving market, many exhibitors were also looking at the future with some caution. Headwinds facing the industry, particularly in the UK but also in Europe, were widely acknowledged. The zero emissions transition is also set amongst a backdrop of government funding that is widely seen as slow to emerge, particularly in England, contrasting with a swifter response from the Scottish government, as well as leading lights in Europe.
Manufacturers and stakeholders also pointed to infrastructure requirements that remain to meet the transition. Investigating for the domestic coach fleet, the UK's Confederation of Passenger Transport (CPT) presented the barriers in a seminar, including discussion on which zero emissions vehicle technology would win out for long-distance coach travel. Solutions for the industry are still to confirm. But whatever the challenges achieving the zero emissions transition, Euro Bus Expo 2022 demonstrated that the direction of travel in technology development is firmly heading in the right direction.
Alexander Dennis
Alexander Dennis unveiled its 11.1m hydrogen-fuel cell double decker Enviro400FCEV, accommodating 88 passengers. Based on the same chassis, the manufacturer also announced its upcoming electric battery version, the Enviro400EV, due for release next year. The Enviro400EV will have capacity for 96 passengers and an operational range of 418km on a single charge. Also upcoming is the 8.5m Enviro100EV for up to 45 passengers on urban and rural routes with a 459km range.
"We've seen modest growth this year but the market's still finding its feet," says Paul Davies, Managing Director, Alexander Dennis. While ADL's MD says the company is well established in Hong Kong, Singapore, and New Zealand, plus current deliveries of buses into Berlin, Paul emphasises UK market importance: "The UK is the bedrock of the ADL business so we would like the UK to get back to an even keel before we think about any big, further expansion plans."
Mellor
Mellor chose Euro Bus Expo to launch the 8m, 54-capacity door-forward electric battery bus, the Sigma 8. The Sigma 8 joins the Sigma electric battery range that extends from seven to 12m, a choice that enables operators to select the most appropriate vehicle for their operational and price requirements, says Mellor.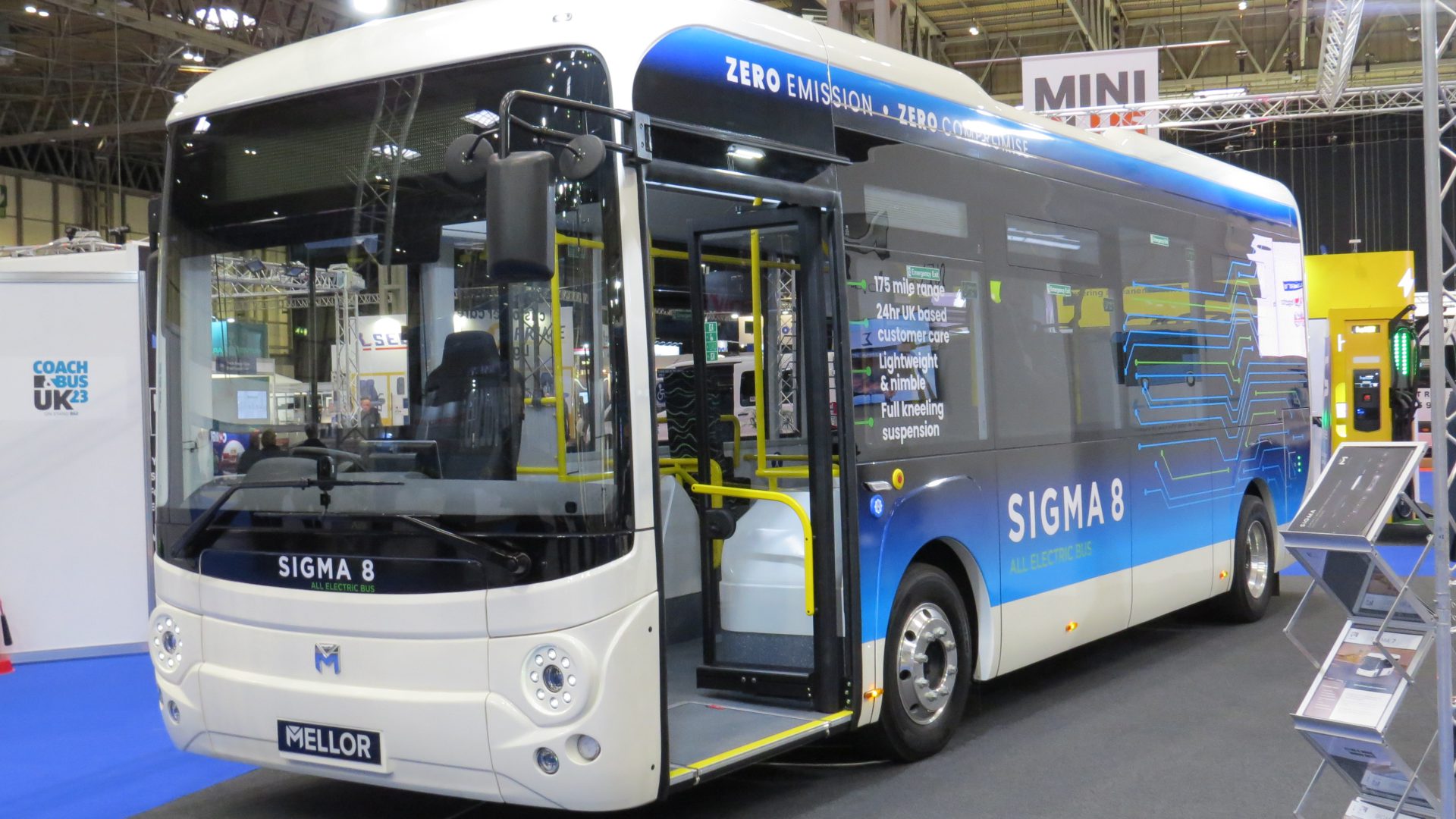 Mellor is expanding overseas with sales in Sweden and Hong Kong, and the company aims to achieve a future 50/50 split between UK domestic and export sales. "In 2023, we'll be producing 60% diesel, 40% electric at our Rochdale plant, shifting increasingly to electric over the next five years," says Mark Clisset, Sales Director, Mellor Bus Division.
Switch Mobility
Launched earlier in 2022, Switch displayed its new e1, the 12m, 400kWh bus with a range of around 350km. "We're taking the e1 technology core and looking to upgrade it the Metrocity," says Pete Freedman, Chief Marketing & Sustainability Officer, Switch Mobility, who explains that a battery-electric Metrocity will remain the core UK product.
Meanwhile, Switch is prospecting for the e2, a replacement for the existing Solo short low-floor bus, planned for early 2024. Pete says: "The e2 will retain most of Solo's existing features, including seating capacity, and it will also have the range for most rural routes."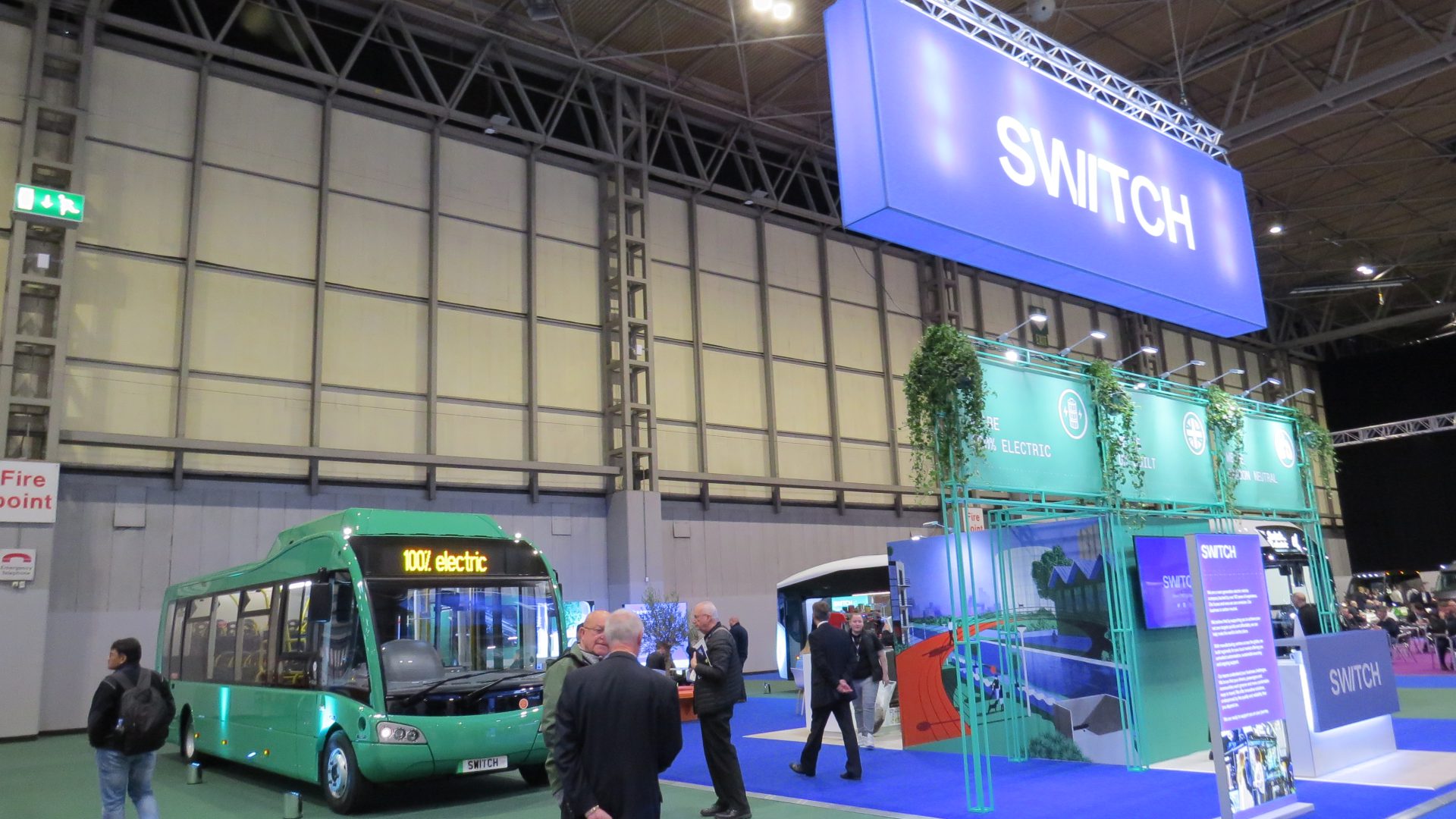 Over the past two years, Switch has protected turnover with a healthy Indian operation. Pete says: "Right now, we've got over 1,000 orders, but these are mostly in India where it's scaling back up quite quickly. In the UK, it's a mixed market. It's growing, but not as quickly as we would like."
Switch also recently reported its intentions to open a factory in Valladolid, Spain. Pete explains: "We're opening the plant to sell into Spain, Portugal, France, and Italy. After that, we'll look into markets like Scandinavia and Germany, but there are good products already available and it's not an easy market to enter."
eVersum
New Austrian entrant eVersum took Euro Bus Expo 2022 to launch its eShuttle battery electric bus, intended for inner-city, last-mile operation, as well as airport passenger transport and shuttle bus applications. The 8.4m version was on show with a 230kW motor, giving around 300km and capable of taking 60 passengers. eVersum has also developed 5.4m and 6.9m versions. "Our aim is to change the perception of the bus in public transport with a new design, giving the passenger the impression that they're part of the latest development in public transport," says Holger Postl, CEO, eVersum.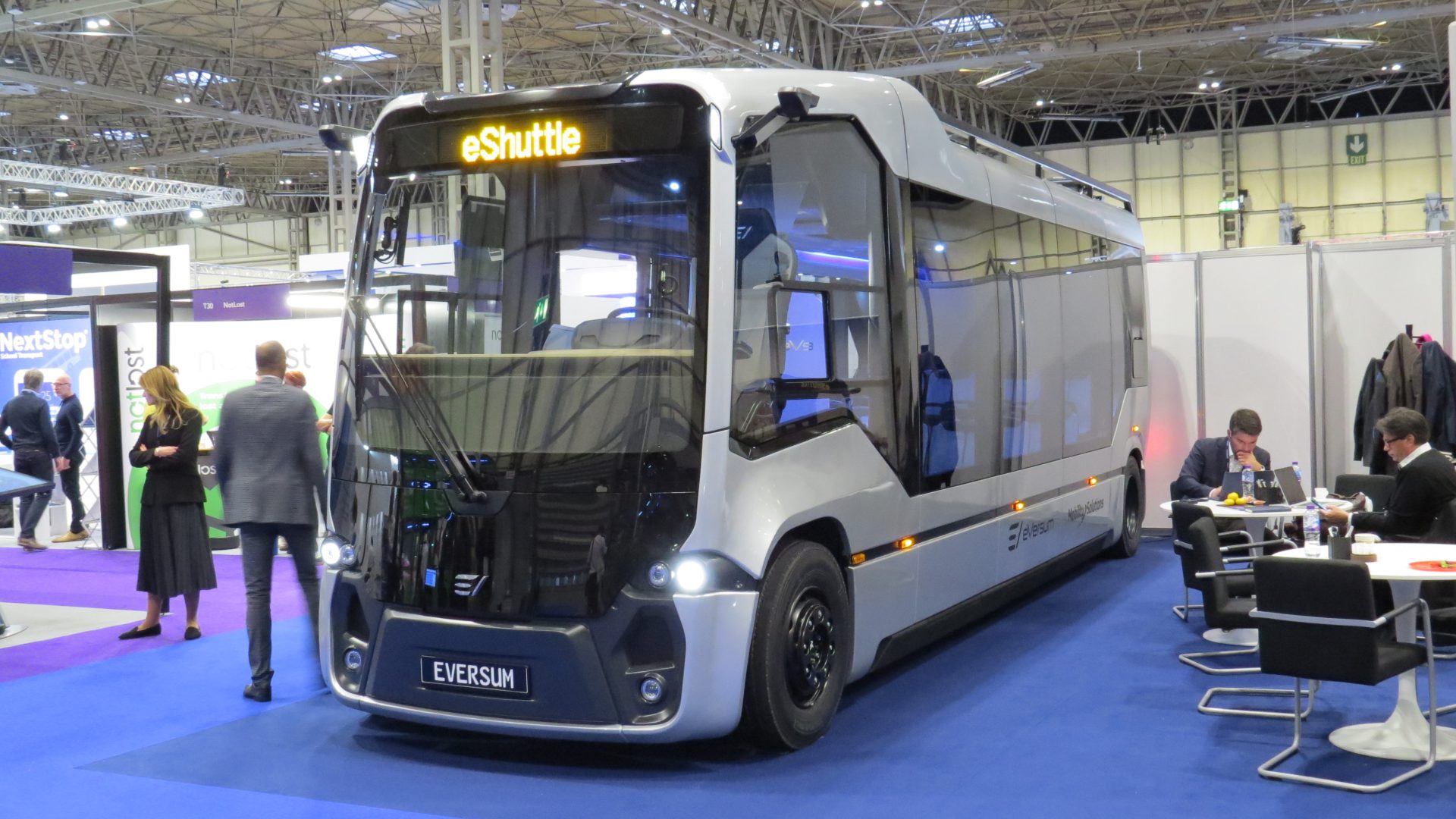 eVersum has a current build capacity of 160 vehicles per year and is engaging in partnerships with the aim of expanding. Holger says: "We've won a tender in Austria for 16 vehicles and we've agreed on a partnership in Portugal giving us approximately 130 vehicles over the next three years, as well as currently engaging in other European tenders."
GM Coachwork
UK vehicle conversion specialist GM Coachwork presented the Maxus eDeliver9 minibus for the first time at Euro Bus Expo, with the official launch earlier this year. Accommodating 14 passengers or 11 with a wheelchair tail lift, the eDeliver9 has a range of over 350km and claimed charging in 45 minutes. GM Coachwork is also set to offer the Ford E-Transit, expected for 2023, as well as the Peugeot e-Boxer. The company has offered the LDV EV80 light minibus for the past three years, delivering up to around 100 electric minibus conversions in the past 12 months with demand from county councils and local authorities, community organisations and private operators.
Equipmake
Electrification converter Equipmake unveiled a New Routemaster with the original hybrid engine replaced by its Zero Emission Drivetrain. The repowered bus is currently in pre-service trials with Metroline. Equipmake says the 400kWh battery system gives a range of around 241km and that conversion doesn't impact passenger capacity of exterior design.
"We're building up a facility capable of producing 200 drivetrains a year, but across the UK there's about 30,000 large buses. Until recently, the replacement rate was around 2,000 vehicles a year, so converting hundreds per year is feasible and we can scale that up," says Ian Foley, CEO, Equipmake. "There isn't time or funds to replace all combustion engine vehicles within the timeframe of government or industry aspirations. With the government's 22p per kilometre also now applicable to electric conversion buses (the UK's Bus Service Operators' Grant), repowering is a cost effective way of accelerating the drive to zero emissions," says Ian.
Irizar
Irizar presented its first right-hand drive Irizar ietram electric bus as part of an order by Go Ahead London for 20 vehicles with charging infrastructure. Irizar says this presents the first ultra-fast opportunity charging route in the capital, and the vehicle was presented ready to go in livery for South London's Route 358.
The builder also displayed the new i6S Efficient, Sustainable Bus Award Coach 2023, and its first mirrorless i8 14m coach. Irizar also showed the i4, the first light weighted Irizar i4 with 71 seats and PSVAR compliance.
Pelican Bus & Coach – Yutong
Pelican Bus & Coach, Yutong's UK partner, displayed a range including the E12 single deck battery-electric bus, as well as the TCe12 coach. Pelican says that to date in the UK it has delivered 22 TCe12 coaches with a further 30 on order, with 179 electric buses delivered and 136 on order. Pelican claims that Yutong has over 10% of the zero emissions market share in the UK for buses and coaches combined. Next year, the UK available range will expand with the launch of an electric midibus intended for rural and dense urban use, as well as an electric double deck bus.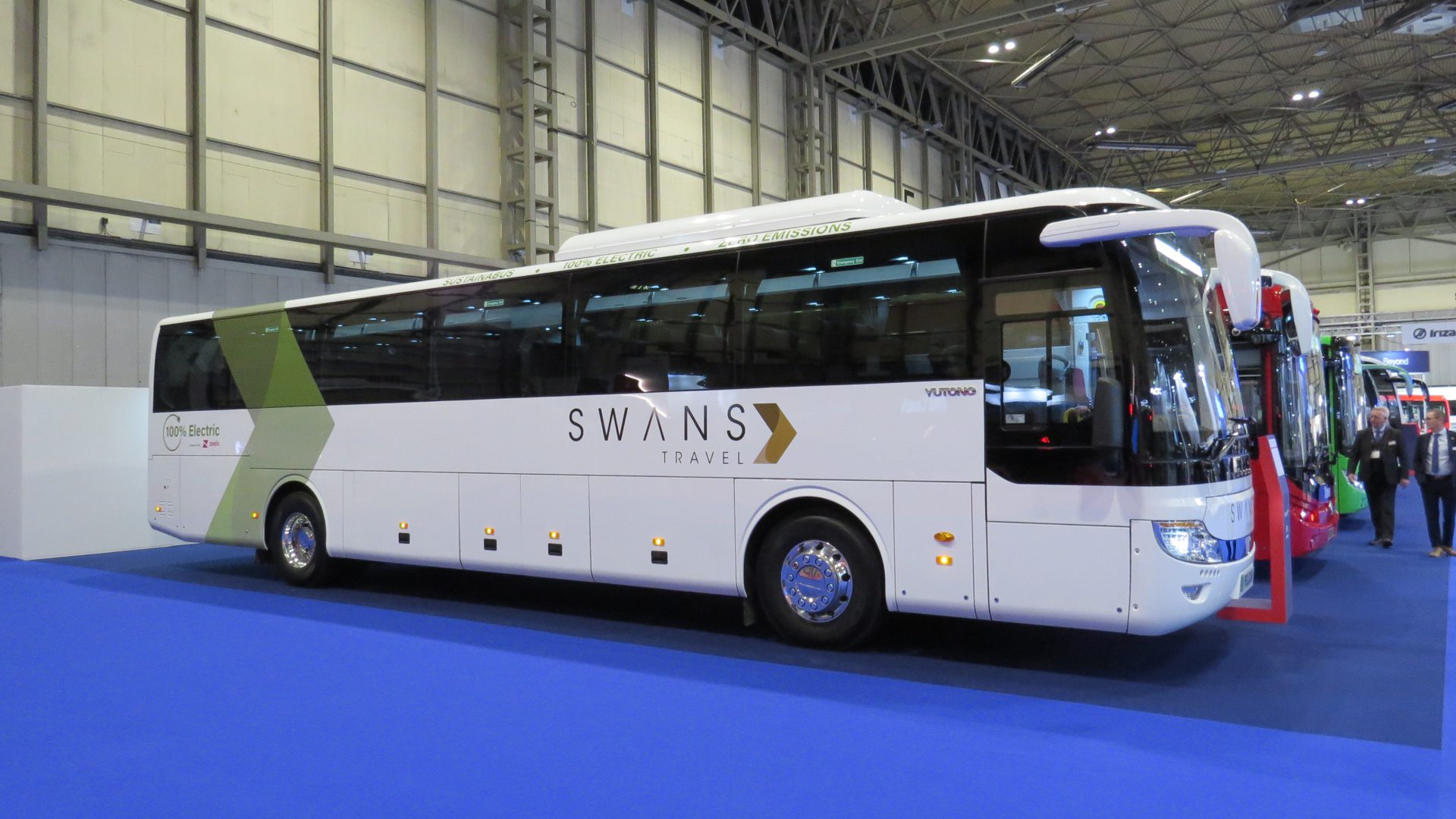 "What we've seen this year on coaches is a ramped increase in deliveries and enquiries, reflecting how operators are looking at zero emissions," says Ian Downie, Head of Yutong UK at Pelican Bus & Coach. "With bus, we've been delighted with repeat orders and new deliveries across the UK, so we're very pleased with how 2022 has continued to work for us."
Harris Group – Higer
UK & Ireland Higer distributor, Harris Group, says it will also be bringing an electric coach to the UK, though it wasn't yet available for display. The Higer Pegasus 12m diesel will soon have a battery-electric counterpart that might be good for 550km-plus. Harris says the vehicle is currently operational in China and is awaiting homologation to right-hand drive and final trials. On display was the electric battery Higher Steed, with a low floor and 9m length, plus the 12m Azure, suitable for a claimed 450km-plus and a recharge in two hours. Next year also sees the launch of the Goliath bendy bus.