Flixbus and Scania enter biogas-partnership: 50 LNG-powered Irizar i6s Efficient on the road by 2025
By 2025, Flix and Scania aim to equip up to 50 coaches with Bio-LNG (LBG) technology. Irizar, the global bus and coach manufacturer, is integrating the Irizar i6s Efficient with the Scania chassis. Flix and Scania have indeed announced a long-term partnership to enable more sustainable long-distance travel. The two companies "see this cooperation as an […]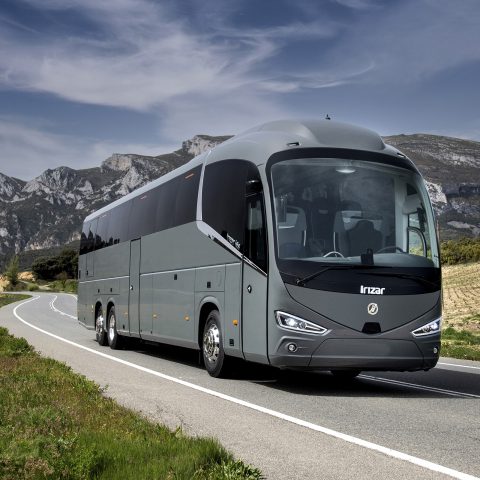 By 2025, Flix and Scania aim to equip up to 50 coaches with Bio-LNG (LBG) technology. Irizar, the global bus and coach manufacturer, is integrating the Irizar i6s Efficient with the Scania chassis.
Flix and Scania have indeed announced a long-term partnership to enable more sustainable long-distance travel. The two companies "see this cooperation as an opportunity to accelerate the green transition in mobility by developing new solutions and influencing the design of the needed infrastructure", partners state.
Flix is also currently investigating other solutions for long-distance travel: it is worth mentioning that Flixbus has the goal of introducing fuel cell coaches in Europe by 2024. And talking about manufacturers, Scania's partner Irizar has an hydrogen coach ready for unveiling at Busworld Europe 2023 to take place in Brussels in October. The Basque OEM announced its plans to produce an LNG coach already in September 2021.
FlixBus had launched two biogas-powered buses in operation in 2021 and had been piloting battery-electric buses in France and Germany (although some issues occurred).
Flixbus and Scania: 50 LNG coach in operation by 2025
As a first objective, the two companies aim to equip up to 50 LNG (Liquefied gas) coaches of the Flix bus partners in their fleet. The technologies used, developed and manufactured by Scania, "are devised to allow the use of LNG and Bio-LNG (LBG) interchangeably to facilitate the transition towards the most sustainable gas solution", it is mentioned.
In the initial phase of the project, the coaches will run on different fuel mixes of bio and fossil origin. The goal, however, "is to progressively increase the share of Bio-LNG (LBG) from organic waste in such mixes until the coaches fully run on Bio-LNG, resulting in an expected CO2 emission reduction rate of around 80% on average. This objective falls within the framework of Flix's long-term goal of carbon neutrality".
Flix and Scania share the opinion that "there is still no technology enabling zero-emission bus travel over long distances. Therefore, it is becoming increasingly important for actors in the industry to tackle the issue of traffic pollution and find effective ways, like biogas technologies, to reduce their CO2 footprint"-
Flixbus on the way to carbon neutrality
«Climate change is increasingly taking its toll on the planet and people's lives, and as a global travel tech company we are aware of our responsibility in paving the way for a more sustainable future for the communities we serve. Therefore, we are eager to seize any viable opportunity to reduce our carbon footprint on the environment, with fleet transformation being crucial to this end. Scania is an extremely valuable ally for Flix and our bus partners, who operate the business, in different countries, and we are happy to be able to rely on their long-term expertise and know-how to contribute to reshaping long-distance mobility. In time, this will also help us adapt our offering to the rising demand for low-impact travel options from a public that is growing more and more environmentally conscious by the day», has commented Fabian Stenger, Chief Operating Officer at Flix.
«Our ambition is to be a front-runner in the shift towards sustainable transport, and this collaboration with Flix represents a significant step in that direction. Biogas solutions are truly circular, and they are possible to implement here-and-now, providing a sustainable solution today that meets climate targets and reinforces social responsibility. The LBG/LNG coaches also represent a smart and sensible choice, because they supply the range and power needed to support any route, at low cost in terms of both investment and operating economy. We are extremely happy to do this jointly with Flix as we know that a wide implementation of biogas solutions can have such a positive impact, not only for the operator, but also for authorities and society at large», says Johanna Salomonsson Lind, SVP and Head of People Transport Solutions at Scania.