Transport & Environment calls EU to ban diesel buses already in 2027
Below, an article published on May 2023 issue of Sustainable Bus magazine.By James Nix, Director, Freight and Climate, Transport & Environment Cities are increasingly buying electric buses. Almost one in three newly-registered urban buses in 2022 was zero emission. That's a doubling of the 2020 sales share, putting cities on track to buy 100% zero emission […]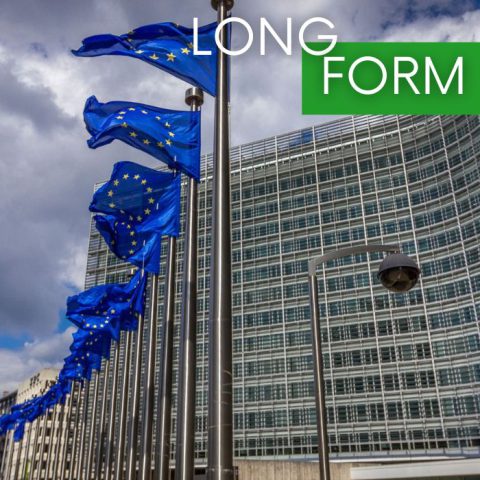 Below, an article published on May 2023 issue of Sustainable Bus magazine.
By James Nix, Director, Freight and Climate, Transport & Environment
Cities are increasingly buying electric buses. Almost one in three newly-registered urban buses in 2022 was zero emission. That's a doubling of the 2020 sales share, putting cities on track to buy 100% zero emission from 2026.
It's important therefore that the supply of these buses is ramped up at the same speed. Greater scale will reduce prices. Unfortunately the European Commission is leaving cities short in this regard. Its recent proposal to clean up new urban buses (as part of a draft law that also covers trucks and coaches) requires urban bus manufacturers to provide 100% zero emission sales only in 2030. As a result, supply would lag behind demand by three to four years.
Across vehicle types, the function of EU law is to lead – not follow – market developments. The bloc's car CO2 targets essentially forced carmakers to supply electric cars – vehicles that motorists already wanted to buy. Urban buses should be no different.
A draft law in front of the European Parliament
Thankfully, the draft law is now before the European Parliament and member states. Both institutions are expected to set out their positions on the proposal by early Autumn, and have the power to bring the date forward from 2030 to 2027.
Leading cities across Europe are only buying zero emission buses – or have pledged to do so by 2025. These include Amsterdam, Barcelona, Berlin, Birmingham, Copenhagen, Hamburg, Heidelberg, Liverpool, London, Madrid, Greater Manchester, Milan, Oslo, Oxford, Paris, Rome, Rotterdam, and Warsaw. Add to this all other Dutch cities, Denmark's six largest municipalities, Irish cities, leading Bulgarian and Romanian cities, and a number of German cities not mentioned above. As the number of pledges grows, it's becoming increasingly difficult to compile a complete list of all municipalities leaving diesel and gas buses behind.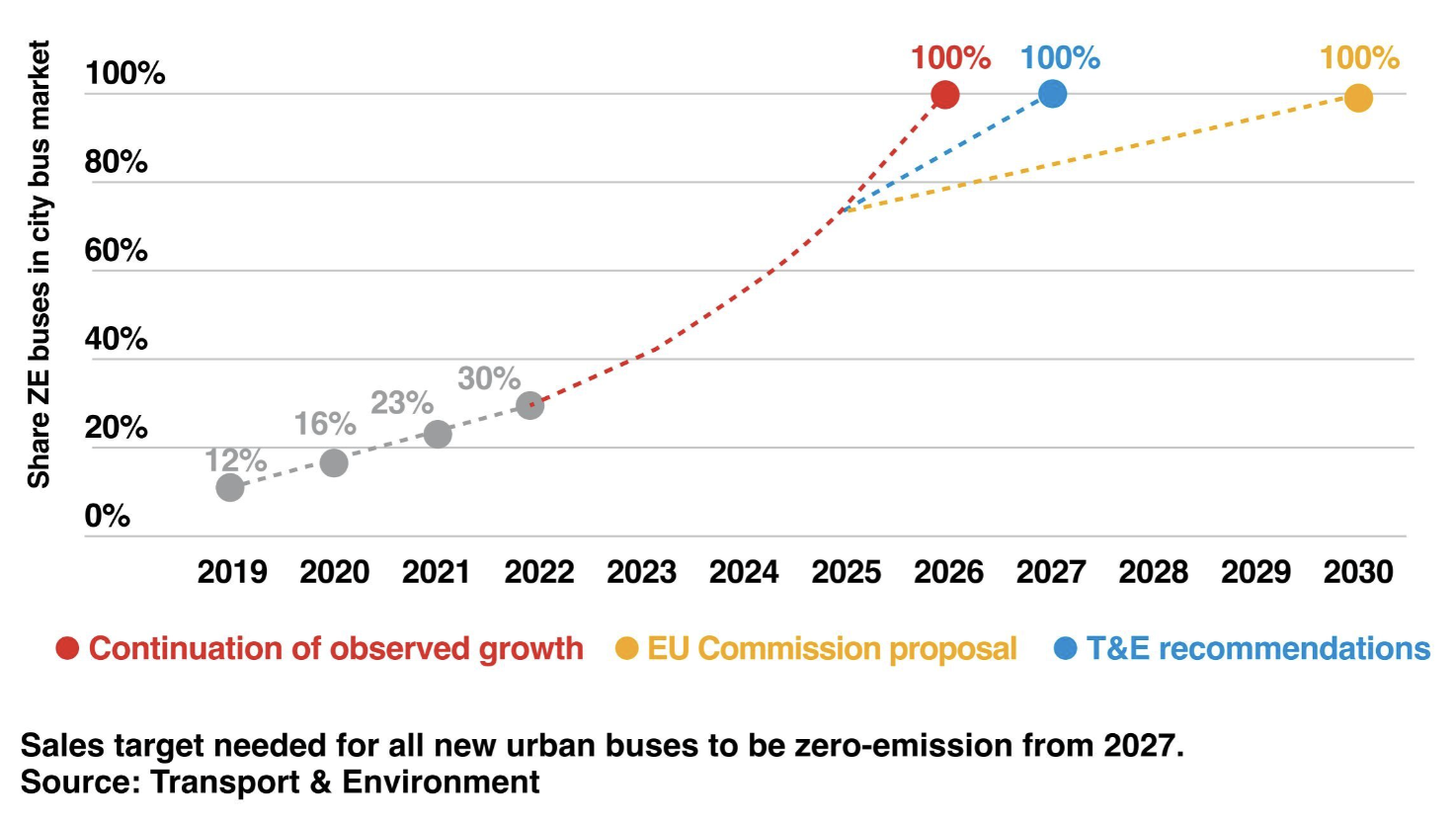 Last October, in a letter with more than 30 signatories, cities joined health organisations, green groups and public transport stakeholders to call on the European Commission to propose 2027 as the year from when all new urban bus sales are zero emission. Already, Daimler Buses has pledged to only sell zero emission urban buses from 2030 in Europe. And other OEMs are only focusing on electric technologies for the city bus segment. It's now time for law-makers to nudge bus-makers beyond their own internal corporate targets.
Electric buses are ripe for universal adoption. For example, 96% of new buses registered in Bulgaria in 2022 were electric, up from 73% in 2021. In relative terms, Bulgaria is one of the EU's least wealthy member states – but this is not retarding its work to clean up buses.
On the TCO of e-buses
Another major factor suggests the trend line to zero-emission buses will get steeper: cost. In late 2021 Bocconi University and the Enel Foundation looked at the total costs of ownership of electric versus fossil buses. Across a range of markets, they found that it was only a matter of time before the higher capital costs of electric buses would be offset by lower energy and maintenance costs. The timing of the turning point – when the balance of costs tips in favour of electric – varied, but in all markets studied (Italy, Latin America, Spain, UK and US) electric will be cheaper by the end of this year.
What about biogas?
Electric is also cheaper than alternative powertrains which have been adopted in the past, such as biogas. As experts such as the International Council on Clean Transportation point out, biogas can't be made widely available at reasonable cost, and the amount that's available is more efficiently used than in transport. Also, in terms of citizens' health, gaseous fuels still release air pollutants, whether fossil gas or biogas. To reduce climate emissions, air pollution and energy use as much as possible, electric is
the best answer.
The coming months will see the pace and scale of bus decarbonisation debated in the European Parliament. E-bus demand is running ahead of projections – and looks set to rise further still, particularly as cities fulfill their 2025 pledges. The right date for full zero emission urban bus deployment is 2027. Otherwise, constrained by a lack of availability, or prices that are too high due to insufficient supply, cities will be forced to keep buying combustion buses. Aside from fossil fuel producers and petro-dictators, that's an outcome no-one wants.