GVB Amsterdam takes the first step with battery-electric buses in the city center
A good first take occurred yesterday in Amsterdam city center, where the first battery-electric bus in GVB fleet begin service. And more are to come in the next weeks: the deal signed in December 2018 between the carrier and VDL Bus & Coach consists of no less than 31 electric buses, 9 12-meter and 22 […]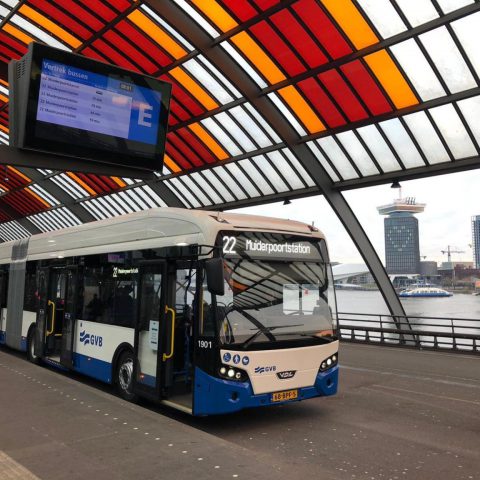 A good first take occurred yesterday in Amsterdam city center, where the first battery-electric bus in GVB fleet begin service. And more are to come in the next weeks: the deal signed in December 2018 between the carrier and VDL Bus & Coach consists of no less than 31 electric buses, 9 12-meter and 22 articulated ones. And there is also an option for 69 extra electric buses.
What is interesting is that this supply sets a very first in the path of energy transition for the urban bus fleet of Amsterdam, while over one hundreds VDL zero emission buses are already in operation on several lines around Schiphol airport (where they'll be joined by 156 Ebusco buses). Still in the domestic market, VDL also won a 55 electric bus tender issued by RET Rotterdam.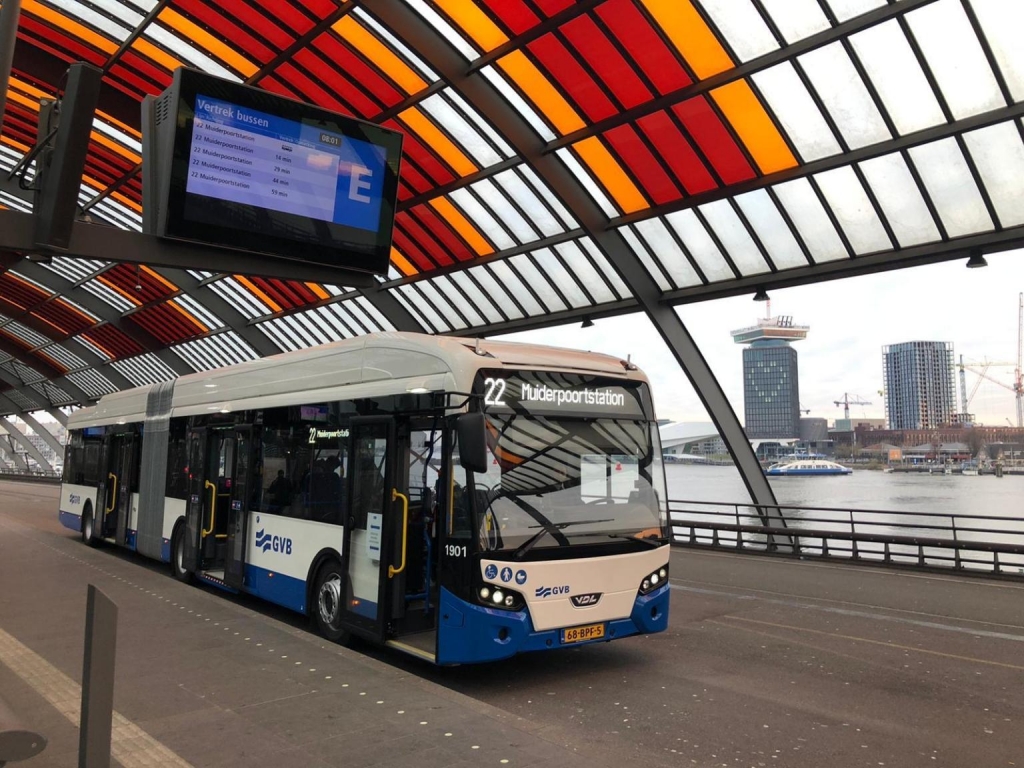 GVB Amsterdam to convert the whole fleet to zero emission
Netherlands, despite the small size, is the European country with the largest number of battery-electric buses in operation. In 2015, the leaders of the PTAs in the Netherlands came to an agreement. From 2025 on, newly bought buses for public transport can only be emission free. And in 2030 the entire fleet (around 5,000 buses) has to be clean on the exhaust pipe. Today over 10 percent of the Dutch fleet is electrified. Many challenges are lying ahead.
Dutch manufacturer VDL Bus & Coach so far secured itself the first position in the rank of electric bus producers in Western Europe. This project was realized through close cooperation between Transport Region Amsterdam, as the grantor of the concession, the Municipality of Amsterdam, GVB and the bus producer.
Robin Verspeek, Program Manager Rolling Stock at GVB, commented that "In the years to come our entire fleet of some 200 busses will be replaced by zero-emission busses".
Fast charging network for electric buses in Amsterdam city
The buses will be powered by a 8MW fast charge network provided by Heliox, also based in the Netherlands. 31 Heliox DC chargers are to be placed in the bus depot and 7 Heliox OC 450 kW chargers on route.
The electric Citea for GVB (9 Citeas SLF-120 Electric and 22 articulated Citeas SLFA-180 Electric) are equipped with a roof pantograph and the latest battery technology, announced together with the launch of two new Low Entry variants for the Citea Electric range. With regards to the Citea for Amsterdam city, operational availability of the electric buses has been maximized through an optimized rapid charging concept.
The articulated vehicles, the Citeas SLFA-180, will be equipped with a 288 kWh battery system, and the Citeas SLF-120 will get a 216 kWh battery pack.
As explained on the Dutch specialized media OVPro.nl, GVB bus drivers have been extensively trained. Each bus driver receives a 4-hour training, consisting of a theoretical and a practical part. The drivers learned to pay close attention to battery state of charge and fuel consumption.