E-bus delivery in Barcelona. 9 Irizar and 14 Solaris ready for line H16
Nine Irizar zero-emission electric buses will start to operate shortly in the city of Barcelona on line H16 (Pg. Zona Franca – Fòrum Campus Besòs). These units are in addition to the four Irizar buses that have been operating in the City since 2019. With the entry into service of the new vehicles (there are also […]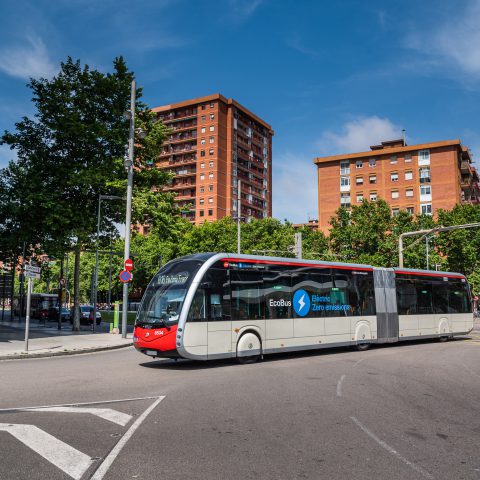 Nine Irizar zero-emission electric buses will start to operate shortly in the city of Barcelona on line H16 (Pg. Zona Franca – Fòrum Campus Besòs). These units are in addition to the four Irizar buses that have been operating in the City since 2019. With the entry into service of the new vehicles (there are also 14 Solaris Urbino articulated e-buses on the launching pad), the H16 will become the first 100% electrified high-demand line in Spain.
Also 46 CNG-powered mild hybrid buses have been launched in Barcelona.
Earlier this year TMB has launched a new call for tenders to purchase 210 'green' buses, 78 of which will be 100% electric: 29 articulated buses equipped with pantographs for opportunity charging and 49 standard buses with batteries and pantograph for charging at night in the depot.
Taking into account the just presented vehicles and those still to be awarded, nearly 30% of the fleet will be renewed with environmentally friendly propulsion.
4-min charging slots for the Irizar ie tram in Barcelona
Last December TMB Barcelona announced a roadmap to improve the environmental quality of Barcelona's bus fleet, according to which from now on only clean (and, preferably, electric) vehicles will be procured.
The aim is that by the end of 2024 TMB's fleet of standard and articulated vehicles will be made up solely of electric, hybrid and gas buses.
The newly introduced buses features the EcoBus brand on the sides, which from now on identifies TMB buses with the most advanced environmental qualities: electric, natural gas, hybrid and soon fuel cell (delivery of eight CaetanoBus H2.City Gold is expected within 2021).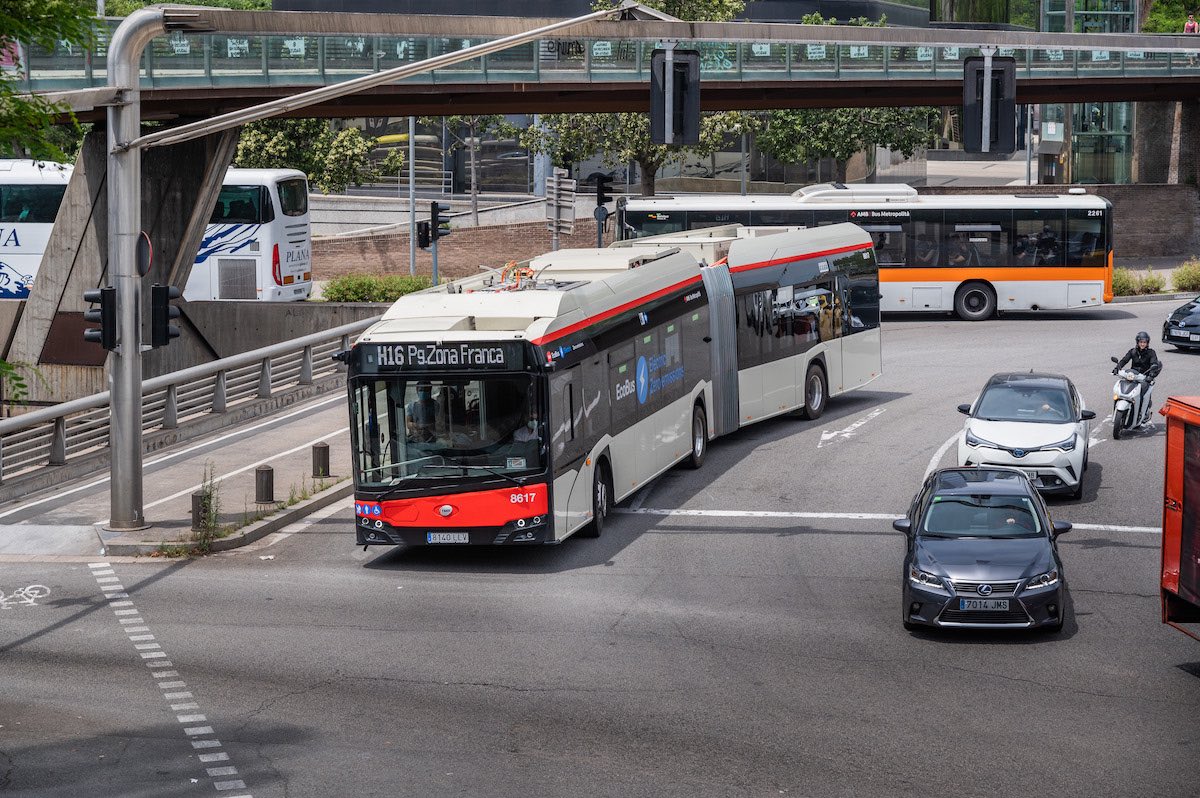 The 23 electric buses are all articulated, 14 Solaris and 9 Irizar, and equipped with pantographs for charging the batteries quickly en route and slowly in the depot. They will therefore be very similar to the 7 electric articulated vehicles (4 Irizar and 3 Solaris) already operating on line H16 (Pg. Zona Franca | Fòrum Campus Besòs) from 2019. Barcelona will therefore have 30 high-capacity, zero-emission electric buses.
Three electric routes for TMB
The H16 will be the first high-demand urban line in Barcelona and Spain to run entirely on electric vehicles. This will be possible because, in parallel, the line has been equipped with two double electric chargers, located near the two ends, one on Carrer Cisell, in the Marina del Prat Vermell neighbourhood, and the other on Avinguda Eduard Maristany, in the Fòrum area.
The next lines to be electrified will be H12 (Gornal / Besòs Verneda) and V15 (Barceloneta / Av. Tibidabo), which are also among the busiest in the network (25,000 and 17,000 validations on working days, respectively). TMB is currently managing projects to build fast charging points at the ends of these two lines, with the aim of electrifying them between 2022 and 2023. In the meantime, some articulated electric buses will run provisionally on lines 7 (Forum / Zona Universitària) and 33 (Zona Universitària – Verneda).
30 zero emission articulated buses in Barcelona
Focusing on Irizar vehicles, these ie tram model vehicles have 4 doors, 36 seats, 1 driver's seat, an area for wheelchairs and an area for pushchairs. The vehicles are propelled by a 236 kW Alconza motor (Alconza is an Irizar Group company) and powered by Irizar lithium ion batteries. They take four minutes, during service, to charge, using ultra-rapid pantograph fast charging infrastructure installed at two points in the city, the manufacturer says.
The vehicles are equipped with driving assistance systems, ensuring safer and more efficient driving. Furthermore, instead of rear-view mirrors, they are fitted with two digital cameras that project images onto screens in the driving area. For entertainment purposes, each vehicle has USB ports on the handrails for phone charging and Wi-Fi for passengers.
Regarding the CNG-powered mild hybrid buses launched together with the battery-electric buses, the batch of 46 vehicles is made of 30 12-meter (from MAN) and 16 are bendy buses by Daimler.
Hybrid and CNG takes the lion's share in TMB's fleet
Currently, of the 1,140 units in the fleet, 350 (31%) run on hybrid power (the vast majority diesel-electric), while 408 (36%) use compressed natural gas as fuel. There are 13 that belong to both groups, as they were hybridized in 2012 from conventional CNG vehicles to which two electric motors, a generator and other components were added, in an innovative project in the context of the first environmental reconversion of Barcelona's urban bus fleet.
The 69 new buses were contracted in 2020 in two public tenders for a total of 40.8 million euros plus VAT. They are part of the plan to renew and environmentally update the urban buses of Barcelona and its metropolitan area, agreed with the Metropolitan Transport Authority (ATM), through the acquisition of 410 environmentally friendly vehicles (electric, CNG or hydrogen) and the realization of the necessary infrastructure works to supply them with green energies.
«Barcelona City Council has ambitious sustainability targets. At Irizar e-mobility we are proud to be able to contribute to these targets. With environmentally-friendly vehicles, decarbonization and the quality of life of the residents of Barcelona will improve. This new order is yet another display of Irizar e-mobility's ability to adapt solutions to the specific needs of each operator and to provide turnkey solutions for sustainable, efficient, smart, affordable, safe and connected public transport» Irizar comments.