Aberdeen follows London and Liverpool in fuel cell double decker buses' adoption
15 double decker fuel cell buses will operate in Aberdeen (Scotland), one of the first cities in the world to introduce this category of vehicle. In fact, a new contract was signed this months, in the framework of a project that has Aberdeen City Council, Europea Union (FCH JU) and Scottish Government among the investors. […]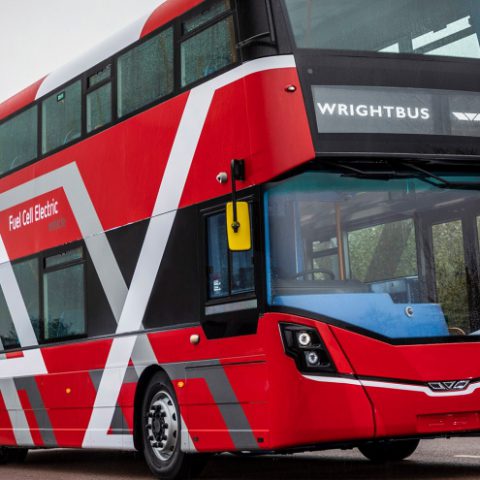 15 double decker fuel cell buses will operate in Aberdeen (Scotland), one of the first cities in the world to introduce this category of vehicle. In fact, a new contract was signed this months, in the framework of a project that has Aberdeen City Council, Europea Union (FCH JU) and Scottish Government among the investors.
Aberdeen joins Liverpool and London in the 'team' of fuel cell double decker buses early adopters. Liverpool will receive 25 ADL buses, and in this regards a new facility will be opened by Arcola Energy. Transport for London will operate 20 fuel cell double decker buses (through EU funded JIVE project) as well, of the same kind as the ones to be deployed in Aberdeen.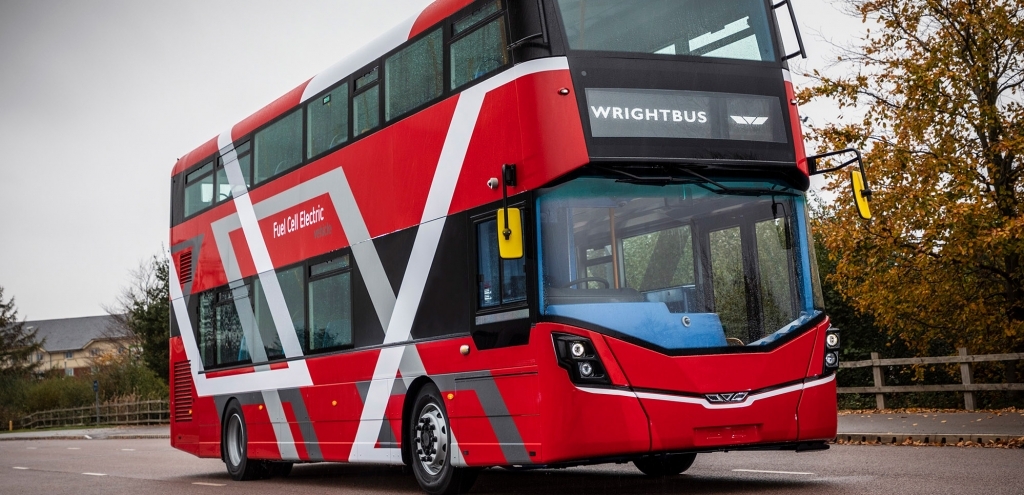 Wrightbus fuel cell bus in Aberdeen
The buses ordered by Aberdeen are Wrightbus Streetdeck FCEV, that the company claimed to be the first fuel cell double decker bus ever produced (Wrightbus was followed by ADL). Fuel cell system, on the Streetdeck FCEV, is made by Ballard Power Systems, that recently launched the new fuel cell module, addressed to transit buses, FCmove-HD. The vehicle was unveiled at Euro Bus Expo 2018 in Birmingham, two years after having presented a concept. It has been tested in Aberdeen since 2018.
Wrightbus, as well as Ballard, is partner of the H2Bus Consortium, whose members are working together to deploy 1,000 zero-emission fuel cell electric buses (FCEBs) and related infrastructure in European cities at commercially competitive rates.
Streetdeck FCEV in the framework of JIVE project
The Wrightbus Streetdeck FCEV is 10.9 meter long. Up to 64 passenger can be carried in the vehicle, that shares the same chassis with the battery electric version. Battery pack is able to store 48 kWh: enough to allow a range, according to the manufacturer, of 322 km. Refueling the bus takes less than 10 minutes, being the short stop over times one of the plus of hydrogen buses in comparison with battery electric buses.
Heating and cooling systems are zero emission as well. Automatic BMS continuously monitors and balances the stored power while the vehicle is in use. The bus has been developed as part of the JIVE project funded by EU (Joint Initiative for Hydrogen Vehicles across Europe), and has already been ordered by the city of London, still in the framework of JIVE.
Aberdeen already has a fleet of single deck fuel cell buses in operation, operated by First and Stagecoach. Also, reportedly, Toyota would be taking into consideration the city as the first UK location to sell hydrogen cars, following an upgrade of the hydrogen refuelling station in Kittybrewster.
Ballard, 80 fuel cell modules under JIVE project
"We are very pleased to provide additional fuel cell power modules to Wrightbus for the Aberdeen deployment, in addition to those recently ordered for buses to be deployed in London," said Rob Campbell, Ballard Chief Commercial Officer. "To this point Ballard has announced a total of 80 fuel cell modules ordered to power buses under the JIVE program, to operate in two German cities, in Pau, France, in London and now in Aberdeen, Scotland."
First Aberdeen to operate fuel cell buses
As reported on local press, David Phillips, operations director for First Aberdeen, said: "We are delighted to be the first bus company to operate these unique new Wrightbus hydrogen-powered double-decker buses for the city of Aberdeen. It is a pleasure to continue our partnership with Aberdeen City Council on this innovative project and we applaud the council in its continued support of the hydrogen bus technology. We look forward to operating these new vehicles."
Scotland's energy minister, Paul Wheelhouse, said: "The Scottish Government has supported a number of major projects which demonstrate the use of hydrogen. This important investment will help the city achieve its decarbonisation ambitions and further cement its reputation for innovation and technology."
David Barnett, business development director for Wrightbus, said: "The vehicle offers pioneering cities, like Aberdeen, the opportunity to replace diesel buses with zero emission buses on a one-to-one basis."
Fuel cell buses, a look to the future…
According to ZeEUS eBus Report #2 released by UITP, fuel cell buses are expected to reach a market share of 2 per cent in 2020 and 10 per cent in 2030, in the segment of urban buses and in European area. Still a little "slice" compared to the 52 per cent forecast of battery electric… but the multiplication for five is anyway impressing and opens up interesting scenarios for after 2030 years.
At UITP Summit 2019 in Stockholm, Solaris Bus & Coach (taken over by Spanish group CAF) unveiled the Solaris Urbino 12 hydrogen, a new generation vehicle deriving power from a hydrogen fuel cell. The bus has been already ordered in Bolzano (Italy). Another competitor in the field of fuel cell buses is Toyota: its vehicle Sora has been approved and launched on the market. Ballard Power Systems technology is also adopted by El Dorado National's 40-foot (12 meters) Axess Fuel Cell Electric Bus, available in the US. Also New Flyer unveiled the Xcelsior Charge H2 in 40 foot as well as the 60 foot (12.1 and 18.2 meter) model.