Wiesbaden is retiring fuel cell buses from operations
Wiesbaden has halted its fuel cell bus project. Ten fuel cell buses are set to be retired, a year after delivery. The publicly owned transport company's €2.3m ($2.44m) filling station is reportedly no more operational since some time. The news is reported on local media Frankfurter Allgemeine and subsequently on Hydrogeninsight. The buses were delivered […]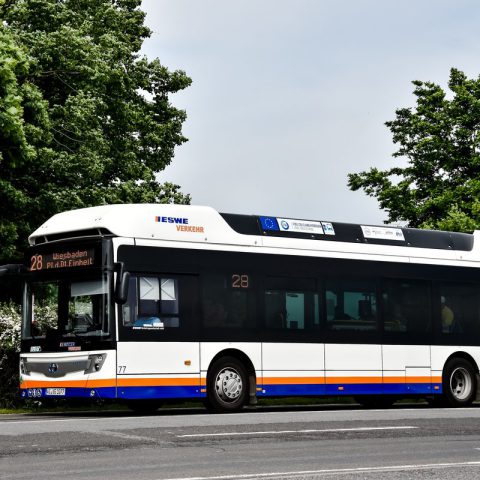 Wiesbaden has halted its fuel cell bus project. Ten fuel cell buses are set to be retired, a year after delivery. The publicly owned transport company's €2.3m ($2.44m) filling station is reportedly no more operational since some time. The news is reported on local media Frankfurter Allgemeine and subsequently on Hydrogeninsight. The buses were delivered by CaetanoBus in late 2021.
120 electric buses in Wiesbaden
It should not be forget, anyhow, that with 120 battery-electric solo buses, EWSE has one of the largest emission-free bus fleets in Germany. In 2019, ESWE Verkehr in Wiesbaden placed its first order for 56 Mercedes eCitaro buses. In February 2021 the first unit hit the road. In all, 120 electric buses have now been ordered. The 100th eCitaro from this overall package has been delivered to the Hessian state capital in summer 2022. ESWE was the first transportation company in Germany to order an overall system consisting of city buses along with an entire infrastructure. Chargers were provided by Dutch Heliox.
It should be also mentioned that a few weeks after the first delivery, the first units of Mercedes eCitaro with solid-state battery were taken out of service and recalled by the manufacturer for checks on a potential insulation fault that could lead to short circuit. Nevertheless, it looks like the issue has been then fixed.
ESWE: a realignment of fleet strategy
Recently "ESWE announced the "realignment of the fleet strategy" that observers had been expecting. The ambitious goal of completely banning diesel engines from the municipal bus fleet, as anchored in the clean air plan, has proven to be unrealistic. The articulated buses, which are particularly important for Wiesbaden because of their passenger capacity, were not available in electric versions. Public tenders for them failed", Frankfurter Allgemeine says.
Now ESWE will procure 36 diesel 18-meter buses
"The vehicles were funded by €1.95m from the EU's Clean Hydrogen Partnership and €1.68m from the German government, while more than €2m of funding for the filling station came from the German states of Hesse (where Wiesbaden is located) and neighbouring state Rhineland-Palatinate (due to it being a joint project with the city of Mainz). There are now question marks as to whether ESWE Verkehr will have to repay the money it received", Hydrogeninsight reads.
ESWE has spread a press release where they say that "buses with a larger passenger capacity are needed" and that having "two drive technologies in our workshop infrastructure is already very demanding". Now the PTO is set to procure 36 articulated diesel buses for 2022 to 2024 because "there are currently no such buses with so-called alternative drives on the market".
The ten 2-door CaetanoBus H2.CityGold units delivered in Wiesbaden are equipped with a Toyota fuel cell, a small battery pack with 44 kWh capacity and a Siemens power train with 180 kW peak power. The type IV hydrogen tanks will have a total capacity of 37.5kg to offer a drive range over 400 kilometres on a single refill.