Ebusco launched its third generation electric bus, claiming a range of up to 500 km with one charge. Thanks mainly to the weight reduction of one third: the 12 meter bus reaches 8.530 kg. 90 persone are welcomed on board. Batteries are all placed in the floor.
Dutch electric bus company unveiled yesterday the Ebusco 3.0 (that will also be displayed at the upcoming Busworld Brussels from 18th to 23th October), the results of a new project realized with new techniques and materials.
Start of series production in Deurne (NL) is scheduled to begin in mid-2020. Ebusco points out to have developed the new model for production in large numbers (not specified). From the beginning of next year, Stadtwerke München will test two units.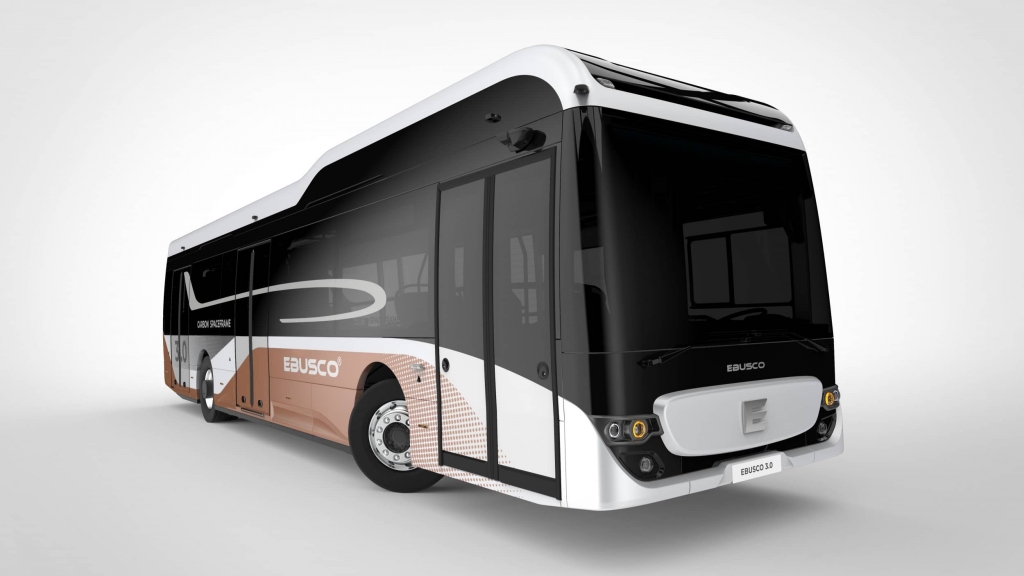 Ebusco 2.2 for Qbuzz
The model currently in Ebusco portfolio is the Ebusco 2.2, that features a battery capacity of 423 kWh and, according to the manufacturer, has a range of up to 450 km. 60 Ebusco 2.2 have been ordered by Qbuzz for Groningen-Drenthe concession, in the framework of a 160 electric buses purchase.
The new technologies adopted by Ebusco for the 3.0 electric bus model come from aviation and aerospace industry, the company says.
Ebusco 3.0: batteries are in the floor
The bus largely consists of composite parts. Composite is a combined material made of at least two constituent materials with different physical or chemical properties. This makes the bus even 33% lighter than Ebusco 2.2.
The electric bus Ebusco 3.0 features camera mirror system. The batteries placed in the floor allow a lower centre of gravity. The bus, considering the claimed range of 500 km with one charge, is developed only for overnight charging (no pantograph charging will be offered as an option).
Ebusco electric buses, starting with Golden Dragon
The Dutch company Ebusco was founded in 2010 and released its first electric bus model in 2012. The 2.1 model was realized in cooperation with Chinese company Golden Dragon and has been deployed in Netherlands by Qbuzz. Batteries and electric motor were provided by Chinese manufacturer Yinlong.
The 2.2 model featured LFP batteries (typical of Chinese market and adopted also on the 3.0) and body was no longer realized by Golden Dragon but by Australian bus builder BCI, as reported on Eurotransport. The electric bus is moved by an electric asynchronous central motor realized named KAM90C, while portal axle is by ZF.
Ebusco: the end of the diesel era
"This new bus heralds the definitive end of the diesel era. The Ebusco 2.2 already improved the so called Total Cost of Ownership (TCO) massively compared to the diesel fuelled buses, but with the Ebusco 3.0 nothing stands in the way anymore to speed up the tempo to make public transport more sustainable. We now are able to make the world in which we live even cleaner, safer and healthier", according to Peter Bijvelds, CEO Ebusco.