Genoa, a revolution in public transport network. There's a project for 145 battery-electric buses
Genoa City Council has signed the contract that kicks off a revolution in the city public transport system. The municipality has agreed on a deal with a group of companies made of Rina, Systra and Architecna Engineering. The project will be completed by August. The picture above was released by the municipality as a render […]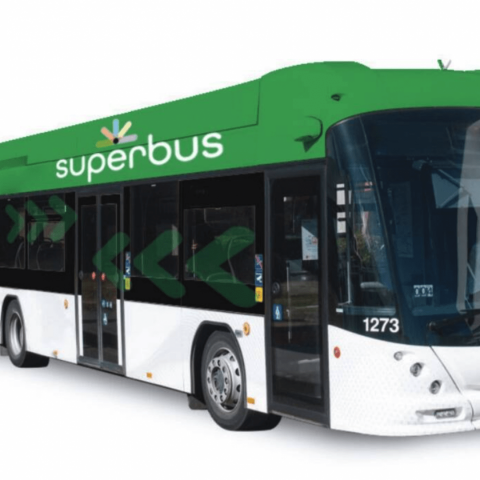 Genoa City Council has signed the contract that kicks off a revolution in the city public transport system. The municipality has agreed on a deal with a group of companies made of Rina, Systra and Architecna Engineering. The project will be completed by August. The picture above was released by the municipality as a render image about how the vehicles are expected to look like, as a new brand identity (Supèrbus) was conceived to make them visible throughout the city.
The city is also investing in e-bus fleet, with several Rampini 8-meter vehicles in operation, a batch of Irizar ie bus units handovered in late 2020 and a tender for 30 12-meter e-buses awarded to Solaris Bus & Coach after the exclusion of Alfabus (that had ranked first).
E-buses in place of trolleybuses in Genoa
The project is based on the reorganization of the city transit system around four high-demand mobility axles. It has been awarded a funding of as many as 471 million euros from the government, that will be used to procure – in the intentions of the municipality – 145 new full electric buses (18 and also 24-meter vehicles are expected, although as of today public transport vehicles over 18 meters are not allowed for circulation on Italian roads). Also the network, managed by PTO AMT Genova, will be improved, with priority lanes and new stops.
At the moment the Ministry of Transport has not yet given the go-ahead to choose electric buses with flash charging technology instead of trolleybuses, that were in the spotlight of the first project presented by Genoa City Council to the government, that enabled the city to get the funding. The network will have a total length of 96 kilometres, 70 per cent of which will be in reserved and protected areas. The new zero emission bus fleet will be running on the network at frequencies similar to those of a subway.
The ultimate goal of the plan is a 8.1 % reduction in journeys by private vehicles, and a 24.3 % increase in journeys by public transport. In the city center, commercial speed is bound to increase at 14 km/h, while today it is 10.8 km/h.